Stressed spelled backwards is dessert, they say. We say, why wait to be stressed to enjoy delicious desserts? Especially when there's a bespoke bakery in a tiny corner of Le Petit Souffle in Megamall called Workshop that has an assortment of pastries and sweets for every occasion—from rewarding yourself to legit ones like Father's Day! We asked Chef Miko Aspiras for his recommendations for five different occasions.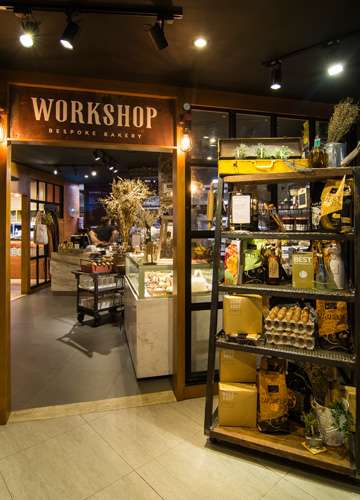 Father's Day
ADVERTISEMENT - CONTINUE READING BELOW
17-Layer Moist Chocolate Cake or the Basque Burnt Cheesecake
"We have this deep, dark chocolate cake that has 17 layers inside. It might sound complicated but once you eat it, it's just plain yummy. It's intense also; I think dads will love that."
"We also have our Basque Burnt Cheesecake. It's not so sweet, it's very custardy, and it's quite different. It's a new experience. Whenever there's a big celebration like Father's Day, people usually want to try something new, and for me, you have to try the Basque Cheesecake."
Reward to yourself
Valrhona Guanaja Soufflé
"The Valrhona Guanaja Soufflé is always a hit. People really like it. People respond super well to it, so I think that's the most decadent one we have and it's the most consistent."
ADVERTISEMENT - CONTINUE READING BELOW
Brunch with mom 
Danish and croissants
"We have almond croissants, which I love. I don't think anyone else makes it this good because I have a really high standard for croissants. You can also always have our freshly baked baguette and sourdough and pair it with our local butter from Gawad Kalinga. It's called CalaBoo butter. You can just spread that on your bread—that's brunch in itself."
ADVERTISEMENT - CONTINUE READING BELOW
First date 
Valrhona Gran Crus
"If you want to impress or be impressed by someone, order the Valrhona Gran Crus dessert. It's a plated dessert that has seven different types of Valrhona chocolate, which is the best chocolate in the world. They have a line called Gran Crus, which is their best. You have to order that because it has seven different textures and it all blends together in one beautiful plated dessert. You can actually ask us about it and impress your date more."
ADVERTISEMENT - CONTINUE READING BELOW
Hanging out with your BFFs 
White Nutella Forest
"It's a super quirky, super fun chocolate mousse. A lot of people like Nutella so for this, we simmer the hazelnuts and get the flavor of Nutella. It's literally just white cream flavored with hazelnut in a mousse form. It's fun and Instagrammable—a lot of barkadas would enjoy it."
ADVERTISEMENT - CONTINUE READING BELOW
What's your favorite dessert? Which one did you find most interesting among the recommendations above?