When it comes to packing, we always have this urge to stuff our whole house in one big suitcase. But we all know that's not possible. We get you, girls. Be it a short or long-haul flight, we have to remember to be economical when deciding what should or shouldn't go in those bags. To do this, you'll need to have a simple checklist of essentials for both your carry-on and check-in bags. For now, we compiled for you some of the must-haves in your carry-on bags and some useful tips on how to not over pack.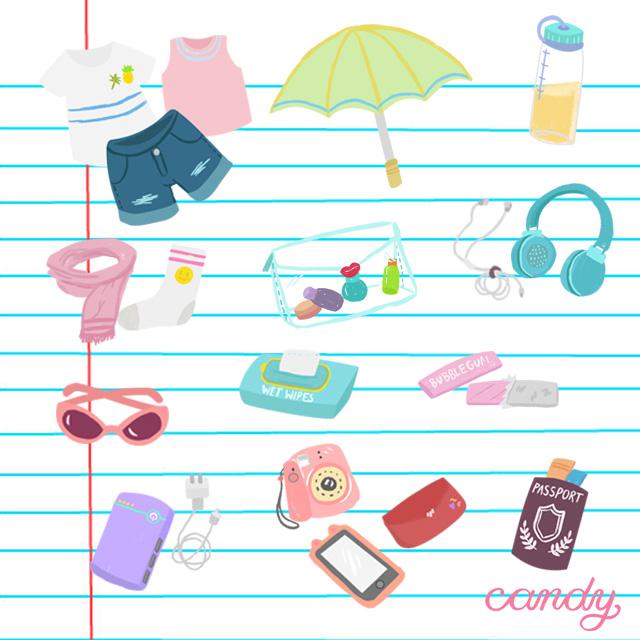 ART Cassy Cajucom
ADVERTISEMENT - CONTINUE READING BELOW
Extra set of clothes
If for some reason the plane loses your check-in bags, you want to make sure that you have a spare set of clothes. We honestly hope that this never happens to you, but you never really know, so it's better to keep one just in case. Keep it simple and light, just so it doesn't weigh down your bag.
Be sure to wear your heaviest pair of shoes during the flight as well because these tend to bulk up your bags. You also want to make sure that you have a list of OOTDs so you can map out how to mix and match some pieces that you brought—this can help in lessening the bulk in your bag.
Small umbrella
For most places, this will come in handy. Rain or shine, you'll have your trusty lightweight umbrella. Choose a small compact umbrella that has a non-transparent umbrella. Clear umbrellas do well for the rain, but they won't do much when the sun is shining in all its glory. If you're flying though, most airlines require you to check this in.
Empty water bottle
This is especially handy for long-haul flights. You won't have to keep asking the flight attendant to refill your plastic cup. It won't feel like it, but the long hours in a plane ride will definitely make you dehydrated.
Scarf/Fuzzy socks
Plane rides can get a bit chilly. If you're the type who can't sleep or be comfortable when it's super cold, this will come in handy. Although if you want to keep things light, you'll want to leave those behind and request for blankets during the flight instead.
Bag of Mini Toiletries
For liquids, always make sure that they're 100 mL or less if you're packing them in your carry-on bags. You can buy small travel-friendly containers to keep your toiletries. If you want to keep your items to a bare minimum, you can opt to depend on what the hotel provides. They usually provide toothbrushes and small bottles of shampoo and shower gels.
ADVERTISEMENT - CONTINUE READING BELOW
Headphones/Earphones
If you're not all that comfortable with using in-flight headphones, it would work well if you bring your own. You could listen to music and watch movies via your personal earphones. This would also come in handy while you're waiting to board your plane.
Sunglasses
Sunniest aren't only a solution to combat those rays. They can also help when you're struggling with puffy eyes after a long-haul flight and have no time to freshen up. Put those on and you'll feel a bit more fab than usual.
Tissue/Wet wipes
What more can we possibly say? You need this.
Pack of gum
Just to stay fresh and avoid those ear-aches, you'll need this.
Chargers and Power bank
Trust us, you wouldn't want to be stuck with your gadgets without battery and chargers or power banks at hand. In case of emergencies, you'll want to have your phone ready for battle. 
ADVERTISEMENT - CONTINUE READING BELOW
Wallet and Gadgets
Of course.
Passport
Please. This is one thing you must not leave behind.