Lifestyle
TV Time
We love our shows and we're so excited they're back. What's on your must-watch list?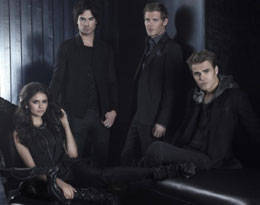 photo courtesy of The CW (The Vampire Diaries)
What series are you most excited to see this month?
Hart of Dixie. If there's a will, there's a Wade! (That made sense in my head.) —Marla, Deputy Editor in Chief
I'm really excited about The Carrie Diaries because I read the two books (The Carrie Diaries and Summer and the City) and I super love AnnaSophia Robb. :) —Steph, Art Director
I'm looking forward to watching the last season of Gossip Girl. I really hope they do justice to the characters and give Chair fans the ending we've been longing for. —Mimi, Managing Editor
I'm so excited for The Vampire Diaries! I can't wait to see how Elena and the gang will deal with her "death." Plus, more Ian Somerhalder please. :) —Angel, Features Editor
Misfits and American Horror Story! —Sam, Associate Fashion Editor
Though I did abandon ship during the fourth season, I'm actually pretty curious about how Gossip Girl is going to end. I remember being so obsessed with this show! I can't believe it's the final season. —Macy, Web Managing Editor
THE VAMPIRE DIARIES! The Season 3 finale was such a cliffhanger and I really can't wait to see Ian again. Actually, it's mostly because of Ian. —Erin, Web Fashion and Beauty Assistant
Looks like the Philippine Philharmonic Orchestra likes Captain Ri's music!
Iced, hot, and frapuccino-style!
Achieve that crunchy Chickenjoy skin.
What if CLOY is really based on a Pinoy teleserye?
Have you tried this internet-famous drink?
The local brand has partnered with charity organization Give PH to help with the donations.
If you're desperate for a cut, YouTube is your best friend.
She recently sang it again during an Instagram Live with husband Taylor Goldsmith!