Lifestyle
7 Tricks to Maximize Your Buffet Experience
Maximize your buffet experience with these great tips and eat all you can on your next big feast!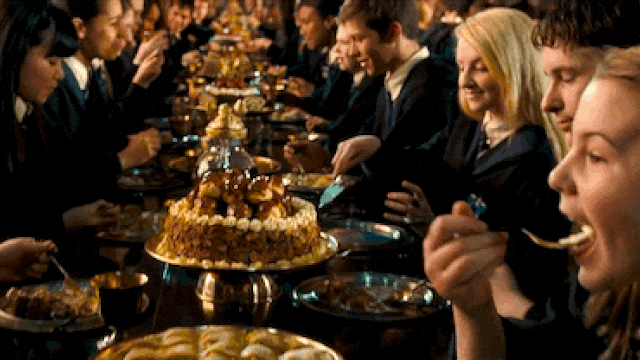 IMAGE Warner Bros. | nonmugglegal.tumblr.com
Wear the right outfit.
This means that you should wear the right clothing if you're planning to pig out. Try to go with leggings or a dress that won't restrict you when you get bloated and will also hide your puson. But if all your leggings or bottoms with elastic waistbands are in the wash try this trick for your buttoned pants!
Strategize first and plan what you want on your plate.
It helps when you go around the area first and canvas which food you want to eat. 
Don't get a big amount of serving of just one dish.
Even if you know you love the food, try not to get everything in one plate. It's best if you could get one of each first. That way, you don't feel full at the start, and because you've had your taste test, you could easily go back and get that one dish you love and avoid that appetizing but tasteless food.
You don't necessarily need to have rice.
Because rice has been a staple in the Philippines, we think that it's necessary to get rice. Rice will make you full with just one sitting, which won't make you enjoy the buffet to its highest potential. But if you really can't go without rice, get a small serving and just have a little rice with each bite. That way, you'll still taste the rice, but won't feel full in an instant. 
ADVERTISEMENT - CONTINUE READING BELOW
Choose quality over convenience.
Don't just pick food because it's readily there, go for the expensive ones that you know you won't get the chance to eat every day. This is a special occasion, so don't eat the ones you can eat the next day or on normal days. 
Eat slow.
It's good to take your time and enjoy the food you're eating instead of shoveling it all down. This is good for your digestion and you could even avoid that bloated feeling.
Drink some tea.
Everyone hates that bloated and full feeling. This feeling makes us feel disgusting and makes us regret going to an eat all you can buffet. If you're the type of person who eats at a buffet until they feel nauseous and just can't move anymore, do some damage control and drink some tea. This aids your digestion and soothes your stomach, getting rid of that nauseating feeling. 
What food are you looking forward to the most every Noche Buena? Share it with us in the comments! 
ADVERTISEMENT - CONTINUE READING BELOW
While there is still a long way to go, it's become so much easier to find like-minded people who share the same cause.
It's a game for those who love to play around and break the rules.
Truth is, you don't need to spend a lot to achieve the feed of your dreams or build your portfolio.
Now's your chance to give back.
What's 'savings?' We only know 'merch.'
Feel good by smelling good, without shelling out a big chunk of your allowance!
Ward of the bad juju with the auspicious color red and the happy mouse.
Geraldine is part of Candy Rookies 2020, a group of influential and aspirational college students handpicked to represent #GenerationCandy in the year to come.
Looking to sport the long-haired look?
It's actually not an either-or situation.