Lifestyle
Trick Or Treat
Do you dress up for Halloween? Here's what we'd wear if we're out begging for candy!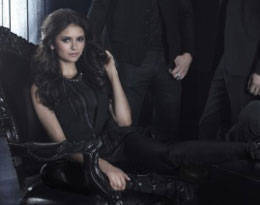 photo courtesy of The CW (The Vampire Diaries)
If you were to go trick or treating, what would your costume be?
I'd be a Despicable Me minion! A denim dress over a yellow sweater, black gloves and goggles, and I'm all set. —Marla, Deputy Editor in Chief
I'd probably go as Minnie Mouse because I have Minnie ears and I have a lot of polka dot dresses. :) —Steph, Art Director
It would be nice to go trick or treating as a turn-of-the-century vampire (peg: Katherine Pierce from TVD), but I've never found a nice, realistic set of fangs to wear yet. —Mimi, Managing Editor
I'd love to be Katniss in her fiery dress—complete with Peeta by my side and a chariot to ride in (so we won't get tired walking from house to house!) —Angel, Features Editor
I still want to be one of the foxes from Fantastic Mr. Fox. —Sam, Associate Fashion Editor

I'd like to dress up as G-Dragon, in his music video, "Crayon," wearing one of those Frankenstein-esque football shoulder pad-armored pastel suits from Thom Browne's Fall 2012 collection. —Jed, Fashion and Beauty Assistant

I'd go as Amy Pond, one of the 11th Doctor's companions on Doctor Who. I just started watching the fifth season (2010) and I cannot believe I let years go by without watching the show! —Dyan, Assistant Entertainment Editor

I'll wear bunny ears and and a pair of big sunnies to channel my favorite furry fashionista. —Macy, Web Managing Editor
I still go around trick or treating in costume every year despite being a bit too old to (heehee). This year is no exception and I'm thinking about going as a Disney princess! I'm picking between Jasmine or Snow White. Who do you think I should go as? —Erin, Web Fashion and Beauty Assistant
Looks like the Philippine Philharmonic Orchestra likes Captain Ri's music!
Iced, hot, and frapuccino-style!
Achieve that crunchy Chickenjoy skin.
What if CLOY is really based on a Pinoy teleserye?
Have you tried this internet-famous drink?
The local brand has partnered with charity organization Give PH to help with the donations.
If you're desperate for a cut, YouTube is your best friend.
She recently sang it again during an Instagram Live with husband Taylor Goldsmith!