Lifestyle
Top Book Picks of 2013
Looking for the best books to spend your Christmas break with? Candy helps you decide what book to pick up (with their dream cast and movie buzz)!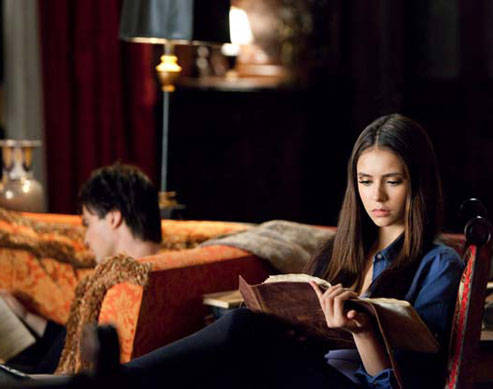 PHOTOS The CW/Goodreads, GIFS Tumblr
Eleanor and Park by Rainbow Rowell
Eleanor is new girl in town trying to fit in the midst of all the chaos in her family life while Park is the introvert who pays attention to nothing but his comic books, black t-shirts and headphones. The ill-fated lovers, Eleanor and Park, shows us that just like art, love doesn't always have to be nice, it's supposed to make you feel something.

Dream Cast:
Kev Jumba as Park



via

kevjumba-gifs.tumblr.com



Alia Shawkat as Eleanor

via funnygirls-help.tumblr.com



Love & Misadventure by Lang Leav
A collection of wonderfully written poems about love, loss and everything in between, leaves you with so many mixed emotions with every turn of a page. Every poem is Leav's genius attempt to dissect what it is in caught in the crossfire of the heart and the brain. Once again, Lang Leav leaves her devoted readers speechless with her undoubted ability to translate complex emotions into simple yet heart-wrenching poems.

We're not entirely sure that there could be a movie adaptation for this but it's too good of a book to leave out of the list!
This is What Happy Looks Like by Jennifer E. Smith
It is every seventeen-year-old girl's dream to date a movie star except for small town girl Ellie O'Neill. After an accidental e-mail from the famous teenage star Graham Larkin, Ellie finds herself caught in a sticky situation. Wanting to take their online to relationship to an in-person one, Graham decides to shoot his upcoming movie in Ellie's hometown.

Dream Cast:
Dylan O'Brien as Graham

via whatthehellsastiles.tumblr.com

Madeline Carroll as Ellie

via child-actor-gifs.tumblr.com


Allegiant by Veronica Roth
Tris and Tobias are ready to find and start a new life together minus the lies, loyalties and memories. However, reality comes in and destroys their hope of a brighter future. The third installment of the popular dystopian series is awarded the Goodreads Choice 2013 winner for Young Adult Fantasy.

Before jumping into all this excitement for the third book, check out all the buzz the upcoming movie Divergent (first installment) is getting!
The Spectacular Now by Tim Tharp
Who wakes up wasted from a party and decides to 'save' someone's life? Sutter Keely does. Although he may not be famous for his academic prowess, he is guaranteed the life of the party. Being a senior in high school calls for decision making of which college to go to and what career you want to pursue but for Sutter, it's a whole different story. After losing his girlfriend, he becomes okay with the idea of a mediocre life but after meeting Aimee, who is known for being a social disaster, everything changes.




The Rules For Disappearing by Ashley Elston
Seventh time's the charm, right? Or at least Megan Rose Jones thinks so. After changing her identity seven times, she finally decides that this time will be the last. After all that has happened in Ohio, Missouri, Kentucky and a lot more places, there is only one question running through her mind: What did her father do to get her in this mess?! She couldn't rely on anyone to give her the answers so she searches for them herself. Along comes Louisiana farm boy, Ethan Landry, who continues to pry around Megan's life because he knows there's something beneath the surface.

Dream Cast:
Zac Efron as Ethan

via ignitetheliight.tk

Crystal Reed as Megan



via

crazypanter.tumblr.com



Unravel Me by Tahereh Mafi
The second installment of the Shatter Me series does not disappoint. The dramatic, action and love-filled story goes on. Juliette has escaped from The Reestablishment. Now she's free from their plan to use her as a weapon, and free to love Adam. But Juliette will never be free from her lethal touch. Or from Warner, who wants Juliette more than she ever thought possible. Haunted by her past and terrified of her future, Juliette knows that she will have to make some life-changing choices; choices that may involve choosing between her heart and Adam's life.

Dream Cast:
Liana Liberato as Juliette



via

foreverliana.tumblr.com



Sam Claflin as Warner

via cecilwrites.tumblr.com

Taylor Lautner as Adam

via i-mmorality.tumblr.com


The Distance Between Us by Kasie West
Caymen Meyers already made up her mind about what she thinks of the people who were raised by money: good for nothing. She has always noticed the useless things that the rich people would spend tons of money on like porcelain dolls. Things take a different turn when she sees Xander Spence walk in her mother's shop to buy dolls for his grandmother. Caymen convinces herself that Xander's interest isn't real but Xander continues to show otherwise. The only problem left is Caymen's mother and her disapproval of people like Xander.

Dream Cast:
Lucy Hale as Caymen

via likethesunyoubrightenmyday.tumblr.com

Beau Mirchoff as Xander

via mafanculo.tumblr.com

OCD Love Story by Corey Ann Haydu
We've all got that inner stalker in us when it comes to our crush, but Bea takes it to a whole new level. For her, Beck understands her like no one else and makes her feel like she's falling in love all over again. Having a journal full of notes about Beck, Bea continues to spend most of her time watching him. Has she got it all under control? Or is it getting way out of hand? Is she obsessed?

Dream Cast:
Leighton Meester as Bea

via redqueenscreamsforicecream.tumblr.com

Adam Brody as Beck

via adamjaredbrody.tumblr.com


Operation: Break The Casanova's Heart by Aly Almario
Stephen is known as the guy who breaks every girl's heart and Naomi takes it upon herself to bring this Casanova to tears to avenge her sisterhood. There is a series of steps that Naomi must follow in order to break Stephen's heart with one and only one rule she must follow in order to succeed: Don't fall in love.

Dream Cast:
Jeron Teng as Stephen



via

jericteng16.tumblr.com



Naomi: Julia Barretto

via jbeautieseyesmile.tumblr.com
Have you read all the books in this list? Which one is your fave for 2013?
ADVERTISEMENT - CONTINUE READING BELOW
CONTINUE READING BELOW
Recommended Videos
A combination of Snakes and Ladders and Exploding Kittens.
The internet thinks the two are dating.
Plus other things to know about the young actress.
Guess who has a seven-ton rock in their house!
Kris Aquino kind of confirmed that she will be reprising her role as Princess Intan!
It even has a matching vintage-inspired MV!
Now, he's one of the most sought-after photographers in the local creative scene.
No need to step out for your caffeine fix!
Remember when she impersonated Frankie and 'the chicken McDo?'
"I just lost the job that I dearly love."
From The Candy Bulletin Community