Take your pick from the exercise trends that have taken Hollywood by storm!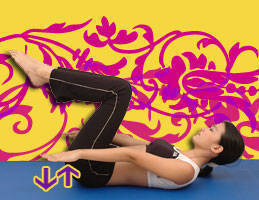 Pilates
Celebrity Fans: Uma Thurman, Gwyneth Paltrow, Sarah Jessica Parker

The Hundred
Step 1: Lie face up with knees bent slightly over chest and keep arms at your sides, palms down. Maintain a flat back.

Step 2: Lift head and shoulders off the ground and with your arms straight, begin pumping them up and down as if you were slapping water. Pump your arms and breathe simultaneously for 20 to 30 breaths, and eventually work your way up to 100 repetitions with your head raised.

ADVERTISEMENT - CONTINUE READING BELOW
.~'* GRAB THE MAG! *'~.

Want more celeb exercise favorites? Flip to pages 62-63 of your Candy November 2006 issue with Zac Efron on the cover. Let us know how your workout goes! :)

For back issues, call Loel/Vivian at Filbar's, Inc. 4162459/4139688/7262784