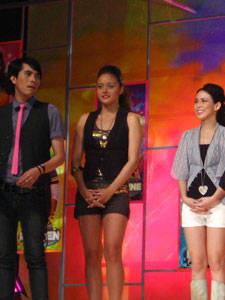 Can you guess where we were last Friday?
We were at the Mall of Asia to witness the MTV VJ Hunt 2007 Finals Night. The 12 finalists came out and introduced themselves in their own style.
Along with the new VJs Anne Curtis, Maggie Wilson (Candy cover girl!), and Victor Basa, Sarah Meier was also there to host the event. Other celebs that we spotted were Francis M, Marc Abaya, and the ever-comical Tado.
ADVERTISEMENT - CONTINUE READING BELOW
There were performances by the awesome All-Stars, Pinoy soul band Sinosikat?, Miguel Escueta, and teen rocker Danita.
After impromptu video introductions and live interviews by the Final 12, they were narrowed down to the Final 6—Andi, Brent, Eri, Kat, Roxanne, and Sib. Brent and Sib were cheered on with banners that read, "Brent for President" and "Sib Forevah."
Tables were turned when it was their turn to be interviewed. Tado asked them silly questions such as "Kung ang lason ay expired na, lason pa din ba `yun?"
When the 6 finalists came out for the final speeches, Sib got the loudest cheers when he donned a Barong Tagalog impersonating a "congressman from Naga City."
At the end of the night, Andi, Kat, and Sib were announced as the new MTV VJs. You can take a sneak peek at the Finals night here.
Catch the MTV VJ Hunt Finals on MTV (Channel 52 on Sky Cable) on these dates: July 18 at pm with replays on July 20 at 3pm, July 22 at 8pm, July 26 at 6pm, and July 28 at 5pm.

ADVERTISEMENT - CONTINUE READING BELOW