It's no secret that using highlighters to easily find certain terms or relevant information in books or your own notes are super helpful. Some people choose to highlight an entire paragraph while some find it more effective when they associate the highlighter color with an important information, like date, place, event, etc. See example below.
Cool, right? This law student, however, has a longer explanation for the colors associated with the text he wants to easily remember. Here's how he does it:
Yellow - important facts and doctrine
Orange - important din naman, kaso ang dami nang yellow
Pink - not sure if important, pero hindi ko maintindihan so highlight ko na rin. Scary, baka kailangan pala.
Purple - exception, "unless" and "however" clauses
Teal - WTF. May exception to the exception pa?! Tapos may exception to the third power pa.
Green - No definite use. Binili lang para kumpleto ang set at maganda tingnan kapag dinisplay sa coffee shop.
ADVERTISEMENT - CONTINUE READING BELOW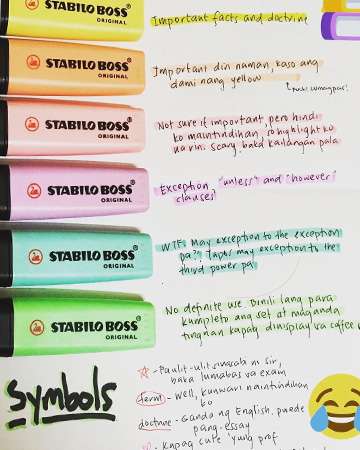 LOL at "pang-display sa coffee shop." This student gets us!
Are you this organized when it comes to highlighting important info?