You don't have to go all the way to Bangkok to experience authentic Thai dishes. You just have to go to the 3rd level of Trinoma Mall and enter the doors of the newest restaurant in Manila —Mango Tree Bistro. The very first Mango Tree Restaurant was built in 1994 in the heart of Bangkok, in a beautiful Thai house built during the reign King Rama VI almost 100 years ago. The restaurant got its name because of the mango tree planted in the courtyard area of the house. Mango Tree has branches all over the globe like Dubai, Macao, Tokyo, London, Kuching, Busan, and now in Manila.
Their 4-page menu has a wide verity of healthy and fine traditional Thai cuisine from all 4 regions of Thailand. Their distinctive flavor comes from blending the perfect combination of fresh herbs and spices, using fresh ingredients.
At the soft opening party and press launch last October 11, renown Thai cuisine expert Pitaya Phanphensophon did a demo on how to cook Red Shrimp Curry and Thai Steak Salad. Not only is he a good cook, but he's also the CEO of COCA Restaurants and the author of the book I'm Not a Chef… But I Sure Am A Good Cook! His recipes in his book has everything from base sauces and curry paste, to starters, main courses and delicious desserts that you can do in your own home.
ADVERTISEMENT - CONTINUE READING BELOW
Visit Mango Tree Bistro on your next barkada dinner or family lunch at the 3rd level of Trinoma Mall in Quezon City.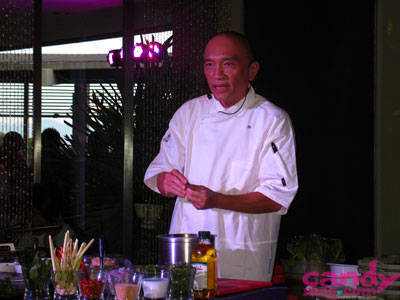 ADVERTISEMENT - CONTINUE READING BELOW