Everyone behind the Sandbox Collective's No Filter is back at it again—this time, with a book! You can finally flip through the monologues you have adored ever since watching the play and there are new pieces to fall in love with too.
We sat down with Lauren Young, Sam Concepcion, Jasmine Curtis-Smith, Cai Cortes, Carla Humphries, and Paolo Valenciano at the book launch and we heard their two cents about the "selfie generation," generation Y.
ADVERTISEMENT - CONTINUE READING BELOW
What is your advice for millennials who are struggling with adulting?
Lauren Young: "Never think that you are alone. There are so many other people just like you who are maybe going through the same things, not entirely, but somewhat like you. Don't be afraid to share your problems with other people because you might make a friend out of it and you might get a helping hand out of it."
Sam Concepcion: "Get the book. Really. One of my greatest learnings in this whole experience is knowing that I am not alone going through all of this, everything that comes with it, being part of this generation. You know the constant feeling that you're running out of time, you want to be successful and you want to make a difference in the world, we all want that; we all want the same thing and you are not alone. You know all of this, everything that I am saying actually so much better said and written in this book and you'll find it to be useful."
ADVERTISEMENT - CONTINUE READING BELOW
Cai Cortes: "You are not alone and you're going to get through it. Kasi you think that you have a problem now and it's the end of the world, it's not. Sabi ko nga you're always going to begin again so you can end whatever you are going through right now and grow and begin again."
Carla Humphries: "Always find new ways to express yourself. There's not just one way of expression and don't be afraid to be yourself. And don't be afraid to keep some of the important moments just to yourself."
Jasmine Curtis-Smith: "Ganyan talaga. It's crap and you'll hate it and you'll think that you'll probably never get over it but you just need to find a good support group. You need to surround yourself with people who will help you and who will encourage you to become better and to just see the bright side all the time. Let yourself absorb whatever you're feeling but at the same time find a way to become happy. I think people tend to think na 'I'm just gonna tell her it's okay, just smile, but no, you need to feel that. Sumakto siya when Inside Out came out in the cinemas. You saw that there's happiness and sadness and Joy just tried to always be happy. But no, you need sadness in your life as well."
ADVERTISEMENT - CONTINUE READING BELOW
Paolo Valenciano: "This generation, the millennials, we're so fortunate. Our grandparents, our parents, they have gone through so much to give us so many opportunities, and to make life so much easier for us so we have a chance right now to really take things to the next level with regards to arts, music, technology. I feel like we should take advantage of the comfort that our parents have worked so hard for. It's a really great time to be alive and the millennials should focus on that more than the struggles and the problems."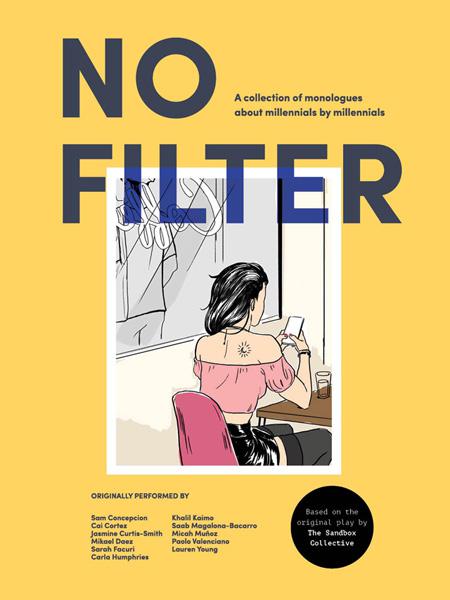 ADVERTISEMENT - CONTINUE READING BELOW
When is it okay to have "no filter"?
Lauren Young: "There's always a right time and a right place I mean if your opinion is asked, go ahead; but if no one is asking for your opinion, shut up. *laughs*"
Sam Concepcion: "Always. You see No Filter, the play, the book, everything, gave us a way to be able to tackle these things and just talk about it, you know. It needs to ba talked about and you know it's provoking ideas and change. Kaya millennials just keep on doing what you are doing. Keep making your voice heard."
Cai Cortes: "All the time! Have no filter all the time. I mean it shows your true self kung masama ka talaga eh di good for you. *laughs* It depends on how you manage it and how you act on it. If you have no filter and you are honest then I'll give you respect."
ADVERTISEMENT - CONTINUE READING BELOW
Carla Humphries: "It's a case-to-case basis. When you feel like it is right to have no filter then that's just you being real. There's no right or wrong moment, only you can say it because you are your own person."
Jasmine Curtis-Smith: "Every day! For me, 'no filter' is something I'm trying to live by now. I think I owe it to the people who do support me and look up to me or who at least monitor my social media. I don't want to be parang 'yung mga typical artista na iba sila in front of the camera tapos iba sila during their everyday life. I want whatever they see in an interview on TV, that's how I am in person din."
Paolo Valenciano: "Wow, that's a hard question! *laughs* The only time I feel you need a filter is when you're with your children."
You heard, Sam Concepcion. Go get the book now, Candy Girls! No Filter: a collection of monologues about millennials, by millennials is now available at leading bookstores nationwide for only P295.
ADVERTISEMENT - CONTINUE READING BELOW