If you're a big fan of reality game shows like Wipeout, then you may have dreamt of conquering extreme obstacle courses, from wobbly logs to slippery slopes. These adrenaline junkies' wishes can finally come true now that the Inflatable Island in Subic Bay is all set up to open on April 1.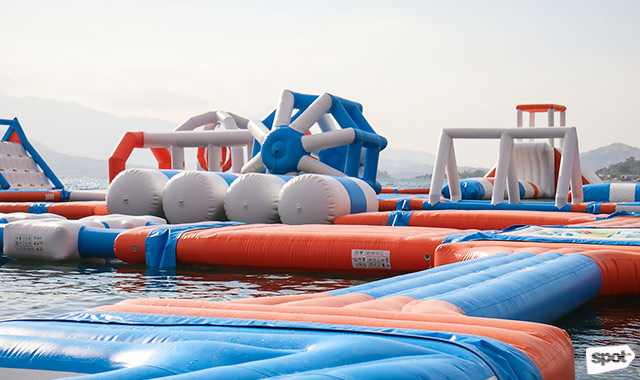 We list down 10 reasons you should check it out.
The Inflatable Island is the biggest floating playground in Asia.
It has an equivalent size of eight basketball courts. Finishing the whole course would take about an hour (and a whole lot of huffing and puffing).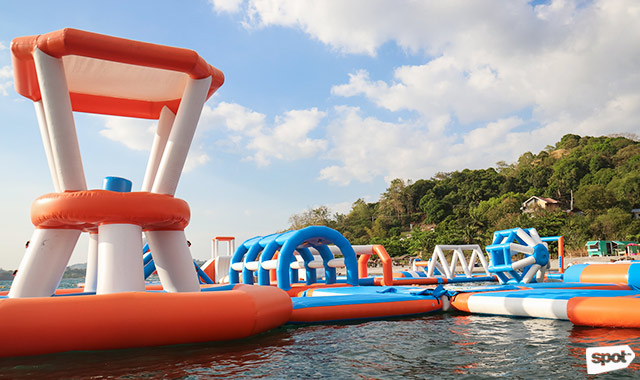 ADVERTISEMENT - CONTINUE READING BELOW
Everything's bright and squishy.
If you fall flat on your face (because even the plain platforms are slippery and wobbly), you won't have to worry about breaking a bone.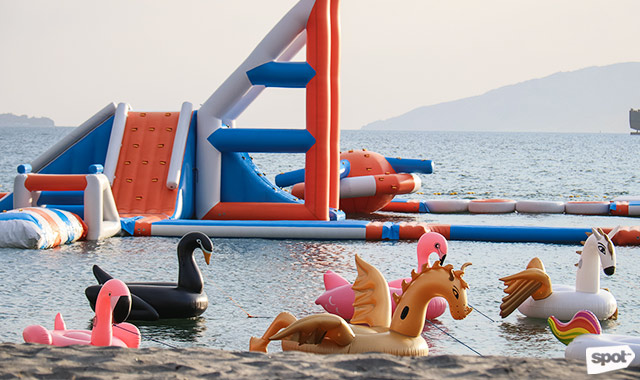 There are cute floaties for selfies.
Choose from the dragon-, unicorn-, and flamingo-shaped inflatables near the shore. You can even sit on one that looks like a giant clam and pretend that you're a prized pearl.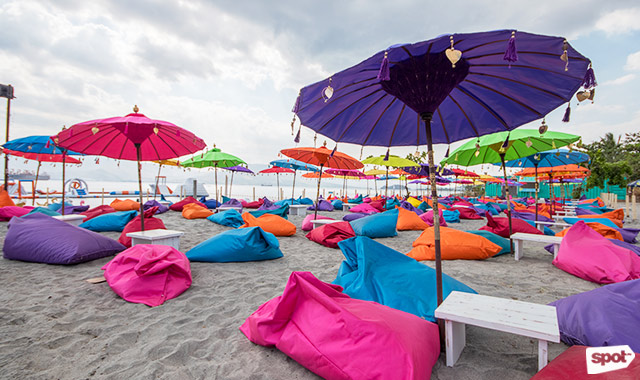 There's a Bali-inspired lounge.
Believe us when we say that the whole course is tiring and you'd thank the heavens that you can plop on comfy bean bags as soon as you finish jumping around.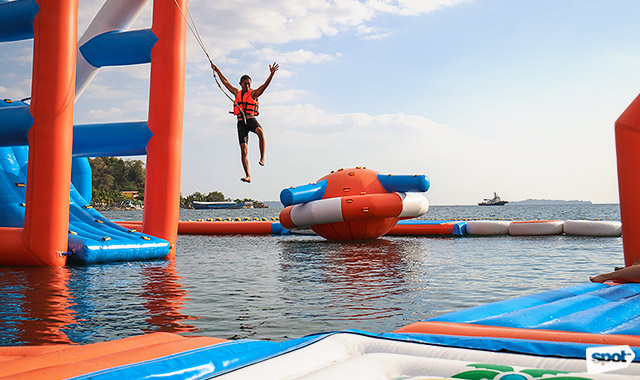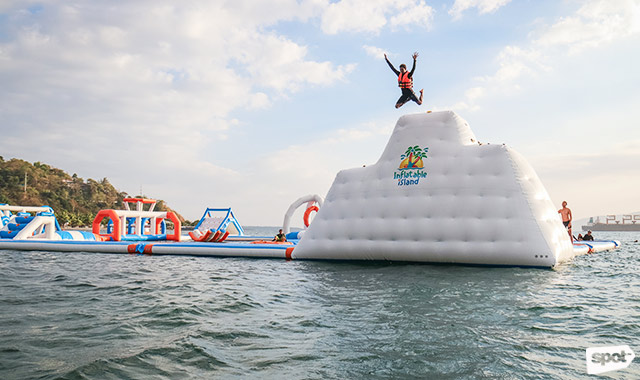 You can jump into the water ala-Tarzan.
ADVERTISEMENT - CONTINUE READING BELOW
You can launch from the Giant Tarzan Swing and show off your somersaults before diving into the water. There's also a 15-foot iceberg-shaped inflatable, the highest on the Island, from where you can jump off.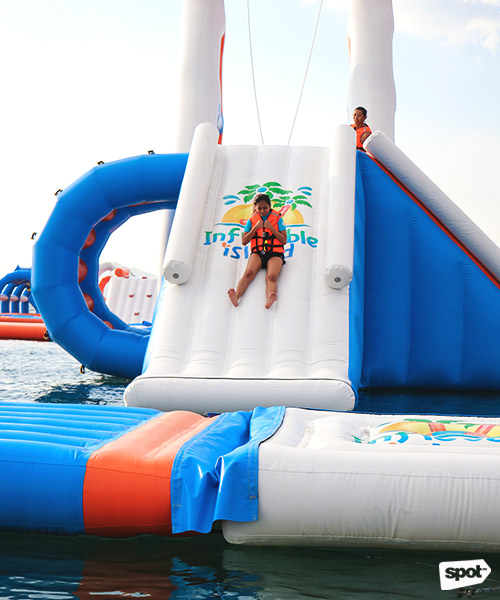 Experience the excitement for ticket prices starting at P699.
The cheapest ticket is for only two hours, but that's enough time to try the whole course twice or thrice! You can choose from five time slots: 8 a.m., 10 a.m., 12 p.m., 2 p.m., and 4 p.m. We recommend the 8 a.m. and 4 p.m. slots when the sunlight isn't too harsh.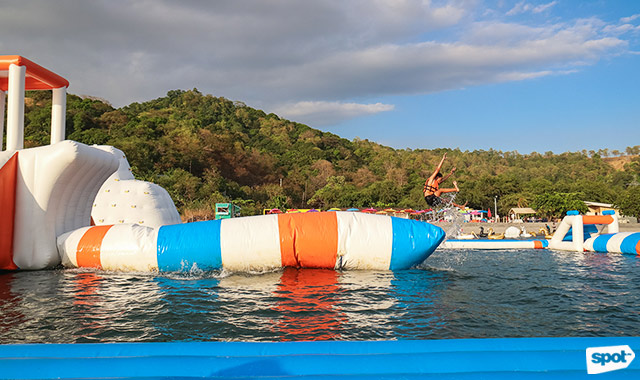 Adrenaline junkies can opt for the whole-day pass.
If you can't get enough of the Inflatable Island, you can purchase the P1,399 ticket. That's more than enough time to try the course from end to end twice, load up on carbs, rest for a bit, and try the obstacles all over again.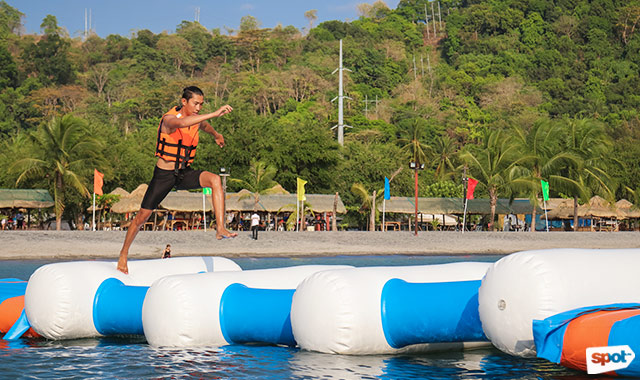 Anyone above three feet in height can enjoy it.
It doesn't even matter if you can't swim because you'll be wearing a life vest all throughout the course. You have nothing to worry about, even though the water is 20-feet deep. Lifeguards are also around to teach you how to best enjoy the rides.
ADVERTISEMENT - CONTINUE READING BELOW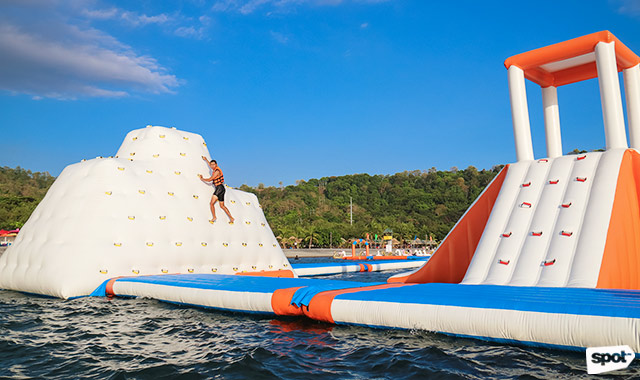 It's a complete workout.
The people behind Inflatable Island say that you can burn up to 800 calories in just an hour or so of climbing inflatables, swinging your way through the monkey bars, running from one end to another while trying to balance on a narrow path, and so on. But after going through all that, we felt like we burned one whole week worth of meals.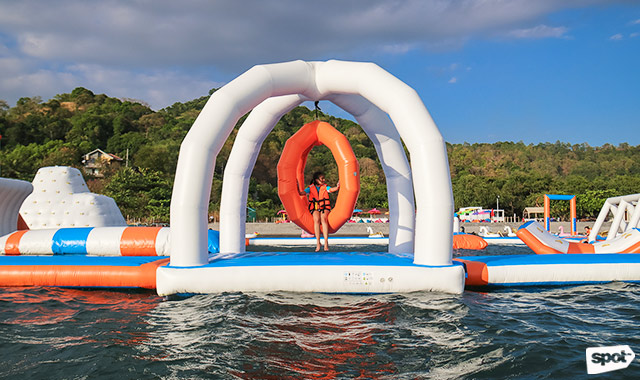 You have front row seats to the beautiful sunset.
Much like Manila Bay, Subic Bay has a sunset to be proud of. Get front row seats to this great show'either on the Sunbathe Floatie or the Happy Swing found at the edge of the obstacle course. Best to choose the 4 p.m. slot so you can have a glorious ending to this thrilling experience.
Inflatable Island is at Samba Bluewater Resort (formerly Subic Half Moon Beach Resort), Olongapo, Zambales. For more information, visit Inflatable Island's website.
This story originally appeared on Spot.ph.
* Minor edits have been made by the Candymag.com editors.