May 10, 2013: Candy Style Awards
The Candy Style Awards is back for another year and we can't wait to see your prom pretty outfits. Think glam and fun in one night as we award the stylish girls who have inspired us to express ourselves through how we dress. Be there at the Rockwell Tent for a fashionable night with the Candy Team, Candy Style Stars, Cuties, and of course, fellow Candy Girls!
May 15, 2013: Into Darkness 3D

ADVERTISEMENT - CONTINUE READING BELOW
Star Trek is back with its latest installment Into Darkness 3D! The long wait will be worth it with the amazing prosthetics, futuristic camera angles and intense crescendo of the musical scoring combined together to make thrilling scenes that will have you jumping on your seat. How can we tell? We saw a little sneak peek of it last April 23. Watch it your brothers and unleash the inner geek within you. If you're really not a fan of sci-fi films, you can always drool over Chris Pine when you catch the movie in IMAX.
May 15, 2013: The Great Gatsby

Baz Luhrmann is ready to present the new movie adaptation of this Fitzgerald novel starring Leonardo DiCaprio. Take a journey to the 1920s with your friends by heading to the theaters when the movie premieres this month. Haven't read the novel? Check out the trailer here to give you an idea what the movie is about. Let us know which are you more excited for: the star-studded soundtrack or the glitzy and glamorous costumes?
May 18, 2013: Wanderland 2013
If you haven't heard of Wanderland 2013, then you must have been living under a rock. Here's your chance to indulge your indie-rock-loving self with 12 hours of music and art in the Globe Circuit Events Ground. There will both foreign and local acts to cater to your ears like Neon Trees, Colour Coding, Up Dharma Down and She's Only Sixteen.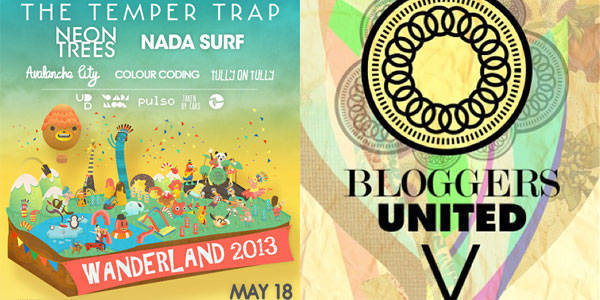 ADVERTISEMENT - CONTINUE READING BELOW
June 1, 2013: Bloggers United 5
Just in time for you to gear up your back-to-school wardrobe, Bloggers United is back for the fifth time. Let's start June and end summer by shopping your favorite blogger's closet. Check out who will be participating in #BU5 here. If that isn't enough to convince you, think of all the clothes, shoes and accessories you'll be missing out on! See you there!