If it's a school in Makati you seek, with a reputation for producing some of the country's foremost minds, San Beda University is a great choice for those pursuing tertiary education alongside a smaller student population. In recent years, it's also been beefing up its offerings in data science and information technology, looking to fill a growing need for experts in these fields. Here's all you need to know about studying and applying to San Beda University:
History of San Beda University
San Beda College started as an all-male grade school in Manila run by the monks of the Ordo Sancti Benedicti or Order of Saint Benedict, where it got its name. It was originally called El Colegio de San Beda and opened in 1901, offering only basic education and the first two-years of a college undergraduate degree. A few years later in 1906, San Beda College was affiliated with the University of Santo Tomas, and students were allowed to continue further studies there without having to take the entrance exam. In 1910, San Beda became an independent private institution for higher learning and was able to grant Bachelor of Arts degrees and diplomas in elementary and high school. 
ADVERTISEMENT - CONTINUE READING BELOW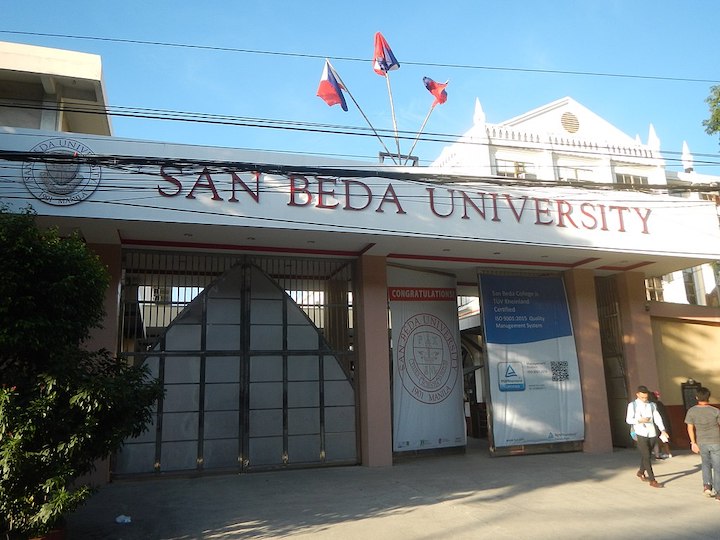 In the '20s, the surge in number of the student population prodded the administration to move to a lot on Mendiola Street, where the campus remains until today. When the school reached 9,000 students in 2018, it was considered and renamed a university by Fr. Aloysius Maranan. It currently offers undergraduate and post-graduate degree programs that fall under four colleges: Arts and Sciences, Nursing, Medicine, and Law. The three graduate schools of business, law, and liturgy, as well as the Senior High School Department of SBU Manila, are found in the main Mendiola campus.
Top Courses San Beda University Is Known For
There are around 12,500 students who enroll at San Beda a year, and it offers 27 program courses with a mix of online classes and live lectures. The university is often praised for its Bachelor of Law undergraduate degree, which historically produced a high percentage of passing rate among its Bar Exam takers. It has also produced some of the foremost lawmakers, government officials, and lawyers in the country. 
Aside from this, the university is also delving into filling the need for software developers, data scientists, and engineers, which is why it now offers a new course under the new Manuel V. Pangilinan College of Computing Studies (SBU MVP CCS), BS Information Technology. This newly established school hopes to also offer the programs BS Computing Science, BS Information Science, and BS Computer Engineering in the next few years.  
How to Apply at San Beda University 
If you wish to apply to San Beda University, you may be part of a semestral academic calendar with a relatively small batch size of around 1,000. The application process is fairly straightforward and can be done online. Here's the step by step process:
ADVERTISEMENT - CONTINUE READING BELOW
Register online. Accomplish the registration form, which you can access when you create a San Beda account here and agree to their Data Privacy terms. 

Pay the processing fee of P700 for Filipino students and P1,000 for international students. Payment instructions will be sent over email.

Prepare and submit other admission requirements related to your course of study and upload these on the portal. Requirements vary, but freshman applicants are expected to have an average grade and display no failing mark in their report card, favorable recommendations from their last school attended, and have passed an interview. There is also typically an entrance examination test. After submitting this, you should receive a confirmation that your application was received. 

If your application is correct, complete, and valid, you should receive an email regarding the status of your application.

Those who are qualified applicants may proceed to pre-enrollment steps.
Tuition Fees at San Beda University 
If you're considering enrolling at San Beda University, consider the tuition fee per semester, as well as any other fees. Tuition fees at San Beda vary across a range of P150,000 to P160,000 per year, according to Edukasyon. This can easily be done through online payments, credit or debit cards, or over the counter and in installment plans. Students must also first pay a non-refundable reservation fee of P2,500, which will be credited back to them upon enrollment. 
ADVERTISEMENT - CONTINUE READING BELOW
Famous Alumni at San Beda University
Counting the high school and graduate schools of San Beda University, the institution has produced many notable alumni who turned out to be fierce leaders, especially in the courtroom and in politics. Among those with a Bedan education in their grade school or high school years were statesmen like Ninoy Aquino, former senators Ramon Mitra and Raul Roco, businessmen such as Manny V. Pangilinan of PLDT and the Metro Pacific Corporation, ABS-CBN Network founding chairman Don Eugenio Lopez Jr., and Danding Cojuangco of the San Miguel Corporation. The country's foremost creatives such as National Artist for Painting Arturo Luz and National Artist for Architecture Francisco Mañosa also spent many of their formative years in San Beda.
Graduating from the San Beda College of Law are names such as President Rodrigo Duterte, Senator Leila de Lima, and a slew of justices who presently and formerly served the Supreme Court.
ADVERTISEMENT - CONTINUE READING BELOW
In entertainment, there were also a number of familiar faces who entered and finished at San Beda for college, including Dingdong Dantes, Aga Muhlach, West End star Rachelle Ann Go, late rapper Francis Magalona, and Kapuso actor Derrick Monsaterio.
READ MORE:
Everything You Need to Know Before Applying to Mapua University
ADVERTISEMENT - CONTINUE READING BELOW
Everything You Need to Know Before Applying to Colegio de San Juan de Letran
Everything You Need to Know Before Applying to the University of the East
Everything You Need to Know Before Applying to Adamson University