Lifestyle
Reality Check: Moments in Books that Don't Happen in Real Life
Because life isn't always as dramatic, romantic, and supercalifragilistic as our favorite authors make them out to be.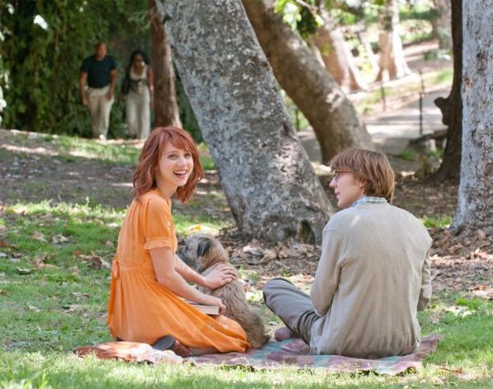 PHOTO Fox Searchlight
1. The Big Speech
You think it's going to happen to you too—in fact, you believe it so much you practice your lines in front of the mirror. No matter what the situation—confronting the authorities, stealing your one true love away from that girl he's with right now, standing up to a bully, the heroine seems to do it with all these big, meaningful, beautiful, literary words. In real life? Sometimes, only emojis suffice. o_O
"From the very beginning— from the first moment, I may almost say— of my acquaintance with you, your manners, impressing me with the fullest belief of your arrogance, your conceit, and your selfish disdain of the feelings of others, were such as to form the groundwork of disapprobation on which succeeding events have built so immovable a dislike; and I had not known you a month before I felt that you were the last man in the world whom I could ever be prevailed on to marry." —Pride and Prejudice, Jane Austen
ADVERTISEMENT - CONTINUE READING BELOW
2. The Snappy Banter
Oh, we get along so well, we never run out of things to say to each other, I could spend all day just talking to this intellectual, humorous crush of mine. And when we talk we speak using all the figures of speech and it comes out so naturally, we don't skip a beat—alliteration, metaphors, onomatopoeia— you name it, we've said it.
CONTINUE READING BELOW
Recommended Videos
Truth be told—most of the time, you're not as witty and prolific as you think you are. Cue, crickets.
"That's why I like you. Do you realize how rare it is to come across a hot girl who creates a adjectival version of the word pedophile? You are so busy being you that you have no idea how utterly unprecedented you are." —The Fault in Our Stars, John Green
3. The Everyone is Connected Immediate Lightbulb Flash
So many random things happen in your life simultaneously and you tend to categorize your life according to different groups—school, family, friends, clubs, etc. In books, everyone you meet, no matter how random, somehow magically links to everyone else and in one sweeping sentence, it dawns on you how person A came into your life so that plots X, Y, Z could happen; and you met person B because somehow you were his missing link to person A.
ADVERTISEMENT - CONTINUE READING BELOW
Facebook may show you connections in real life but the deep meaning-of-life type of realization hardly happens at the blink of an eye.
"The universe hiccups, and we poor fools try to figure out why." —The Good Luck of Right Now, Matthew Quick
4. The Hilarious Embarrassing Moment
You know how, when you read that self-deprecating situation in books and you end up laughing out loud? And the heroine relates what just happened and it's embarrassing, and all, but the way she tells it is so funny—almost as if she can find the humor in what's going on as it happens. And it makes her seem like an even cooler, quirkier, more adorable girl for it.
Some embarrassing moments aren't funny—they're really just hide-your-face earth-swallow-me embarrassing. And they don't make you seem any cuter either.
"I wrote a letter to NBC asking how I could submit sketches to be considered for Late Night. I got a letter back saying that the network could not even open an envelope that contained creative material that was not submitted by an agent. I thought the phrase 'cannot even open the envelope' was a tad dramatic. NBC legal, you drama queens. " — Is Everyone Hanging Out Without Me? (And Other Concerns), Mindy Kaling
ADVERTISEMENT - CONTINUE READING BELOW
5. The Romantic Goof
Awkward times turned fairytale-like. The nerdy guy turned love of your life. The horrible first date turned night you will never ever forget. The breakup that takes you immediately to the next major turning point in your life. Cause and effect is what drives the stories we read, and when there's something not-quite-right that happens, it's usually because it's going to lead you to something better.
In real life, when things aren't exactly the way you want them to be, it takes more than just a few pages for you to discover the turnaround.
"There are moments when you can't believe something wonderful is happening. And there are moments when your entire consciousness is filled with knowing absolutely that something wonderful is happening." —Attachments, Rainbow Rowell
Facebook is allegedly collecting unauthorized data for market research.
They'll fit right into your #aesthetic home study area!
From light-hearted rom-coms to musicals.
She's set to star as the young Gabbie Salazar, originally played by Shaina.
We're keeping her tips in mind!
Proof that Ivana has a heart of gold.
Pagdating sa skincare, stick to one ba dapat?
In the public eye, at least! As Janella once said, "Masaya but I just don't want to share a lot."
It aims to help 500 jeepney drivers from Rizal.
Pretty sure you already have it!
From The Candy Bulletin Community