Fans of Summit Media's Pop Fiction Books had their chance to meet the authors who made them fall in love page after page. Readers of different ages gathered at the first ever Pop Fiction Festival at Market! Market! Activity Center on February 8 to get their copies signed.
Since its launch in August 2013, Pop Fiction has released 12 books all by online writers namely Operation: Break the Casanova's Heart by Aly Almario (Alyloony); Three Words, Eight Letters, Say It, and I'm Yours by Jade Margarette Pitogo (Girlinlove); The Bet by Kimberly Joy Villanueva (Ilurvbooks); The Despicable Guy by Leng de Chavez (Shirlengtearjerky); Secretly Married by Forgottenglimmer; A Place in Time by Jessica A. Concha (j_harry08), For Hire: A Damn Good Kisser by Ariesa Jane Domingo (Beeyotch), 548 Heartbeats by Jessamine Verzosa (peachxvision), Ang Boyfriend Kong Artista by Ella Larena (modernongmariaclara), She's Dating the Gangster - Extended Edition by Bianca Bernardino (SGWannabe), A and D by Louisse Carreon (fallenbabybubu) and The Filthy, Rich B*tch by Jhing Bautista.
Aside from the book-signing and photo op with the authors, the readers also enjoyed fun photo booth, games, freebies and performances by celebrities and Candy Cuties.
The Pop Fiction Festival was hosted by PBB Teens winner Myrtle Sarrosa and Got to Believe star and Candy Cutie Alexander Diaz.
Click on the gallery to see more of what happened during the grand gathering of Pop Fiction authors and fans!
ADVERTISEMENT - CONTINUE READING BELOW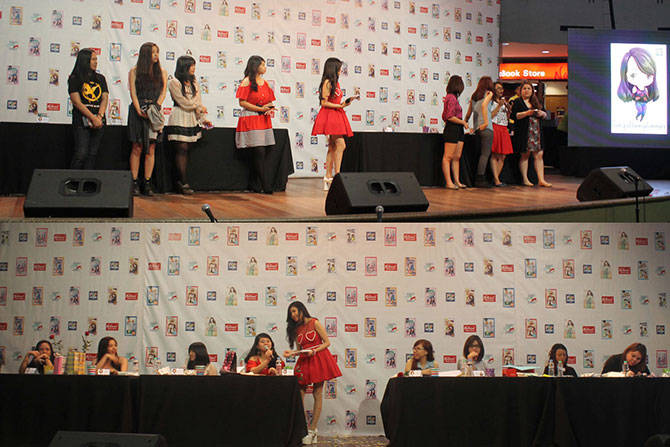 ADVERTISEMENT - CONTINUE READING BELOW