Lifestyle
Professors You'll Love in College
These teachers will want you to hit the books and gun for a summa cum laude.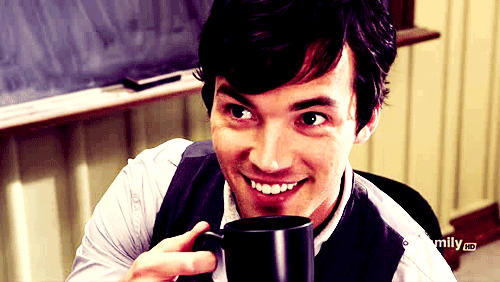 IMAGE Freeform | sarauccello.tumblr.com
The fresh out of grad school cool guy
If you didn't know any better, you would have thought he was just another block mate. He's new to the academic workforce and still loves the jeans and shirt look. He can make any subject relevant by putting it into pop culture perspective without trying too hard. If your org is lucky enough to have him oversee it, he'll even take everyone out for drinks once everyone's turned over their midterms. If there was ever an appropriate time to crush on your professor and actually think something might come out of it, it would be with this guy.
The pseudo-mom
You know you'll love her the second you meet her—you didn't make the cut during pre-enlistment and have to track her down to beg her to let you in her class. She looks at you with a sympathetic smile and says yes because she understands how grueling the registration process is. She looks the way homemade chocolate chip cookies fresh out of the oven smells. She's so accommodating and nice that you end up telling her about that breakup you're going through and she actually listens. Beyond the lessons she deals in class, she actually gives life advice that makes sense. You want to adopt her as your fairy godmother.
ADVERTISEMENT - CONTINUE READING BELOW
CONTINUE READING BELOW
Recommended Videos
The authoritarian with a heart of gold
He terrifies you because he doesn't welcome the class on the first day. Instead, he delivers a limitless laundry list of DON'Ts that are meant to scare everyone out of his class, his major, and possibly out of his university. But you keep attending his class (and following his rules) and you realize what a genius he is and that the gazillions of rules he's set in place actually—gasp—make sense. You begin to accept and embrace the system, which gives you a slight ego boost because you finally feel like a real adult. And then he criticizes your dissertation and that ego boost you just got just goes kaput. But you love him anyway because his critique is absolutely on point.
The ghost
He's famous for the fact that he only shows up to class once a month. While you, ideally, want to uphold excellent standards of learning and maximize your college experience, sometimes you just want a free cut and an easy out. This guy will hand it to you on a silver platter, almost every time. The truly good ghost will manage to give you all the free cuts you want and still be able to teach you something (anything) in the span of a semester. Don't be fooled, however, you're going to have to do massive amounts of self-study to make sure you pass the final exam since it's going to be the only basis of your grade.
ADVERTISEMENT - CONTINUE READING BELOW
Who do you think will be your favorite?
Yes, a mainstream romance about two Filipinas falling in love. And it's really good.
Find out what the universe has to say about you.
Some started with zero entrepreneurial experience and knowledge!
Red wine in a scented candle? *Adds to cart*
Is Pepe Herrera Toni Gonzaga's leading man?
In this episode of Made It, Nina talks about starting a business as a college student and eventually growing her brand into what it is now.
This book will bring out the romantic K-Pop fan in you.
They've also dreamed of being doctors.
They're flexible to accommodate working students' schedules.
The COVID-19 pandemic completely changed the employment landscape.
From The Candy Bulletin Community