Lifestyle
Here's an Origami Tutorial for a Fluttering Butterfly
Perfect for decorating your bedroom or desk with!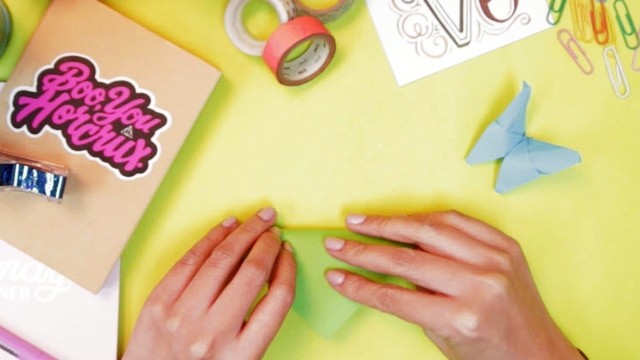 IMAGE Pam Carlota
Aside from it being fun to do and nice to look at, did you know that Origami can help you with letting go of perfectionism? Because it's an art, craft, science, and meditation all in one, it teaches you to accept your imperfections and let go of self-judgement.(via psychologytoday.com)
"I tell my students that despite having folded hundreds of thousands of cranes my models are still not perfect and the reason why is because we are human not machines; we can not fold to that level of accuracy and precision." —Samuel Tsang
Try making this fluttering butterfly! You can easily make this in just 10 easy steps.
STEPS:
Fold a square piece of paper diagonally in half on both sides to make a crease.
Open and fold both vertically and horizontally in half to make another crease.
Fold the bottom corner 'til it meets the top part of the paper.
Collapse the sides to make  a triangle.
Fold the top layer so they meet in the center.
Flip over and fold the bottom part upwards. Just make sure to leave a little space on top.
Flip over and fold the bottom part upwards. Just make sure to leave a little space on top.
Fold down only the first layer triangle. 
Unfold the back part and shape to form the butterfly.
Make a crease on all corners. 

What other activities are certified boredom busters for you? Share them below!
It's the best time to pick up a new hobby and put those notebooks to use.
We can't handle this breakup!
For days when you need an instant outfit inspo that's still campus-appropriate.
It could very well be one of the world's largest volcanoes.
From consistently badmouthing another friend behind their backs to making snide comments sneakily disguised as compliments, here's how to deal with a tricky friendship.
From sisig to bulalo, the North has a lot to offer.
Even college students like us can apply for freelance creative jobs while we're still going for that diploma!
These simple practices, when done consistently, end up being worth a lot.
It can actually *shatter* your cartilage.
Bordeos becomes meat of online talk while helping out in family's meat business.
From her gowns down to the décor and food!
Trish is part of Candy Rookies 2020, a group of influential and aspirational college students handpicked to represent #GenerationCandy in the year to come.