Throughout the pandemic, digital-communication app Discord has evolved from being a hub where gamers can connect while streaming and playing their favorite video games online to what is now a virtual-reality center for social activity and even business. It's a place where online communities thrive—you'll find most fan followings and Reddit communities have their own dedicated (and sometimes official) servers on the platform. A number of businesses and schools have also taken to using Discord throughout the work-from-home era as its channel structure closely resembles that of pre-pandemic office spaces and classrooms.
There are a number of factors that contributed to Discord's growth and transformation. The platform captures the feel of more casual socialization, in contrast to other platforms' meetings, for which you have to sign up. It's also essentially a social media app with customizable user and server profiles, which allow your account to feel more personally tailored in more ways than just the choice of profile picture.
Those who are looking to spice up their Discord experience will be glad to know that the price to avail of the Discord Nitro subscription has dropped by about 50%. Nitro is the app's premium subscription service that gives users access to exclusive perks such as up to 4K video streaming quality, enhanced profile customization, and expanded limits to file size, sticker use, and server membership. 
Discord Nitro Is Now 50% Off in the Philippines; Here's How to Buy It
ADVERTISEMENT - CONTINUE READING BELOW
A Discord Nitro subscription in the Philippines is now priced at P263.99/month for the monthly plan and P2,639.99/year for the yearly plan. The price for Nitro was previously at U.S $9.99/month (roughly P520) or U.S. $99.99/year (roughly P5,200). As the company introduces "localized pricing," prices have also dropped in Australia, Brazil, Peru, Turkey, and Poland. Additionally, the price of Nitro Classic, a version of the Nitro subscription with fewer perks, has also been reduced to P131.99/month and P1,319.99/year.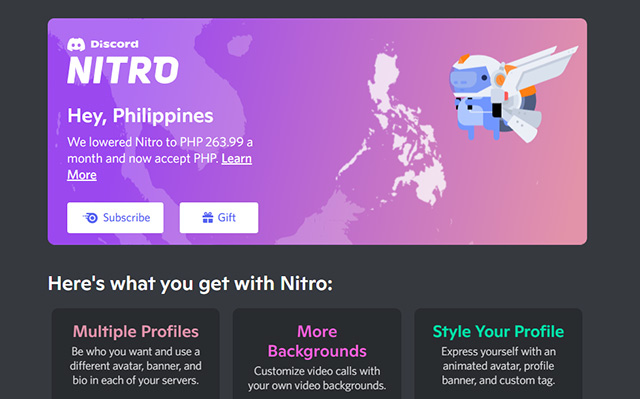 To subscribe to Discord Nitro, all you have to do is choose the "Nitro" tab on the upper left-hand side of your Discord interface. Once you've been redirected to the Nitro page, just hit "subscribe" and choose your subscription type and payment method. To get localized pricing, you must use a payment method issued by a bank from the Philippines—payments made through card and GCash are both acceptable. For PayPal users, the local billing address must be located in the Philippines as well.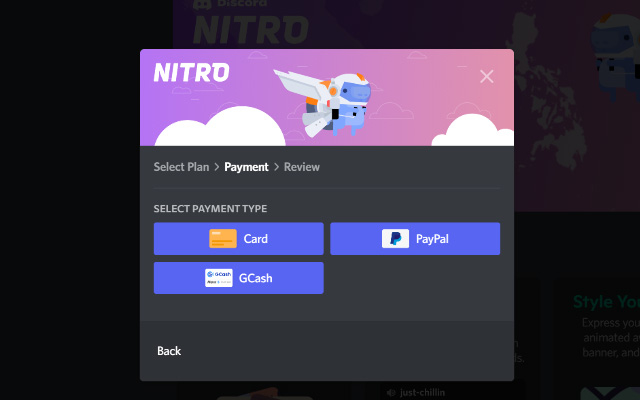 What Is the Difference Between Free Discord and Discord Nitro?
In a nutshell, the perks package. The perks of Nitro include the ability to make your user profile unique per server that you're in, the option to add a profile banner and use a GIF file as your profile picture, and the ability to use your custom stickers on any server (not just the server they were created in).  Additionally, Nitro users are able to share files that reach up to 100 MB in size (as opposed to the free user's 8 MB limit) and are able to stream videos up to 4K resolution in quality (compared to the free user's 720p resolution limit).
Finally, users with Nitro can join up to 200 servers, which is double the amount of free users. Upon purchasing Nitro, subscribers will also be given two free server boosts, which will give the server more customization options for server banner and icon, more slots for custom stickers, and increased video and audio quality for any user streaming within the server,  regardless of whether they're a Nitro subscriber or not. Without Nitro, one server boost costs P262.99/month and P2,631.99/year, roughly the same price as the Nitro subscription itself.
ADVERTISEMENT - CONTINUE READING BELOW
READ MORE:
How This 22-Year-Old Found Love on Discord and Makes LDR Work
5 Interesting Games to Play on Discord and Zoom for Your Next ~Virtual~ Hangout
5 Easy Steps to Study *Better* on Discord
Pinoy Streamer's Discord Tutorial on How to Conduct Classes with Less Data
***
This story originally appeared on Spot.ph. Minor edits have been made by the Candymag.com editors.