Wondering where your next food trip with your barkada will be? Buffalo Wild Wings is just the place! Opening its first store ever here in the Philippines at Estancia Mall this January 29, Buffalo Wild Wings is undeniably perfect for sports fans, foodies, or anyone who just wants to have a good time.
The newest resto on the Capitol Commons block, Buffalo Wild Wings, is known for its award-winning wings, sauces, and dozens of flat-screen TVs! American comfort food at its very best, that's what they're all about. The perfect ambiance plus the stellar dishes makes a winning combo. Their hyped and happy wait staff will not fail to make your stay as awesome as possible.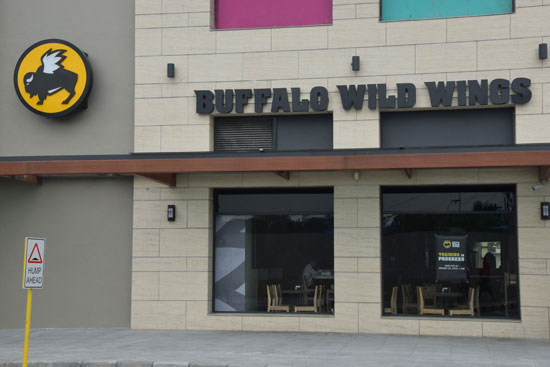 ADVERTISEMENT - CONTINUE READING BELOW
All the dishes served are absolutely mouthwatering, it's so difficult to choose. Lucky for you, we hand-picked some of the dishes that stood out to make one delicious meal!
Looking for the perfect way to start your meal?

Buffalo Wild Wings offers the yummiest Mini Corn dogs! These babies come in cute bite-size pieces, you'll surely finish the whole thing in minutes. We also suggest that you try their Jalapeño Pepper bites because it is the bomb (Literally! It's pretty spicy.)! Breaded Jalapenos stuffed with cheddar and mozzarella plus bacon? How can it get any better than that?

ADVERTISEMENT - CONTINUE READING BELOW

Make room for the star of the Buffalo Wild Wings menu!

You and your barkada just HAVE to try their authentically awesome chicken wings. You can take our word for it, it is just to-die-for! You can have the Sweet BBQ, or the Asian Zing, the Mango Habanero and even the screamin' hot Blazin' flavor (There are 13 signature sauces and 5 dry seasonings to choose from. How cool is that?) We're 100% sure about one thing, the guys at Buffalo Wild Wings know what they're doing!

(Photo: buffalo wings sauce)

ADVERTISEMENT - CONTINUE READING BELOW

Good things come in "wrapped" packages

Don't miss their Pepper Jack Steak Wrap that's bursting with seasoned prime rib, pepper jack cheese, lettuce, pico de gallo and southwestern ranch dressing. If you can't get enough of Buffalo Wild Wings' sauces and dry seasonings, you should try their Grilled Chicken Buffalitos! Their wraps and buffalitos are not too heavy, so they're perfect after-school snacks.

ADVERTISEMENT - CONTINUE READING BELOW

Because we all need our burger fix

Today's your cheat day? Is it your bestie's birthday? Make the most out of the occasion by grabbing their Juicy Steak Burger. Its huge beef patty is topped with a pile of succulent prime rib and melted pepper jack cheese (All the things we love in one dish!). Their delicious Pulled Pork Sandwich is highly recommended too! Buffalo Wild Wings is so cool, you can even build your own burger by choosing the protein, cheese, toppings and the sauce. Pretty sweet, huh?

ADVERTISEMENT - CONTINUE READING BELOW

Nothing like some good ol' flatbread

You simply cannot leave Buffalo Wild Wings without trying their signature Parmesan Garlic Chicken Flatbread! With their delectable Parmesan Garlic sauce and topped with chicken and mozzerella-provolone cheese, this crispy, crunchy, oven-baked flatbread pizza is TO-DIE-FOR!

Want something a little different? Well, they've got the best Spinach Artichoke Flatbread around. Generously smeared with a tasty spinach artichoke dip, sliced chicken, and their mozzerella-provolone cheese, their Spinach Artichoke Flatbread proves that vegetables can be absolutely flavorful!

ADVERTISEMENT - CONTINUE READING BELOW
Any of these dishes tickle your tastebuds? Then check out Buffalo Wild Wings now!
Buffalo Wild Wings is now open at the Estancia Mall, Capitol Commons in Pasig City.