A prominent fixture along Katipunan Avenue, Miriam College has been molding young women and men for close to 100 years now. Formerly known as Maryknoll College, the school is a great option for young girls who want to earn their college degree while studying in Quezon City. If this sounds enticing to you, read on to find out more about the college and if it fits your future:
History of Miriam College
Miriam College began when the sisters of the Maryknoll Congregation were commissioned to establish a teacher-training program for women here in the Philippines. Its first campus was an Augustinian Convent in Malabon, Rizal. In 1953, the school finally set up shop in its current campus in Diliman, Quezon City. 
Today, Miriam College, sometimes shortened as MC, has expanded to two campuses—its main one in Quezon City and another in Nuvali, Laguna. The student population stands at around 7,000 students, with more to come once it opens its third branch in Porac, Pampanga.
ADVERTISEMENT - CONTINUE READING BELOW
Is Miriam College an all-girls school? 
At one point in its history, the main campus accepted male college students but only until 1999. While it remains exclusive to women in the primary, secondary, and tertiary levels, its pre-school, graduate school, and deaf-mute education programs still accept male students. Meanwhile, the Miriam College branch in Nuvali, Laguna offers basic education to both girls and boys.
Top Courses Miriam College Is Known For
If you aren't sure how to start your course search, you can start by looking through the programs MC has been recognized for. The Commission of Higher Education (CHED) has singled out the college's Teacher Education, Business Administration, and Entrepreneurship programs as some of the country's best by declaring them Centres of Excellence. Apart from these, MC also offers a few programs that not many colleges have, such as Environmental Planning and classes on Gender and Development.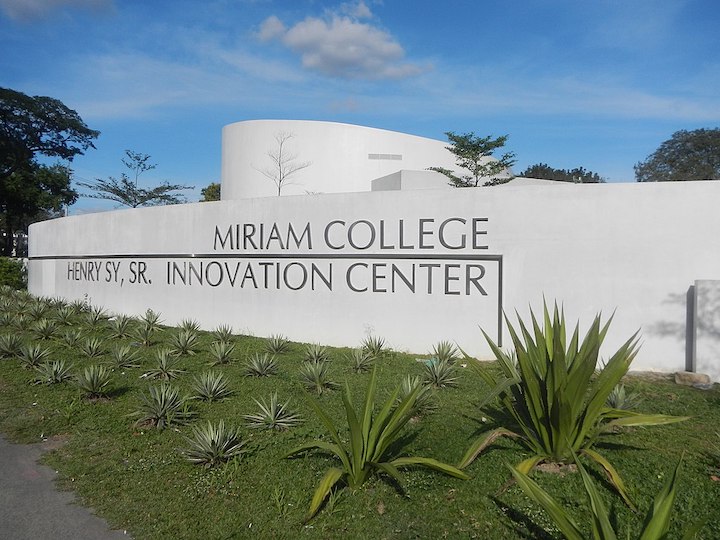 ADVERTISEMENT - CONTINUE READING BELOW
How to Apply to Miriam College
After selecting a course, the next step is to study the admissions process. Incoming first year students may secure a spot at MC, through five quick steps:
Sign up at the school's Student Data Management System

here

 

and start an online application.

The entrance exam is waived for the year and the next step is to pay an application fee of P600. 

Afterward, send proof of payment to the Admissions Office with your name, application number, and a copy of the deposit slip or confirmation email.

Download the Secondary School Record form and Recommendation form and have your adviser or guidance counselor fill out the latter. 

Submit this to the admissions office and wait for your admission status. 
How Much Tuition and Other Fees Cost at Miriam College
What's next? Consider the costs of studying at MC. One semester at college will cost students around P40,000 to P100,000, according to Edukayson. Other costs include enrollment fees, laboratory fees, books, and college uniforms. Applicable to schools with at least 100 students in their graduating class, the top students who rank in the upper 10 percent of their senior high school batch may apply for an honor scholarship and be rewarded with a 100 percent discount on their tuition fee. Students may also apply for financial aid, should they be able to prove their inability to cover the school's fees. Learn more about the scholarship options here. 
ADVERTISEMENT - CONTINUE READING BELOW
Famous Alumni From Miriam College
Many recognizable alumni have gone on to graduate with a Miriam College education, whether in their formative years or through college. Leading the pack is Nieves Confesor, who was her batch's valedictorian and a magna cum laude. The former dean and executive director at the Asian Institute of Management even returned to MC to become a professor herself. Broadcast journalist Korina Sanchez also got her start at MC after graduating from Communication Arts.
Among other famous faces to walk along the halls at MC are actresses Iza Calzado, Maxene Magalona, Dianne Mendoza, personality Andi Manzano, Miss Universe 1973 Margie Moran-Floirendo, and actor Dennis Trillo, among many others. 
ADVERTISEMENT - CONTINUE READING BELOW
READ MORE:
Here's How Much It Costs to Study at Ateneo de Manila University
Everything You Need to Know Before Applying to the De La Salle - College of Saint Benilde
Everything You Need to Know About Applying and Studying at University of the Philippines Diliman
Everything You Need to Know Before Applying to MINT College
ADVERTISEMENT - CONTINUE READING BELOW