Two fun facts about Intramuros-based university Lyceum University of the Philippines—first, it's the only university that was founded by a Philippine president, and second, it traces its name back to Greek origins. If you're keen on becoming a future Lycean and sporting its colors of red and gold, review this briefer to get further acquainted with the university, often associated with courses in hospitality.
History of the Lyceum of the Philippines University
Lyceum University of the Philippines, or LPU for short, takes its ideals from one man—the late President Jose P. Laurel, who founded the institution for higher learning in 1952. Under the mantra "Veritas et Fortitudo" (truth and fortitude) and "Pro deo et patria" (for God and country), LPU consistently drives its students to push for academic excellence. The school was first erected on the grounds of the former San Juan de Dios Hospital and is part of the Intramuros Consortium, together with Mapua University, Colegio de San Juan de Letran, and Pamantansan ng Lungsod ng Maynila.
ADVERTISEMENT - CONTINUE READING BELOW
It first started with two colleges—one on Arts and Sciences and one on Business Administration. This was later followed by the Claro M. Recto Academy of Advanced Studies and the College of International Relations a year later. After the death of its founder, LPU was manned by Laurel's son, Sotero, who expanded the university until it set up branches outside of the metro—in Batangas and Laguna specifically. The sons of Laurel continue to head the different schools, which have reached Makati, Cavite, and Davao, as well. Today, there are five LPU campuses with a student population of 37,000 as the university approaches its 70th year.
Top Courses the Lyceum of the Philippines University Is Known For
To service its college students, LPU has 15 tertiary degrees within five colleges. It counts International Relations, Business, Communication, and International Hospitality among its flagship programs. In fact, LPU made history by becoming the first university in the country to be given an international accreditation for its Hotel and Restaurant Management and Tourism undergraduate and graduate programs. Currently, an estimated 15,000 LPU graduates are enrolled in the college's different hospitality courses.
ADVERTISEMENT - CONTINUE READING BELOW
How to Apply to the Lyceum of the Philippines University
Like many other universities, LPU has waived its entrance exam for AY 2022-2023. This puts less weight on the applicants' shoulders. In order to begin a freshman application, follow the steps below:
Send scanned copies of (a) your proof of enrollment such as a report card or certificate of registration and (b) a PSA birth certificate to

admission.mnl@lpu.edu.ph

.

Wait for the admissions office to confirm that they've received your documents and to give you an applicant payment ID.

Pay a non-refundable P1,000 reservation fee online and send a proof of payment to

reservationfee.manila@lpu.edu.ph

. This reservation fee may be deducted upon enrollment.

Again, wait for the admissions office to send confirmation regarding your reservation.
How Much Tuition and Other Fees Cost at the Lyceum of the Philippines University
For freshmen college students, the base tuition fee stands at a range of P42,000 to P50,000 per semester. This amount may be settled in full or through two installments. Upon enrolling, students will have to cover a minimum downpayment of P5,000. One upside is that LPU does not require college students to don a uniform, which lessens their total costs. There are also a number of payment options, such as one from Bukas, scholarships and grants, which may be viewed here. 
ADVERTISEMENT - CONTINUE READING BELOW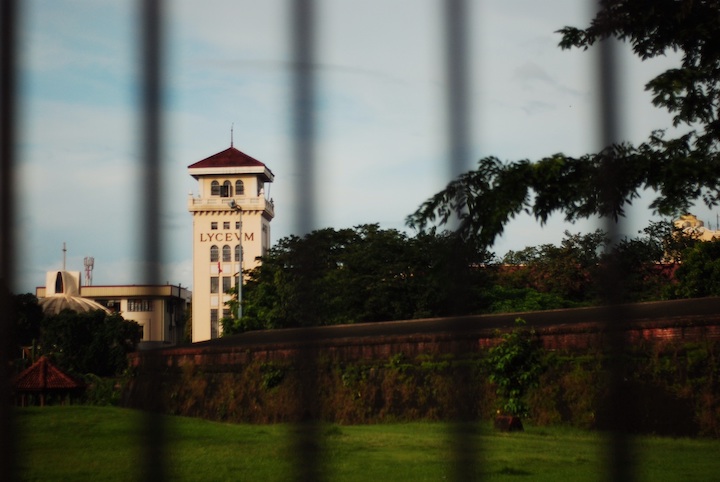 Famous Alumni From the Lyceum of the Philippines University
Many promising young men and women have come out of LPU ready to serve their nation in countless ways. A number of public servants have been produced by the university; among them are presidential candidate Sen. Ping Lacson, President Rodrigo Duterte, and Sen. Jinggoy Estrada. 
ADVERTISEMENT - CONTINUE READING BELOW
LPU graduates like renowned actress Perla Bautista, novelist Laulhati Bautista, writer Rene Villanueva, and actor Cesar Montano have made irreplaceable contributions to the local arts and culture scene. Meanwhile, lauded news and media personalities like S.O.C.O's Gus Albegas, talk show host Cristy Fermin, GMA reporter Susan Estrada, and the late journalist and author Primitivo Mijares are other exceptional products of LPU.
READ MORE:
Everything You Need to Know Before Applying to Centro Escolar University
Everything You Need to Know Before Applying to Mapua University
Everything You Need to Know Before Applying to Colegio de San Juan de Letran
Everything You Need to Know Before Applying to San Beda University