It's not uncommon for Filipinos to give up on their dreams of studying abroad due to financial concerns. These days, however, there are numerous scholarships that give a few lucky students the rare chance to go to school in another country.
ALSO READ: 8 Celebrities and Influencers Who Studied Abroad
For example, the Korea International Cooperation Agency (KOICA) Scholarship Program lets Filipino citizens study at top universities in Korea without any fees. Scholars under this program can expect to receive a regular allowance for living expenses, air fare, scholarship completion grants, insurance, and extracurricular activities—all on top of their school's tuition fees.
KOICA is offering 22 master's programs and 2 doctorate programs for 2023, and they have already opened applications for the first half of these courses. Certain courses are available only to specific universities, such as Digital Innovation for Hanyang University and Gender Leadership for Ewha Womans University.
Here's the list of courses KOICA has released so far:
ADVERTISEMENT - CONTINUE READING BELOW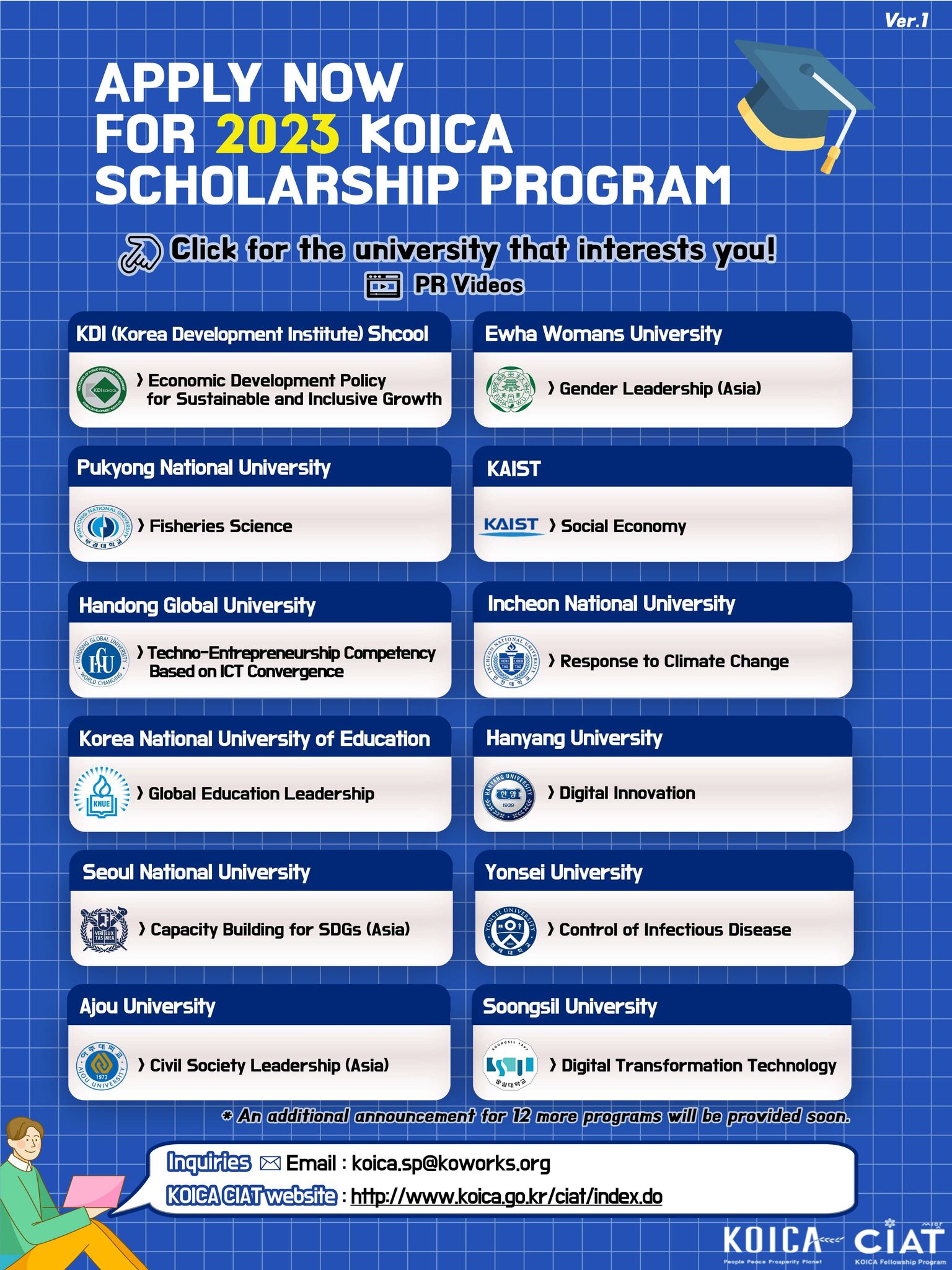 To qualify for this scholarship, one must be a Filipino government employee or an NGO worker with at least two years of experience in their preferred field of study. They should also be officially nominated by the Philippine Government through the Commission on Higher Education. 
Read more about the qualifications below: 
Citizenship: Must be a Filipino citizen

Government Nomination: Be officially nominated by the Philippine Government through the Commission on Higher Education*

Experience: Government employee with a minimum of two years of experience in the field of study (Applicants with a minimum of two years of international NGO work experience may apply for the KOICA-AJOU Master's Degree Program in Civil Society Leadership with endorsement form)

Age: (Preferably) Be under age 40 as of February 2023

Employment: (Preferably) Be employed by your government during and after the program

Level of Education: Have a completed Bachelor's / Master's Degree

English Proficiency: Have a good command of both spoken and written English

Not be a person who has withdrawn from KOICA's scholarship program

Have not participated in KOICA scholarship program or any of the Korean Government's scholarship program before
Interested applicants must submit the KOICA Application Form and the other requirements for their chosen course of study on or before March 10, 2023. Detailed application requirements and guidelines can be found on KOICA's official website: https://www.koica.go.kr/ciat/index.do.
ADVERTISEMENT - CONTINUE READING BELOW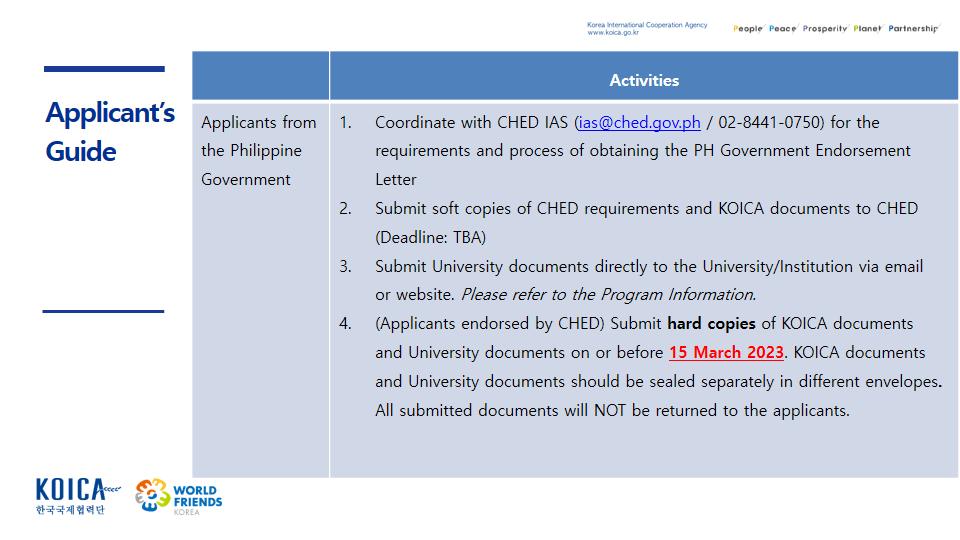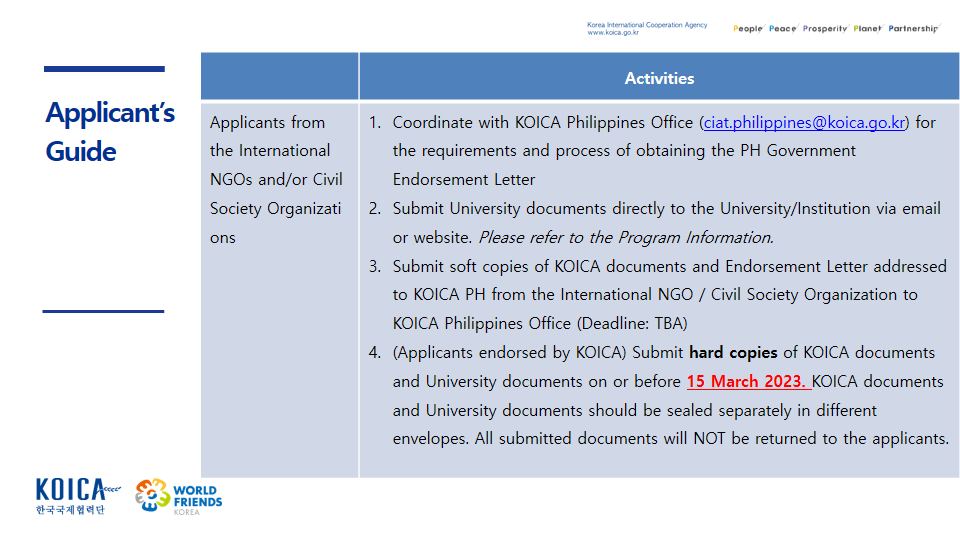 ADVERTISEMENT - CONTINUE READING BELOW
For other inquiries, applicants may email koica.sp@koworks.org or ciat.philippines@koica.go.kr. You may also refer to the directory below: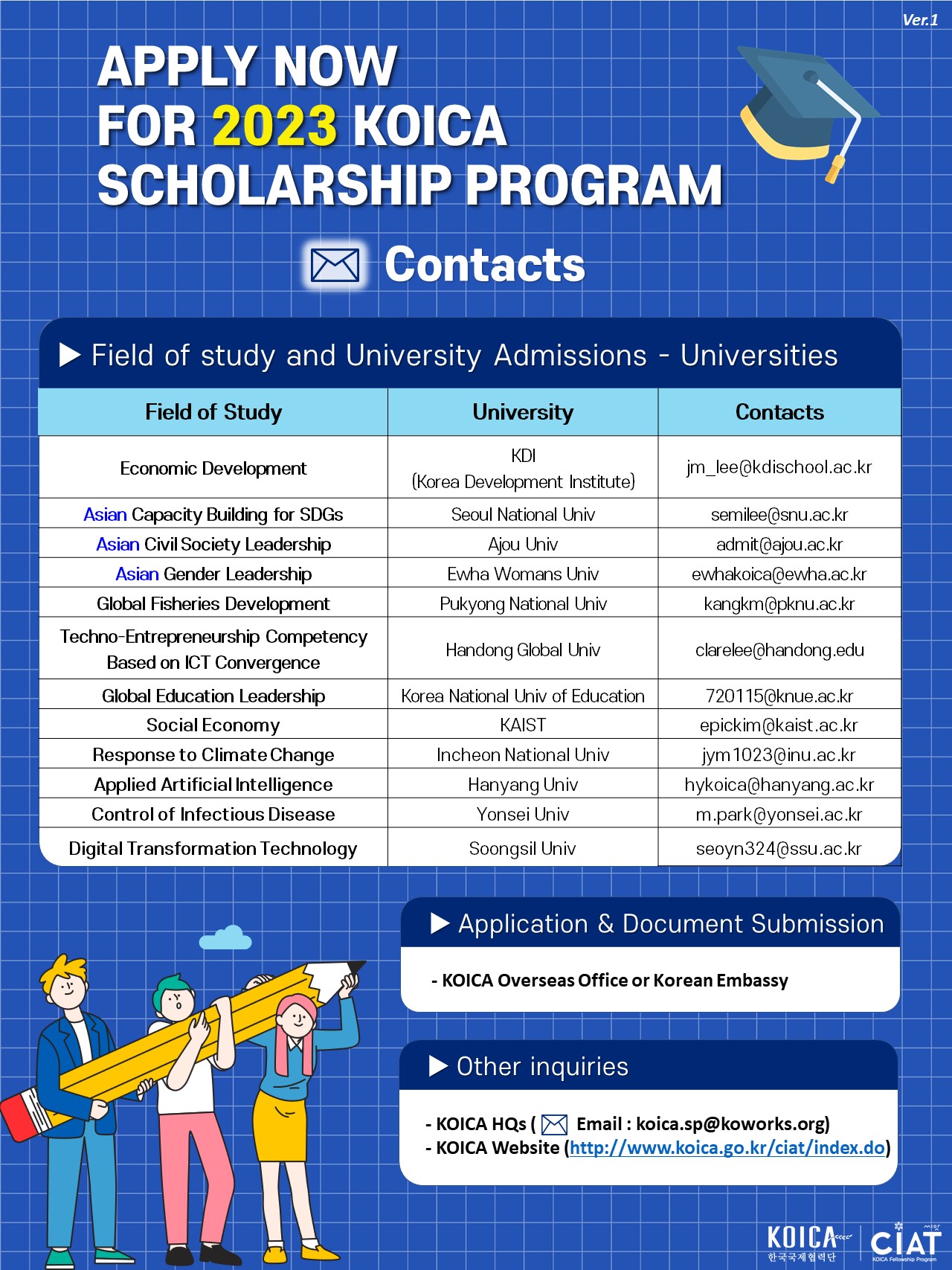 READ MORE: 

You Can Take Your Master's in Australia for Free With This Scholarship Program

Netflix Is Offering Scholarships for HS Graduates Interested in Becoming Animators

Teachers Can Take Their Master's for Free with This CHED Scholarship

This Scholarship Program Will Let You Earn a Master's Degree in Japan for Free

ADVERTISEMENT - CONTINUE READING BELOW