Lifestyle
Just Desserts
"What's your favorite dessert place and what do you like to order there?"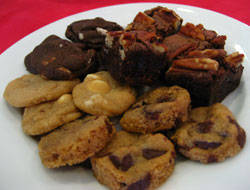 photos by Ocs Alvarez (Angel), Dakila Angeles (Mia and Roch), and Pat Dy (the editors)
The Candy eds share their favorite dessert places and desserts. How about you, what are yours?
I love The Chocolate Kiss for its cozy ambience and their Devil's Food Cake. I also love Je Suis Gourmand's Chocolate Sherbet and Burgoo's Mississippi Mud Pie. Just call me the Choco Fiend! —Mia, Editor in Chief

My family and I used to go to Icebergs Wilson all the time, but sadly, it's been closed for years. :( Now that Icebergs Galleria has opened, I'll make sure to take a trip upstairs and drink Oreo Milkshake or eat Oreo Parfait with matching fries on the side. Yay! —Mimi, Managing Editor
My favorite is Cibo for the Tiramisu. Hands down. —Jennie, Beauty Editor

What a hard question! There are so many because I'm a big dessert lover. :) But if I really had to choose, I'd go for Xocolat. I love the frozen hot chocolate and chocolate fondue! YUM!!!
—Angel, Assistant Features Editor
This is a tough one... I LOVE dessert!!! For a quick yummy treat, I always go for milk chocolate cookies from Mrs. Fields. Another fave is BanApple in Katipunan, I order their caramel apple pie. But my newest fave is Penny Brown, I get their classic smackers! Yummm!!! —Margaux, Fashion Assistant
It's not a dessert place, but I love Flaming Wings in Katipunan for their super yummy Wicked Oreos. Imagine soft Oreos coated in tempura batter and topped with vanilla ice cream and cinnamon powder. Heaven! :) —Marla, Editorial Assistant

I have a lot of favorites because I'm such a big dessert person. (I can eat just dessert—forever!) One of my favorites is Chocolate Kiss in UP. I used to go there everyday with my college buds and I'd always get a big slice of Kahlua Butter Cake. YUM! I also like their Devil's Food Cake. 6: This is making me hungry. —Macy, Web and Mobile Producer

Friday's Choco Mud Pie has always been my all-time favorite! —Roch, Web and Mobile Producer

ADVERTISEMENT - CONTINUE READING BELOW
CONTINUE READING BELOW
Recommended Videos
Is Pepe Herrera Toni Gonzaga's leading man?
In this episode of Made It, Nina talks about starting a business as a college student and eventually growing her brand into what it is now.
This book will bring out the romantic K-Pop fan in you.
They've also dreamed of being doctors.
They're flexible to accommodate working students' schedules.
The COVID-19 pandemic completely changed the employment landscape.
Through these, viewers become aware that there are different mental health issues being experienced by real people.
Never drink cold coffee again!
"When I saw Jane, I said, she's special."
This fringe looks good on everyone, I promise!
From The Candy Bulletin Community