Are you a young millennial in search of ways to live life to its fullest? Look no further. Cadbury just released its latest product called Cadbury 5Star, which includes the brand's trademark milk chocolate mixed in with caramel and crunchy biscuit bits. This newest chocolate experience encourages everyone to go an extra mile beyond their comfort zones, which is why the inside of the product's packaging includes fun and exciting #YouThinkYouCan challenges for you to try out. The product's launch explored these challenges, as several booths were set up around the venue for participants to try and go beyond their limits. Kids, teens, and adults gamely tried out the challenges, some of which were the #YouThinkYouCan hula hoop while wearing a onesie challenge, and the #YouThinkYouCan arm wrestle a big guy challenge.
The 5Star aims to cater to young millennials who are daring, energetic, and adventurous; always feeling empowered to try new things and explore the impossible. "They're active, confident, and they live their lives to the fullest," Mondelez Philippines Chocolates Brand Manager Arlene Amante says. Candy Cutie Alex Diaz and lifestyle blogger Arisse de Santos, who served as hosts for the day, are two of the brand ambassadors of this new product, along with Robi Domingo who, unfortunately, couldn't be there for the launch. Along with their friends, they dared to run across a pool of chocolate, with some of them even pulling off some Running Man moves. It was a delight to watch them power through exciting challenges, but not without taking a bite off of the chocolate first. We even had a quick chat with both of them about the product.
ADVERTISEMENT - CONTINUE READING BELOW
ADVERTISEMENT - CONTINUE READING BELOW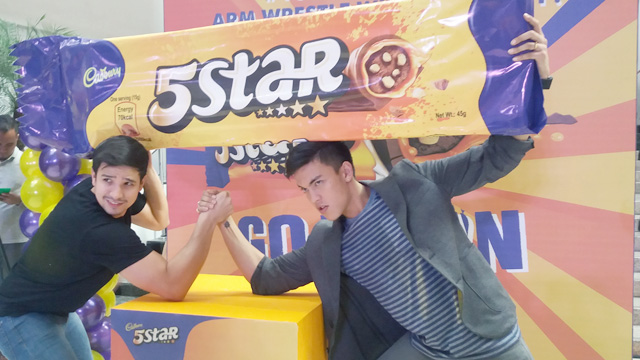 Complete the sentence "I think I can…"
Arisse: I think I can eat a lot [of Cadbury 5Star] today! Chocolate.
Alex: I think I can reach every single career goal I've set out for myself this year.
How do you live in the moment?
Arisse: I guess I just go through the flow of my life. That's what I always tell my readers, my followers—that they don't have to follow anyone. Basically just follow you. Just do you. And if you know that you're doing the right thing, and you're doing positive things and driving other people to do the same, then just do you.
ADVERTISEMENT - CONTINUE READING BELOW
Just do the best you can.
Alex: You take everything as it comes. And whenever something does come your way and you really wanted it to, just look up, tell God, maybe this isn't for me. And you just be patient.
Patience and time will heal everything and will bring everything you want, as long as you're working towards it, and not just waiting for it to happen.
What about being a millennial makes you go full on?
Arisse: I guess, it's just basically means being confident with oneself. Even though life has uncertainties, challenges. Just do whatever you want to, do the best you can, and then you will do it. Everything else will follow.
Alex: I think the greatest part about being a millennial today is we're so in touch with technology. Any questions we have, anything we want to learn or do, all we have to do is pull out our smartphones, and everything is instantly within our reach. I think the best thing about being a millennial or being alive today is that we know how to utilize it to its fullest. There are some millennials who don't, they use it for bad. And I think the best part about being a millennial is we can tell those millennials, simply through our phones that it's not okay.
ADVERTISEMENT - CONTINUE READING BELOW
Out of all the challenges you've done here and in Malaysia, what was your favorite?
Arisse: My favorite one was the star suit, because it contained different challenges. We would jump on tires, and do the the hula hoop, and then do the jump rope. And I didn't know how to jump rope. And then doon ko lang na-realize na I can talaga. So it goes well with the chocolate talaga. As in parang ako "just do it do it do it!" and then ok tapos na siya. 
Alex: My favorite was the #YouThinkYouCan slingshot. There was a slingshot ride. You know the slingshot ride? Shoots through the sky. Robi and I went on it. That was my favorite. I was supposed to do the bungee jumping, but I don't think anyone else wanted to do it, so when I went up there, I was like, I need a chocolate first. It was too scary.
ADVERTISEMENT - CONTINUE READING BELOW
#YouThinkYouCan exceed your expectations? Dare to break out of your comfort zone with 5Star and #GoFullOn!