Lifestyle
In a Book
"If you could be a character in a book, who would you be?"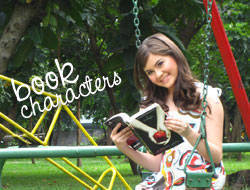 photos by Dakila Angeles (Mia and Roch), Ocs Alvarez (Steph, Angel, and Margaux), and Pat Dy
The Candy eds share which character from a book they'd be. Who would you like to be?

| | |
| --- | --- |
| | Gosh, there are so many characters I'd love to be! Sophie in The Da Vinci Code, Nancy Drew (because she's always driving off in her convertible to some new adventure without ever getting killed), Anne of Green Gables (I love Gilbert Blythe!), Mary Anne or Kristy in Baby-Sitters Club, the daughter in The Historian, Elizabeth or Jessica from Sweet Valley (so retro, I know!), and even Becky Bloomwood from the Shopaholic series. :) —Mia, Editor in Chief |
| | I'd want to be Bella Swan of Twilight, so that I could meet Edward Cullen. :) Heehee! :) —Steph, Art Director |
| | Moby said it best when he sang, "We are all made of stars." I'd definitely love to be Stargirl Caraway (Stargirl). She exudes this whimsical trait that is quite mysterious, bordering on crazy, but totally endearing. —Mimi, Managing Editor |
| | Alice in Wonderland. Not really because of her character, but because of all the cool things she experiences. Trippy. —Jennie, Beauty Editor |
| | I'd be Maisie Dobbs (in the Maisie Dobbs detective series by Jacqueline Winspear) because I'm very intuitive and adventurous. I love exploring new places and solving life's mysteries! —Angel, Assistant Features Editor |
| | I'd be bumbling but big-hearted Alfred from The Extraordinary Adventures of Alfred Kropp. I loved how such an unassuming character can end up stealing King Arthur's sword, befriending the descendants of The Knights of the Round Table, and ultimately saving the world. Plus, he says stuff like, "Just because a kid has a big head doesn't mean you can call him fat," which totally cracks me up. :P —Marla, Assistant Lifestyle Editor |
| | I'd probably be Lena from The Sisterhood of the Traveling Pants. (: —Macy, Web and Mobile Producer |
Many of our favorite K-drama actors right now actually started out as idols!
Thailand rethinks its elephant strategy.
Who else wants a basket full of mojos?
We're hoping to see more of these in different LGUs!
Sometimes, no matter how hard you try, some people just won't vibe with you, and that's totally fine.
Have you tried the #ComeAroundMeChallenge?
The cheerleading docu-series is a phenomenon.
A lot of them are dirtier than a toilet seat.
The kind of wholesome content we all love to see.