Among the top universities considered by students in the country are the Pontifical and Royal University of Santo Tomas in Manila. And just like any university, it also requires future students to take an entrance test to ensure they qualify for the standards of the university. While college entrance tests can be nerve-wracking, it's important to prepare yourself for this journey toward your dream college. 
LIST: Frequently Asked Questions About USTET, Answered
1. What is the coverage of the exam?
The USTET will cover three (3) major subjects: English, Mathematics, and Science. English will consist of 45 items, Math will have 60 items, and Science includes 80 items. Applicants have 45 minutes to answer each of these major subjects. The test will include a 30-minute subtest with 80 questions for Mental Ability. So, study your past lessons or enroll in a reviewing center because these will all be based on what you've learned before in school. BONUS TIP: According to previous USTET takers, do not underestimate the Mental Ability test as it plays a huge role in your overall score.
ADVERTISEMENT - CONTINUE READING BELOW
2. How much is the USTET fee?
The USTET fee depends on whether the applicant is a local or international student. For Filipino students studying in local schools, the fee is P600. The same goes for PEPT, ALS, and A&E passers. Meanwhile, foreign students or Filipino students who studied abroad are required to pay a fee of P1,000. However, public school students with exceptional grades during SHS can take the USTET for free.
See here to read more about the USTET fees. 
3. What do I need to bring?
The night before taking the USTET, make sure you have all your requirements in your bag. Your test permit has listed down everything you will need for the USTET. From your assigned testing center and application number to the things you need to bring, your test permit has it all. Pack your schoolSchool I.D., snacks, and No. 2 Monggol pencils. Also, secure your requirements in an envelope for easy access.
4. Where is my assigned building?
As one of the biggest and oldest universities in the Philippines, UST can be overwhelmingly big for newcomers. So make sure you're well-acquainted with the different buildings and streets around the campus. You can visit UST if you have extra time before your scheduled exam. Your test permit also indicates where and when you will take the exam, so take note of the place in this UST map: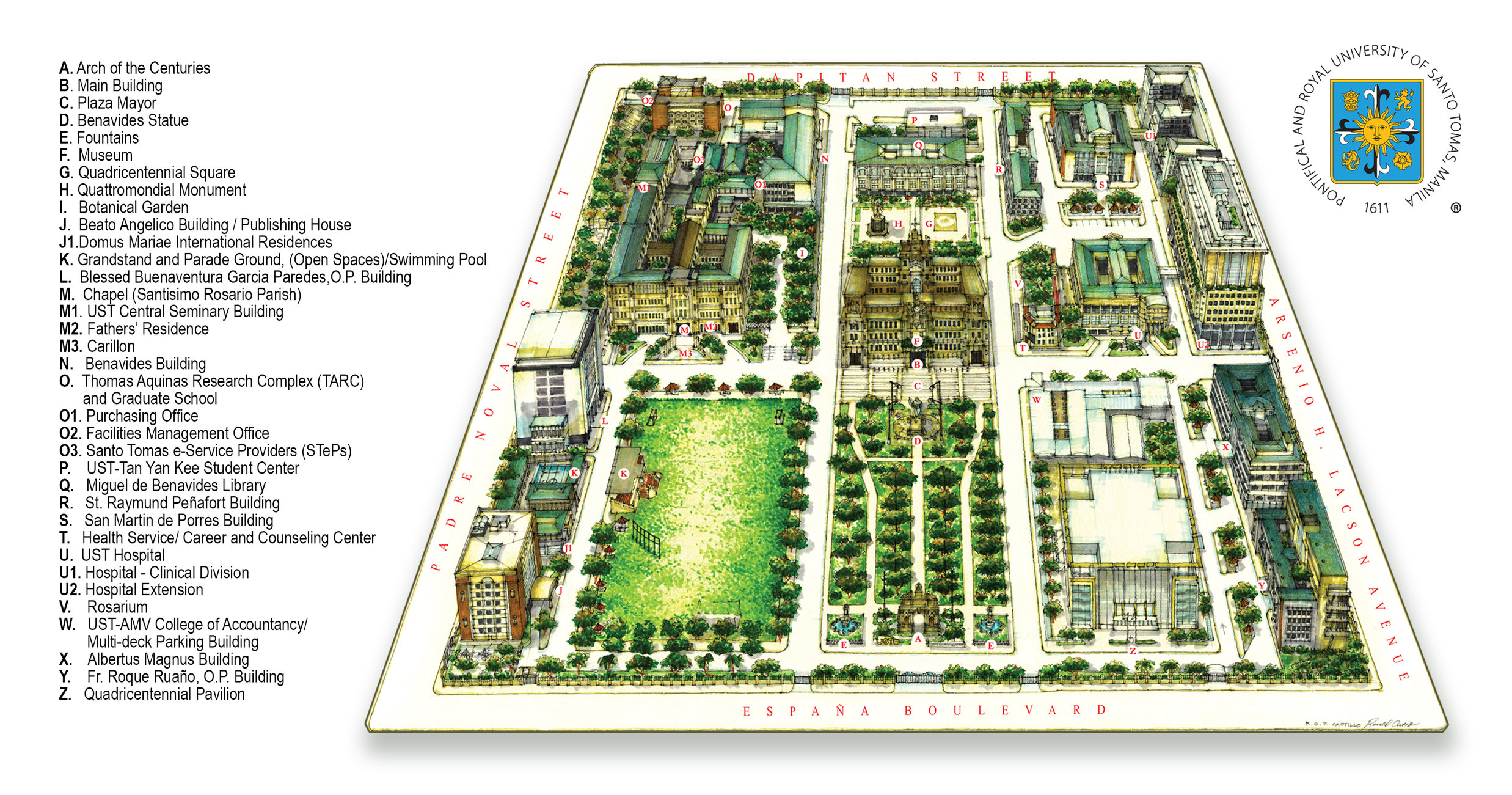 ADVERTISEMENT - CONTINUE READING BELOW
5. What score do I need to pass?
Your choice of college course also plays a huge part in whether you'd pass or not. Each college sets a cut-off score for the programs and others require an additional interview or audition. Moreover, your overall grade will not only be based on the USTET. In fact, 60% will come from the admission exam, while the other 40% will come from your SHS grades. 
6. What happens if I don't pass the exam?
Although it depends on the slots, you can always ask for reconsideration. Write an appeal letter addressed to the Dean of the college you are applying to. Explain your reason why you deserve to be in the university while being sincere and enthusiastic to be a Thomasian. Make sure you prepare two (2) copies of your appeal (one for the UST office and another for yourself), a copy of your high school grades, and USTET results. It is also better if you inquire about the details and process to the Dean's office personally to show genuine willingness. If ever you still get rejected, you can always opt to transfer after a year. 
ADVERTISEMENT - CONTINUE READING BELOW