While spending habits tend to differ from one person to another, we attempted to put together an estimate on how much an average student needs to ~survive~ college. Please note that these are all based on the writer's personal experience as a student in Ateneo de Manila along with some input from her friends from UST, UP, and DLSU.
Food
Especially for a freshman who's new to his or her university, it's common to want to try everything and find out the best food spots in or out of campus. In reality, what makes college students spend so much on food is stress eating. Whenever you're overwhelmed with school and the stress that comes with each subject, you just want to gorge. It's normal, and it's okay every now and then because #treatyoself but know when to draw the line so you can stop overspending.
Breakfast, Lunch or Dinner
Save: PHP 100
If you know the right places, PHP100 can get you full! There are a lot of places around campus that are known for their sulit and bundle meals so don't be afraid to explore and not just stick to the usual restaurants and food spots! Another tip would be to BYOB (Bring Your Own Baunan) and buy from your school cafeteria to take home!
ADVERTISEMENT - CONTINUE READING BELOW
Splurge: PHP 250
Of course every now and then, your friends want to celebrate different occasions—such post-exam feels, a friend's birthday or block bonding. Naturally, you would want to go to the more well-known establishments, probably in the nearby mall so you're going to have to spend a little more.
Snacks in between
Save: PHP 20
Never underestimate how much fishball/kikiam you can buy for PHP 20! Sometimes, you're just going to crave something oily or greasy so don't be afraid to go for street food. Not only is it cost-friendly, but really satisfying, too.
Splurge: PHP 50
If you're stuck in between classes and probably skipped a meal, it helps to eat a small snack to keep focus.
Transportation
Dorm to School
Some dorms are located a little bit far from campus and especially with the heat or the rain, it gets overwhelming to walk all the way to school at times. Taking a tricycle would cost up to PHP30 (depending how far you actually are) while taking a jeepney would cost PHP7 (student price).
ADVERTISEMENT - CONTINUE READING BELOW
House to School
Depending on where you live, the cost of commute would differ but more often than not, people spend around PHP150 for commute back and forth each day.
(+ Extra Outings) PHP 150
For when you're going out with friends to the nearest mall, or anywhere within the area.
School Requirements
Books
Save: This really depends on the type of book you're required to buy for class. Some textbooks are more expensive than others like medical text books or international ones but a way to remain budget-friendly is to look for a secondhand book market. Some schools have it online in the form of Facebook groups, but some are also physical stands depending on the campus. Another way to save would be to ask your professor for an online copy or an ebook version.
Splurge: Since some textbooks are considered investments, like if you are going to use them even after this semester or year, it might be best to buy yourself a new copy. That way, you can freely highlight, make notes on the side, and write whatever you want.
ADVERTISEMENT - CONTINUE READING BELOW
Another tip: Once you're done with the textbook, you can opt to sell it too for the next batch of students who are going to use it! That way, it doesn't go to waste and you can earn yourself some money for the next set of books you're going to buy.
Readings
Most professors would have a lecture manual or handbook prepared at the very beginning of the semester that they would require you to have a physical copy of. Some, on the other hand, give you readings to buy as you go along the semester. Of course, this also depends on how much readings your professors have assigned to your class but it's safe to say that you're going to be spending an average of PHP300 each semester for readings alone. A tip would be to borrow the original copy of it, take pictures and make notes from there, but make sure your professor doesn't require a physical copy!
ADVERTISEMENT - CONTINUE READING BELOW
But, some professors prefer to be environmental friendly and provide you with scanned versions of it instead available online.
Coffee
This is just an entirely different category from food. Before entering college, I did not drink coffee at all. When I would say that I still had no plans of drinking coffee in college, people would laugh. Never in my life had I been so wrong. I'm not promoting caffeine dependency here but I do admit it gets me through some nights where I barely get sleep. Some argue that college students can avoid sleepless nights if they just manage their time well but real talk: time management is hard—still possible, but it is not easy.
Save: PHP 10
If you'd rather make your cup of joe at home or at your dormitory, you can buy a huge pack in advance and store it in your Tupperware or in your pantry.
ADVERTISEMENT - CONTINUE READING BELOW
Splurge: PHP 145
If you're a coffee shop loyalist, this is how much you will most likely spend per cup.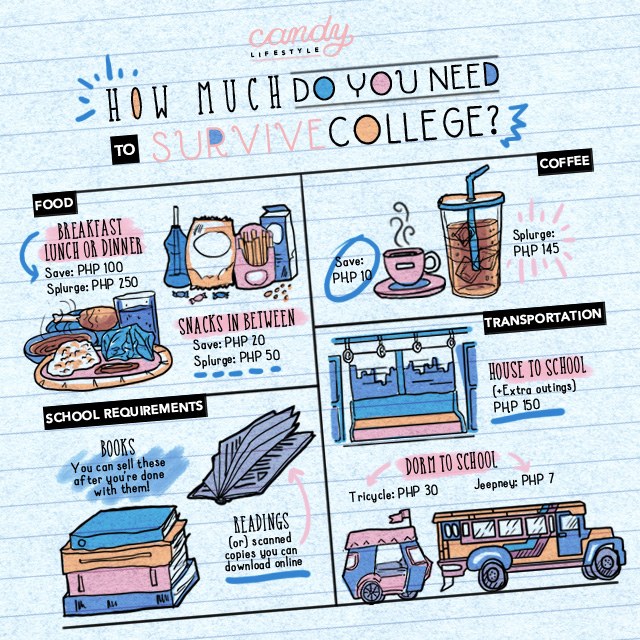 Save this handy guide to help you keep track of your expenses!