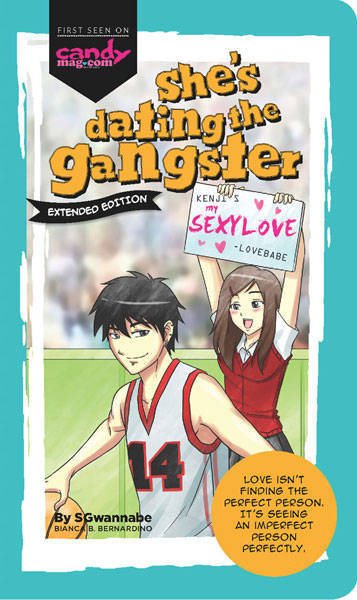 So you've already read this book from cover-to-cover. Heck, you've even read it when it first appeared in Creative Corner on this very site. So why would you want to buy this when it comes out next week, right?
Let's count down the reasons:
A new cover. Are you the type who gets reeled in to a particular book because of the cover? The illustration by James John Andres are super kawaii!
Additional chapters. Um, that's why it's the extended version. If you're bitin and still want more of Kenji and Athena, well, you got your wish!
A playlist. Listen to the official She's Dating The Gangster playlist while you're daydreaming about Sexylove and Lovebabe.
Artwork. This new edition comes with a SDTG bookmark plus 2 colored pin-ups. Cray!
Up close and personal. Check out an exclusive interview with the author, Bianca Bernardino.
She's Dating The Gangster Extended Edition will be out in bookstores next week at P175. Make sure to get your copy!
ADVERTISEMENT - CONTINUE READING BELOW