Davao City is more than just the home of the current President of the Republic. It is also home to kind and smiling locals, pristine, blue beaches, and rich, natural parks. Though best known for durian and the Philippine Eagle, there is more to this city than meets the eye. 
Davao is an epitome of balance, of the new and the familiar, of discipline and creativity which is evident in its stark urban development gently back dropped by its naturally lush setting. It speaks of clean highways and well-preserved landscapes; its manmade attractions gently interweaving with the region's natural eco parks.
Since the long breaks are about to come, why not book a flight to the Land of Promise and get to know this city up close? A certified Candy Girl definitely loves a balance of everything—a balance Davao City offers! Think: adventure, fashion, food, art, and history, all in one trip!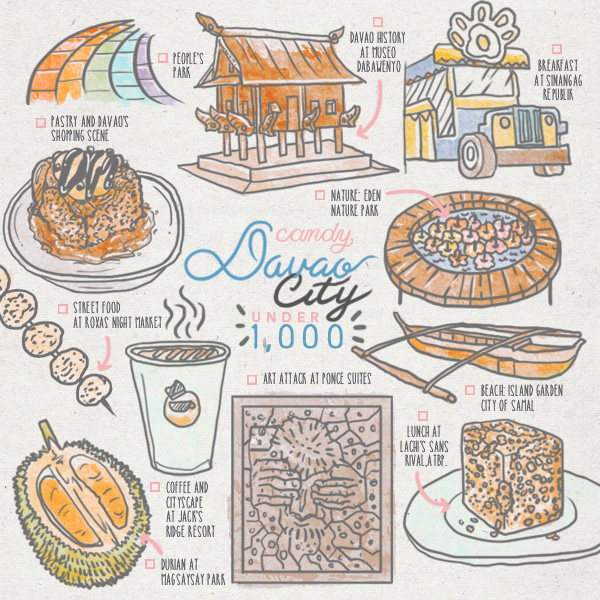 We have prepared a travel guide of the places to go to in Davao City where you will get to experience the authentic Davao way of life. Fascinating, yet unfiltered. The only filter you will need is for your pictures because girl, we are collecting instagrammable memories along the way!
ADVERTISEMENT - CONTINUE READING BELOW
And oh, did we also say that you can accomplish this list in one day and for a measly budget of P1,000? Yes, a Candy Girl knows how to go on an adventure on a budget! So pack those bags and get ready to know Davao.
Note: We're excluding the transportation to and from the places from our P1000 budget. Travel guide is intended for a whole Saturday trip. Prices are gathered in August 2016 and are subject to change.
People's Park
One of the best ways to get introduced to Davao is through the city's heart. Literally. Jumpstart your day with a dose of healthy lifestyle coupled with sightseeing at Davao's People's Park.  Located at the center of the city, People's Park is a cultural-themed park which houses creations of Davao's homegrown artist Kublai Millan. The park boasts of gigantic sculptures, a Durian Dome, beautifully landscaped greenery, and a rainbow colored oval area frequented by fitness enthusiasts.
Zumba sessions are also available every weekend from 6-7AM for free! Alternatively, you can enjoy a leisurely stroll as mornings are the best time to sightsee in the park. The art installations in every nook and cranny present endless picture taking opportunities.
Cost: None. You can go in the park for free.
How to get there: From downtown Davao, ride a cab or jeepney to Quirino. The park is a short walk from Apo View Hotel, one of the major hotels in Davao City. Jeepney base fare is at P8.
Breakfast at Sinangag Republik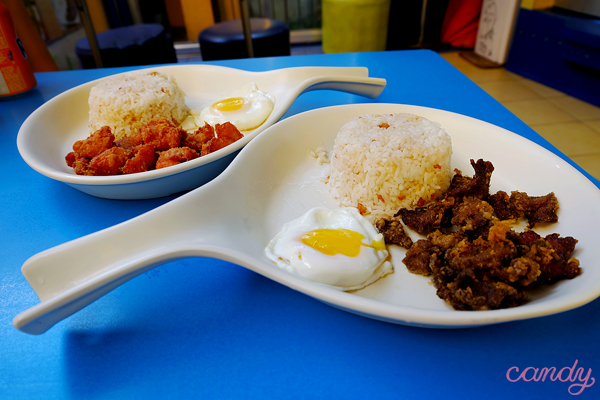 Nothing like a good plate of sinangag and beef tapa to fuel your day. At Sinangag Republik, they serve affordable breakfast meals round the clock! For as low as P50, your breakfast cravings are satisfied! Sinangag Republik is at corner Jacinto Extension, beside Metro Lifestyle (gym) Corporate Center. Find the jutting head of a truck sandwiched in between the buildings and there you'll find your breakfast!
Cost: P85 for a plate of beef tapa, sinangag, and sunny side up egg. Plain rice is also served for P5 less. Also try their version of chicken tocino for only P55—lightly breaded tender chicken breasts with the familiar tocino flavor.
How to get there: The fastest way to get here is by hailing a cab. Nonetheless, you can move those muscles and walk back to where you alighted in Quirino. Tricycles are available around Davao Doctor's Hospital that can take you to Sinangag Republik.
Davao History at Museo Dabawenyo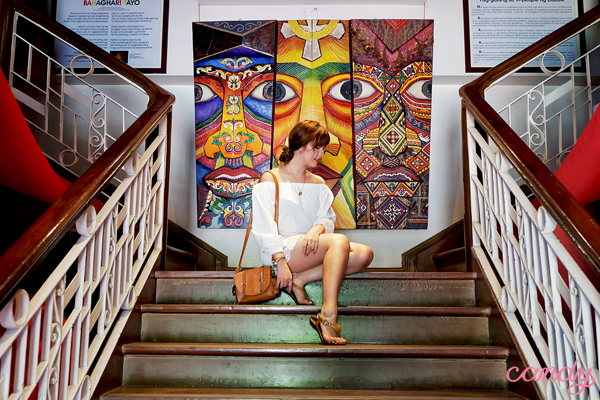 Also called Museum of the People of Davao, Museo Dabawenyo is Davao City's historic and cultural archive. The roots of Davao's development is showcased through photos and other documented material being shown in the museum's audio-visual room. It also houses various showrooms and galleries which exhibit the distinguished local tribes in Davao and their artifacts in arts, crafts, music, and weaponry. A section for remarkable Dabawenyos, workshop space for children and their craft, and exhibit hall where local artists, artisans, and even inventors can hold their exhibitions for a month are also available.
ADVERTISEMENT - CONTINUE READING BELOW
Cost: None. Admission is free.
How to get there: Jeepneys with Route 8 signs pass right in front of Sinangag Republik. These will take you to San Pedro Cathedral. From San Pedro Cathedral, walk one corner more. You will find Museo Dabawenyo in front of the Andres Bonifacio rotunda.
Durian at Magsaysay Park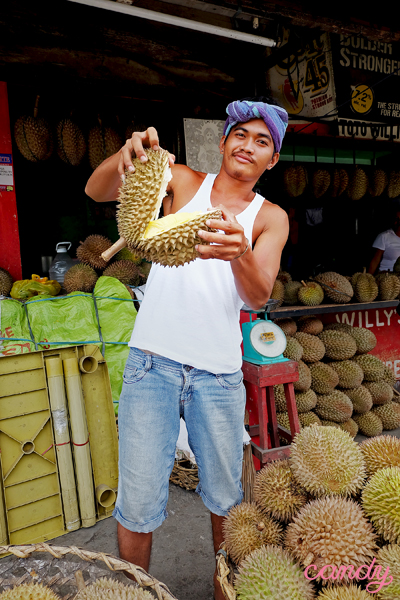 When in Davao, never miss out on the main agenda: durian! Outside of Davao's Magsaysay Park is a stretch of stalls which all sell durian from all sizes and varieties. Make use of the extremely low prices of durian during Dava's Kadayawan Festival. From a regular price of P80-110 a kilo, prices can go down to up to P25 or even lower! Look for the native variety as this comes in small sizes and is also creamier in taste. One kilo is equivalent to one small durian, enough for one person. You can instruct the vendor to find you anything less than two kilos.
Cost : P70 for a whole durian weighing 1.5-2kg
How to get there: From San Pedro, Route 10 jeeps are available which can take you straight to Magsaysay Park.
Art Attack at Ponce Suites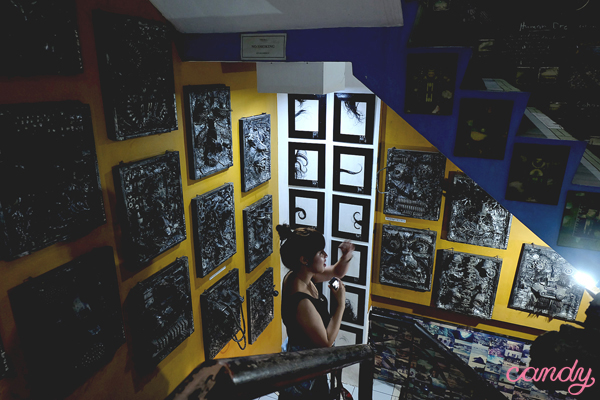 We've already seen Kublai Millan's towering art pieces at People's Park. Head on to the only art hotel in Davao City for even more art immersion! Ponce Suites is part hotel and part display room of Kublai's artworks. From his first sculpture decking the front desk, to an assortment of his early paintings and photographs which line all walls of every floor, Ponce Suites is picture-perfect from the ground up!
What's more, the hotel owner and mother of artist Kublai, Ms. Min Ponce is a professed fashionista. The hotel shop displays her brand-new and pre-loved, branded and bazaar, clothes all for P50 each! Now who couldn't resist a combo of Instagram-worthy pictures and a side of shopping?
ADVERTISEMENT - CONTINUE READING BELOW
Cost: P100 tour Fee
How to get there: From Magsaysay Park, hail a cab or ride a jeepney to Bajada. Alight at Chowking Bajada in front of Victoria Plaza Mall. Beside Chowking are tricycles ready to bring you to the art hotel for a pakyaw fare ofP20.
Lunch at Lachi's Sans Rival, Atbp.
No one spells Sans Rival better than Lachi's. But before we proceed to dessert, have the famous Lachi's Unforgettable Spare Ribs for P170. Their other offerings are equally tasty, such as the laing, and portion size is more than filling for a person. If Sans Rival is not your thing, they also servesthe best durian cheesecake in the metro.
Tip: It's best to reserve a table in advance as the place is packed even after lunch hours! Call or text them at 09169841183.
Cost: P170 for the Unforgettable Spare Ribs + P72 for a choice of Lachi's famous Sans Rival or Durian Cheesecake
How to get there: From Ponce Suites, tricycles are available right at the corner. They can take you straight to Lachi's.
Escape to Nature or the Beach?
Option A: Island Garden City of Samal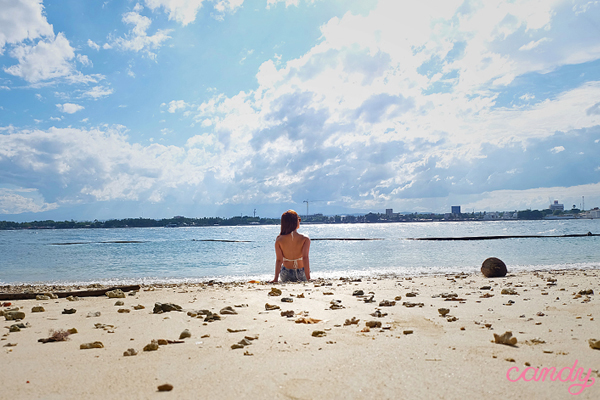 Now that we are filled and pumped up, time to escape to nature with Davao's natural parks or inviting beaches. Here we have an option to go north or south. Up north we can ride a barge to Davao's adjacent island, Island Garden City of Samal where sparkling blue beaches lay alluring.
I personally love going to Sunrise View beach resort, or as me and my BFFs call the Secret Beach. Sunrise View, though smaller in area than its more famous contemporaries offers relaxation away from the horde of tourists looking for a dip in the afternoon sun. Sunrise View also offers IG-worthy pictures at their pool and beach front!
Cost: 150 Entrance Fee + Snacks P70
How to get there: Ride a jeepney to Sasa Wharf where a barge is available for transfer from Davao to Samal. Each person's fare is only at P10 each. After docking, tricycles in the area can take you to Sunrise Beach for just P25.
Option B: Eden Nature Park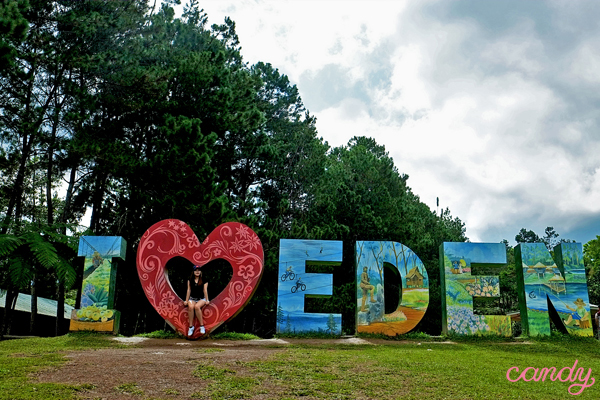 Alternately, if you're not in the mood to bask in the southern sun, you can head to the southernmost portion of Davao City where an adventure park awaits. At Eden Nature Park, for just P220, you can already enjoy a retreat to nature and also indulge in chef-prepared snacks from Eden's premiere quality fresh produce.
ADVERTISEMENT - CONTINUE READING BELOW
Eden in itself is a rich natural reservoir great for trail walks. Free amenities kids and adults alike can enjoy include a huge outdoor playground, the Indiana Jones, and the butterfly sanctuary. Sky cycling, a guided shuttle tour, and Eden's famous sky swing are also available for added fees.
Cost:  P220 admission fee with plated snacks
How to get there: From Roxas Boulevard, ride a jeep to Toril. In Toril, habal-habal drivers can then take you to Eden Nature Park. Alternately, cabs can also take you to Eden depending on the price you negotiated.
Pastry and Davao's Shopping Scene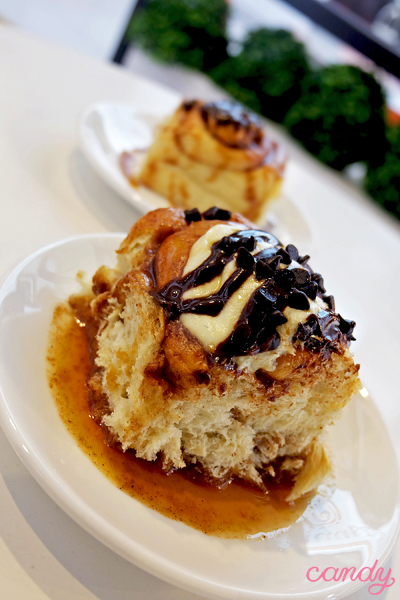 Time to go back to downtown Davao and get a feel of the shopping scene in the city. Head on to Abreeza Ayala Mall which houses premiere brands like H&M or SM Lanang Premier which houses Forever 21 and Marks & Spencer.
While window shopping, you can also have a look-see of pasalubong items and a sampling of Davao's local pastry like Annipie's Specialty Cinnamon Rolls. Pop-up stalls are available in both malls. Each delectable and fluffy cinnamon roll, glazed with even more cinnamon sauce starts at a measly P35. My personal favorite is their Super Chocolate Ultimate Cinnamon Roll and Choco Caramel Cinnamon Roll. Also, their triple dark chocolate brownies make use of local chocolates made in Malagos, Davao and are great for pasalubong. Tasty and affordable!
Cost: P35 per Cinnamon Roll
Street food at Roxas Night Market
For dinner, we're skipping fancy restaurants and getting into one of Davao's liveliest after-dark habits, the Roxas Night Market. One should never miss out on one of the liveliest places in Davao City at night where a gastronomic adventure awaits every visiting foodie. From the all-familiar kwek-kwek, squid balls, to surprising food items like flavored buchi, pizza dumplings, and vegan gelato, Roxas Night Market is an amalgam of flavors, of innovative business ideas, and of curious and hungry palates wanting to taste Davao in its raw offering.
Succulent stuffed squid fresh off the grill sells for only P40, pork bbq is at P5 a piece, and grilled chicken breast is available for only P45. For P60 or cheaper, dinner is served!
For dessert, make sure you try what has been dubbed by local media as the best dirty ice cream—Mang Danny's Ice Cream. This homegrown ice cream made waves in social media for its creamy consistency and pronounced flavors—elements usually wanting in a regular dirty ice cream. And oh, did we mention a stretch of ukay-ukay is also present in Roxas Night Market for the thrift-shopper in you?
ADVERTISEMENT - CONTINUE READING BELOW
Cost: P80: dinner P60 + Mang Danny's Ice Cream P20
Coffee and Cityscape at Jack's Ridge Resort
To cap our adventure-filled day, it is only apt that we marvel at Davao's beauty at night. Get mesmerized by the magic of its city lights and the its sprawling landscape. At Jack's Ridge Resort, you can get the best overlooking view of Davao after dusk. Jack's Ridge Café and Karl's Gourmet and Coffee also offer specialty cakes and coffee blends which make use of fresh ingredients from the city. While enjoying the view, sample their dragon fruit cake for only P85 with a side of tall, steaming Americano for just P80. If exciting the taste buds is your intent, swap out the combo with a hot cup of Karl's Specialty Durian Coffee for P160.
Cost: P165: P85 dragon fruit cake + P80 tall Americano
How to Get there: Hail a cab which will take you straight to Jack's Ridge. Or to cut on taxi fare, ride a jeep to Matina. Alight at the convenience store fronting Penong's, just ahead of Wilcon's hardware. You can take a cab from there to Jack's Ridge for lesser total fare. Taxi cabs are also available outside of Jack's Ridge which can take you back to your hotels. 
And there we have it. We thought it was impossible to do but we have just gone around Davao with only a budget of P1,000 for ten items in our travel list.
The Breakdown:
Breakfast at Sinangag Republik

P85
Durian at Magsaysay Park
P70

Art Attack at Ponce Suites

P100

Lunch at Lachi's Sans Rival, Atbp.

P242
Island Garden City of Samal/Eden Nature Park
P220
Annipie's Cinnamon Roll
P35

Street food at Roxas Night Market

P80

Coffee and Cityscape at Jack

'

s Ridge Resort

P165
TOTAL
P997
Believe it or not, we were able to see, feel, and experience Davao City in its authenticity with just P997.
As you are on your flight back to your respective cities, we hope that the smiles the locals you met so fondly give are pasted on your faces too, as loads of fun memories and snaps make a welcome replay in your minds of the beautiful city down south that is Davao City.