Lifestyle
Getting a Kalinga Tattoo: A Survival Guide
The Chosen Juan got the prized Philippine tattoo and lived to tell the tale.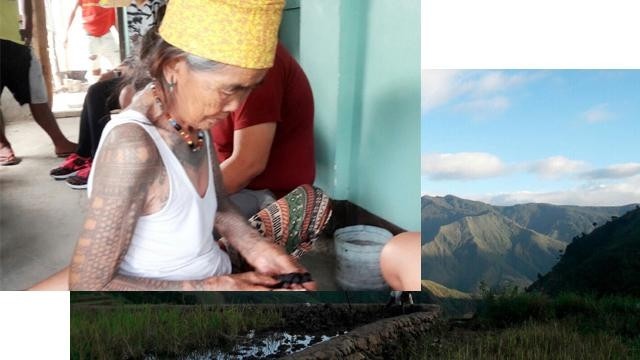 IMAGE TravelBook.ph
I was speechless when I found out that getting a traditional tattoo in Kalinga was included in my itinerary as the Chosen Juan. I wrestled with the idea, not because of the pain, but because once I'm inked, it's forever. I can still remember talking to my mother on the phone at the last minute, asking me to think about it really hard. But I was already there, right in front of Whang-od, the famous nonagenarian Kalinga tattoo artist. And she was waiting for me. "Let's do this," I said to myself.
Before getting tattooed, I had a moment to look back on the things I went through before getting there. Here is a guide and some advice for those who wish to travel to Kalinga to get inked.
1. There's no shame in "toploading." 
My destination was the home of Whang-od in the village of Buscalan, located in Kalinga's quiet town of Tinglayan. Whether you're coming from Kalinga's capital Tabuk or from the Mountain Province, the only way to get to this municipality is via a jeepney. And the best way to enjoy the long ride is to sit on top of the jeep itself. "Toploading" for a long trip was a different experience for me. I enjoyed the change of scenery: from the sparkling shades of blue of the beaches that I've been to during the previous weeks to relaxing hues of greens from the mountains and rice terraces around me. The light wind and the rays of the afternoon sun were refreshing, even if my companions and I felt like we were going to fall off the cliff every time the jeep made turns. But you won't fall, so don't worry. Just relax and enjoy the ride.
ADVERTISEMENT - CONTINUE READING BELOW
CONTINUE READING BELOW
Recommended Videos
2. Thirsty? Just enjoy some good ol' Kalinga coffee.
When we got to a homestay, they brought us a thermos of coffee along with several cups. Normally, I'd love something cold or refreshing after a long trek, so I felt a bit uneasy about having a hot drink. But after my first sip of this homebrewed coffee, I totally forgot about being thirsty since it was the best-tasting coffee I've ever had! The coffee beans were harvested from their backyard, ground and boiled together with brown sugar, giving it that perfectly balanced bittersweet taste. I will never look at coffee the same way again after that one I had in the village. Best of all, it was served to us free-flowing and with no charge.
3. Yes, getting the tattoo was painful.
So there I was, right in the presence of Whang-od, the oldest mambabatok or traditional tattoo artist in the Philippines. Whang-od, internationally known as Fang-od, is 98 years old now and was given the title "The Last Mambabatok in the Philippines." It was also a delight to know that two of her granddaughters, Grace and Elyang, are continuing the lost art of traditional tattooing. With a mixture of charcoal and water for the ink and a thorn from a pomelo tree as the needle, Elyang was assigned by Whang-od to be my artist.

All my life, I've never planned on getting a tattoo. Weeks before the trip to Kalinga, I had given it a lot of thought—the tough part was accepting the fact that there will be something written or drawn on my skin for the rest of my life. If that's the case, then I need to choose a design that will be worth it. I settled on the word pag-asa, written in Baybayin, the country's first alphabet, which will be tattooed on my left arm. The process, as expected, was painful— like being bitten repeatedly by ants. To distract myself, I watched the locals playing matchstick puzzles in front of me. When it was over, I felt relieved, but honored as well to be marked with an ancient art that has been sought-after by many tourists all over the world for its rarity and significance. In spite of their popularity, Whang-od and her family don't ask too much for the tattoo, so make sure to bring them a gift for their kindness and hospitality.
ADVERTISEMENT - CONTINUE READING BELOW
4. Talk like the locals.
Here are a few phrases in Butbut, the language of the locals that they would love for you to learn:
• Whayu hughuicat! – Good morning!
• Manjaman ah! – Thank you!
• Surud! – Brother!
• Acho'a si-a. – For you (from me). (Say this to Whang-od when you hand her your gift.)
• Pintas ah. – You're beautiful.
• Pija! – Delicious!

I left Buscalan with a stinging pain on my arm and a heavy heart. During the short time that I was there, I realized that there was so much more to it aside from being the home of the great Whang-od. It was such a friendly place, with cheerful locals who give importance to hospitality and the preservation of their culture. I promised myself that this would be my first and only tattoo, but this won't be the last time that I'll be there. And oh, here's one last phrase you must know: Masubli ah (I shall return!)!
ADVERTISEMENT - CONTINUE READING BELOW
Read the full article, Getting a Kalinga Tattoo: A Survival Guide, on TravelBook.ph!
Aside from the overall rankings, THE also provides rankings by subject.
The solo artist posted the announcement on Twitter.
Here are eight things to know about the former PBB Teen housemate.
Find one that can suit your *existing* room aesthetic.
According to Inka, their business burned down so she had to drop out of high school and start working early.
Sneakerheads, you wouldn't want to miss this!
She had to learn to be more resourceful to get by.
OMG, it appears like she was also Gong Li's double!
From The Candy Bulletin Community