After two years without the UPCAT, it's finally back! Aspiring UP students can now show what they got in the once-and-for-all F2F examination. We know, it's just around the corner and we're all on the edge of our seats. To ease your mind, here are some of the frequently asked questions about UPCAT:
ALSO READ: 6 UPCAT Tips Every Aspiring Isko Should Know, According to UP Students
LIST: Frequently Asked Questions About UPCAT, Answered
1. What is the coverage of the exam?
UPCAT consists of four categories: Mathematics, Science, Language Proficiency, and Reading Comprehension. These four cover almost all of the topics that you learned from high school. Given its wide range, aside from reviewing, it is important to time yourself as you answer because the actual exam is timed. Make sure to answer each question in 30 seconds or less!
2. Can I bring snacks?
YES. The examination takes about five hours with no breaks which may make your belly rumble. To gain strength and feed your brain, do not forget to bring your choice of snacks. Remember: do not bring snacks with a strong odor and are noisy to unwrap to avoid distracting other examinees. 
ADVERTISEMENT - CONTINUE READING BELOW
3. What are the things I should remember before the exam?
One of the most important things in taking the UPCAT is your test permit. Avoid soiling, crumpling, folding, stapling, writing, sharing, reproducing, and, especially, LOSING it. Without the test permit, you'll lose your chance in taking the exam. Aside from this, do not forget to bring your current school ID or government ID, two pencils, an eraser, and a face mask. Always remember to turn your cellphone off or turn it into vibration mode. Pro tip: bring a jacket in case the assigned room for you is too cold! 
4. Where is my testing center? 
Along with your test permit comes the time, date, and place of your examination. To know what to expect, you can view the list of testing centers in this link. Usually, the testing center assigned to you is the one closest to your address. Being completely prepared won't matter if you don't know where to go. It is better to research the assigned testing center for you so you won't get lost. This may also help you dress more comfortably because you'll know the place's temperature. Arrive 20 to 30 minutes early for you to prepare and settle down. So, make sure to familiarize yourself! If you're assigned to a UPD campus, here's a map to help you navigate: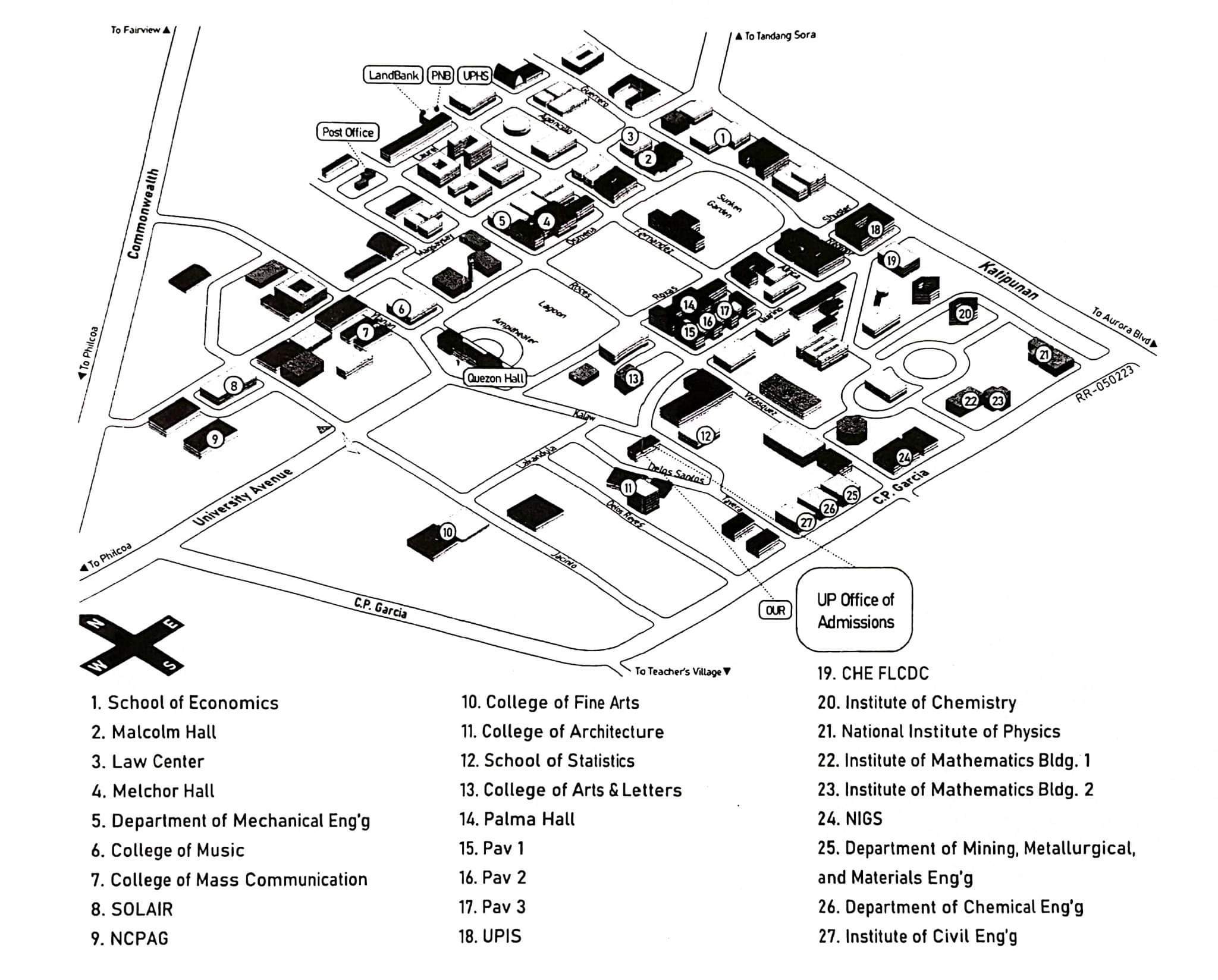 5. What score do I need to pass?
The University Predicted Grade (UPG) does not only take into consideration your score in the examination. A percentage of your UPG constitutes your final grades in Grades 8 to 11. While it is important to do well in the actual test, keep in mind that your past academic performance also has a say in your possible admission to UP. Also, each UP campus and its courses have its own cut-off. UP will first look if you pass your first choice of campus. If yes, they will check if you pass the cut-off for the courses you chose. If you didn't pass your first choice of campus, you will be checked for your second choice and the courses you put under it.
ADVERTISEMENT - CONTINUE READING BELOW
6. What happens if I don't pass the exam?
There are some steps you may take if you don't pass UPCAT. First, you can try to appeal for reconsideration. To do this, check your UPG (which is only visible to those who didn't pass) and see if it is within the cut-off UPG required of each UP campus. Again, each of them has different required cut-off grades. Some of the campuses and courses don't accept appeals, and some require additional requirements such as interviews. If you couldn't pass the appeal, try to transfer schools after a semester or a year.
In the end, it's not "UP or nothing." Don't be disheartened if you don't pass. What's important is you tried and knew that some things are better for you. Good luck!