If you're looking for your next food trip destination, the University of the Philippines - Diliman is the place to be. Exploring a 493-hectare university can be quite daunting (and for sure exhausting) but take it as a challenge; getting lost around campus might just take you to your next great food discovery.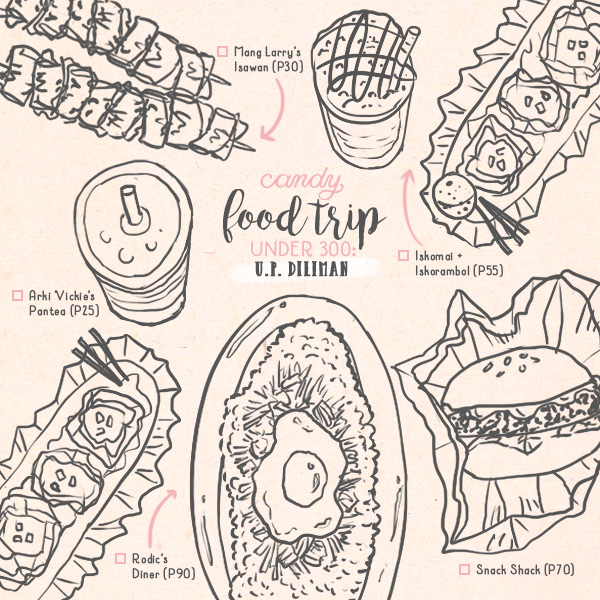 We have created the perfect food crawl game plan so that you can conquer iconic UP food stops without breaking the bank!
ADVERTISEMENT - CONTINUE READING BELOW
Arki Vickie's Pantea (P25)
Start by filling up your energy meter with the sugar rush-inducing Pandan Tea by Arki Vickie. This saccharine drink is a must-try when in UP because you certainly won't find it elsewhere. Make sure you also try their special siomai (it comes with a surprise center) because it is the perfect partner to their Pantea! You can find Ate Vickie's stall near the College of Architecture.
ADVERTISEMENT - CONTINUE READING BELOW
Mang Larry's Isawan (P30)
Get off to a good start by ticking off one of the most iconic stops on campus. Their famous isaw is one of the most budget-friendly finds out there—you can get a stick for only P5! You won't have a hard time finding this gem because the whiff of barbecue will lead you to it. The long lines can also confirm that you're in the right place!
ADVERTISEMENT - CONTINUE READING BELOW
Iskomai + Iskorambol (P55)
This combo is a personal favorite among many iskos and iskas who flock the food strip, Area 2. Nothing compares to a hearty serving of siomai over steaming hot rice followed by sweet pink ice scramble topped with lots of milk powder. For only P55 you can satisfy your dim sum craving as well as your sweet tooth! It might seem like an unusual pairing but don't knock it 'til you try it.
ADVERTISEMENT - CONTINUE READING BELOW
Snack Shack (P70)
Make sure you check out what's grilling on the other end of Area 2. Snack Shack's Quarter Pounder gets the seal of approval from UP Diliman students so you know that it's really good—downside is you have to beat them to it because the lines can get very long. Their burger is worth the wait, we promise! It deserves to be hailed as the best burger on campus.
ADVERTISEMENT - CONTINUE READING BELOW
Rodic's Diner (P90)
A UP food trip won't be complete without a stop at Rodic's Diner. It is considered an institution on campus (it has been around since 1949!) and their tapsilog occupies a very special place in the heart of every Iskolar ng Bayan. You can find Rodic's Diner in the UP Shopping Center. Pro tip: Be generous when you drizzle vinegar over their signature tapa. You'll thank us later.
ADVERTISEMENT - CONTINUE READING BELOW
There are tons of reasons to come and visit UP, but the food will always be our favorite excuse to get lost in Diliman. Want to know the best thing about this university? It welcomes everyone to its soil and as long as you share the love for good food and great company, you already belong here.