Thinking of applying to Centro Escolar University? Here are a few things to note about the educational institution, from its history down to the famous alumni that graced its halls.
History of Centro Escolar University
Unlike many other institutes for higher learning in the Philippines, it was two exceptional women who founded Centro Escolar in 1907—Doña Librada Avelino and Doña Carmen de Luna. It originally began by offering elementary and high school programs in Azcarraga, but these offerings were discontinued in the 1990s and then re-opened in the Malolos Campus in 2014. In its past, the college started out as a school in order to train women in the branches of the arts and sciences. The private institution was called Centro Escolar de Señoritas and was based in Parañaque before that campus was phased out in the 1990s and it has since established three campuses in Mendiola, Makati, and Malolos. Its first program, the College of Pharmacy, which celebrated its centennial year this year, as it opened in 1921, followed by the Colleges of Liberal Arts, Education, Dentistry, and Optometry. 
ADVERTISEMENT - CONTINUE READING BELOW
Top Courses Centro Escolar University Is Known For
Having been ranked as the top 13th university in Manila and top 27th in the Philippines, CEU offers premier education. CEU is best known for its offerings in health sciences, particularly in Dentistry, Optometry, Pharmacy, and Nursing, of which it is one of the few colleges in the country that offer the first two. Its Optometry course is also known for producing board exam topnotchers, while its School of Dentistry is one of the top dentistry schools in the country.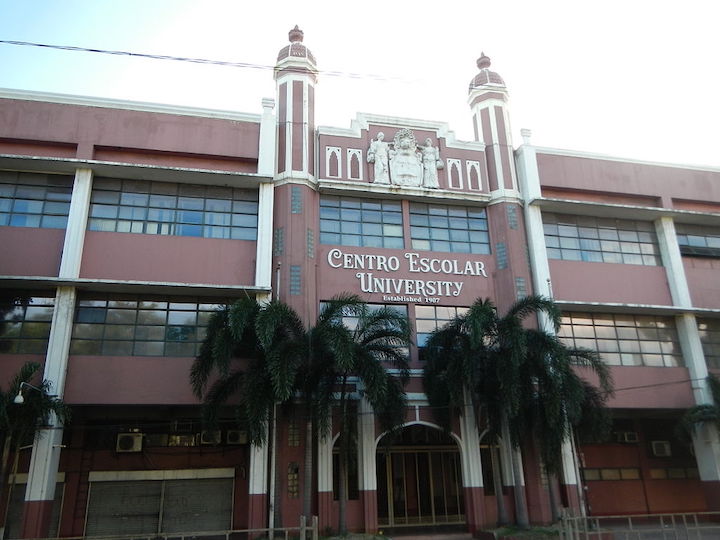 How to Apply to Centro Escolar University
With an estimated acceptance rate of 62 percent according to EduRank, a spot at CEU is rather competitive. If you want to sport the school's pink and gray, here's what you need to know about its application process for freshmen:
Prepare the following requirements:
Copy of a PSA birth certificate

Grade 11 report card

An ID picture
You will also need to:
Pay an application fee of P300 online and make sure you have proof of your payment.

Fill out your application form and submit this, together with the requirements listed above.

Wait until you receive a reply confirming your application.
To check out a complete list of application procedures, take a look at CEU's official website.
How Much Is Tuition and Other Fees at Centro Escolar University
If you're planning on becoming an Escolarian, you should take into account the tuition fees that come in freshman year, which range from P35,000 to P60,000, depending on your program of choice. Below are the tuition ranges per school for the academic year of 2022-2023:
ADVERTISEMENT - CONTINUE READING BELOW
School of Accountancy and Management: P35,315 - P43,169
School of Dentistry: P52,816 - P58,456
School of Education, Liberal Arts, Music and Social Work: P33,071 - P62,803
School of Medical Technology: P43,472
School of Nursing: P42,005 - P44,666
School of Nutrition and Hospitality Management: P33,071 - P46,029
School of Optometry: P44,709 - P47,358
School of Pharmacy: P48,032
School of Science and Technology: P36,835 - P44,138
To look up the tuition fee of each course, visit this page.
Famous Alumni From Centro Escolar University
Among those who graduated and are proud degree holders from CEU are a number of politicians, celebrities, and personalities. A number of noteworthy Escolarians include Concepcion Aguila, the first woman to graduate with a doctoral from Georgetown University, director Gina Alajar who took up a bachelor's degree in Tourism, and School of Pharmacy alumna Princess Kristha Singh, who recently made the news as a top candidate for Miss Universe Philippines 2021. 
ADVERTISEMENT - CONTINUE READING BELOW
Perhaps two of the unlikely alumni of the College of Dentistry is actress Cherry Pie Picache and singer Erik Santos (the latter eventually shifted to Psychology and stopped studying after he won Star in a Million). Meanwhile, former President Fidel Ramos and vice-president Salvador Laurel spent their formative grade school years at Centro Escolar. 
ADVERTISEMENT - CONTINUE READING BELOW
READ MORE:
Mapua, Tarlac Agricultural University, and 3 Other PH Schools Among Top Unis for Impact in the World
Want to Become a La Sallian? Here's How Much It Costs to Study at De La Salle University
Everything You Need to Know Before Applying to the University of Santo Tomas
Here's How Much It Costs to Study at Ateneo de Manila University