What you'll need:
cheap clock
corrugated cardboard
doily (size should be similar to your clock's size)
sticky tape
number patches (can be bought in www.shopartwine.com)
What you'll need to do:
Using the round clock as your guide, draw a circle on the cardboard then cut it following your outline.
Draw a small circle on the center of the doily as well as the cardboard. Use this mark to punch a hole with a sharp pen or scissors. (Please be careful when using sharp objects! Better yet, ask for help when punching a hole through the paper.)
Unscrew the clock mechanism off the plastic base. You may ask the help of your dad with this step.
Remove the hands of the clock with care by pulling more on the part where the hands are connected. Keep in mind the sequence of the hands!
Now place the cardboard then the doily right at the middle of the clock device so that the bolt fits perfectly on the punched hole.

TIP: Don't get stuck with doily! Experiment with other materials like fabric or even a nicely printed paper!
Put the clock's hands back in the bolt starting from the last hand you removed.
Position the felt numbers then stick it with tape. Lastly, insert the batteries to make it work!
ADVERTISEMENT - CONTINUE READING BELOW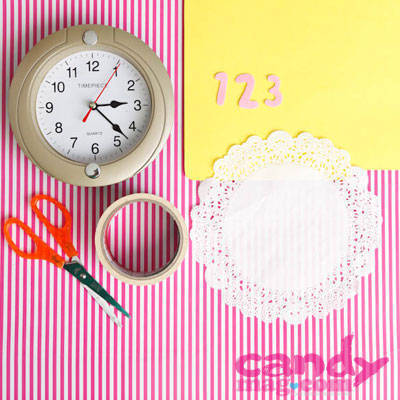 ADVERTISEMENT - CONTINUE READING BELOW