Maginhawa is an ever-changing landscape of small businesses and chain restaurants. Side by side, mom-and-pop shops and big players serve not only the Teacher's Village community but also the students of nearby universities like UP Diliman, Ateneo, and Miriam College. With face-to-face classes resuming in the area, the area is slowly but surely evolving once more. Think new buildings and, of course, new restaurants and cafes. One such spot caught our eye as we were browsing the neighborhood: Daily Habit. Sure it may seem like any other independent café, but this spot hides a bit of the magic that gives Maginhawa its edge.
Also read:
Food Is Not Just an Afterthought at The Coffee Academics' New Spot in QC OG Kamayan Spot Gubat QC
Opens a Bigger Outpost Near Maginhawa
The SPOT.ph Guide to Coffee
Check out this small coffee shop in Maginhawa called the Daily Habit:
Located in a new building along the popular Maginhawa food street is Daily Habit, a 30-seater café that calls out to you from afar thanks to its bright lights and clean aesthetic. Sporting a design that is best described as industrial minimalist, this no-frills establishment is slowly becoming one of our favorite spots in the area. With a variety of seating options, from comfy couches to sleek bar stools, you can choose your spot in this nook regardless of your group size. 
ADVERTISEMENT - CONTINUE READING BELOW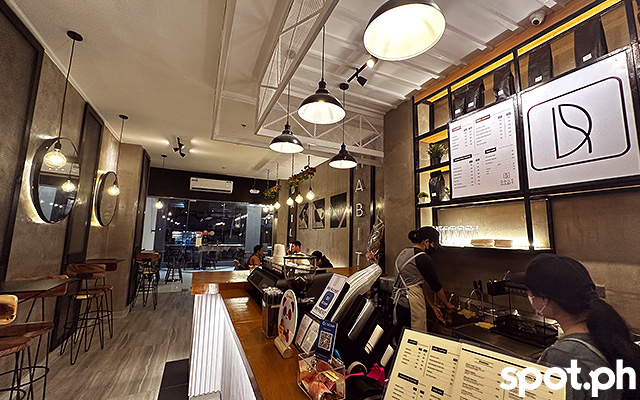 PHOTO BY LEANA VIBAL
One of the things the Daily Habit has going for it is its chill, easygoing vibe. The place is neat and inviting. No loud booming music or annoying espresso machine sounds here. The cafe's simple design, cool ambiance, and comforting energy make the place conducive for catching up with friends, studying for finals, or simply working away from home. It also doesn't hurt that there's complimentary two-hour WiFi access for every order. Oh, and an abundance of electrical sockets perfect for those looking to be productive while sipping on their cup of joe.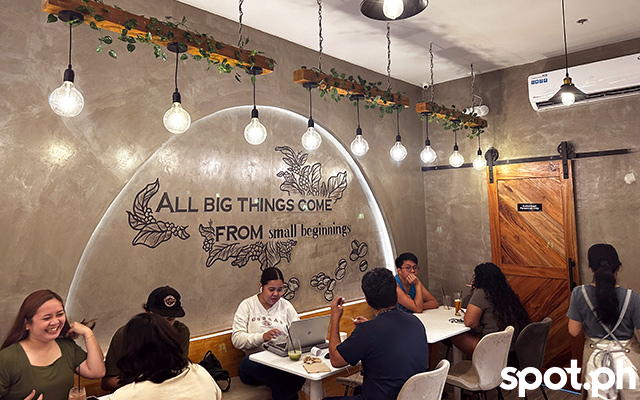 Wai Choi, the owner and chef at the Daily Habit, tells SPOT.ph that the Daily Habit is more than her source of income but rather her passion project—and it shows. Every aspect of the Daily Habit feels intentional and carefully curated. Drawing from her experiences abroad, Choi tells SPOT.ph that she wanted to give the Maginhawa community a specialty café, one that not only served quality cups of coffee and hearty food, but serves as a place for people to gather.
ADVERTISEMENT - CONTINUE READING BELOW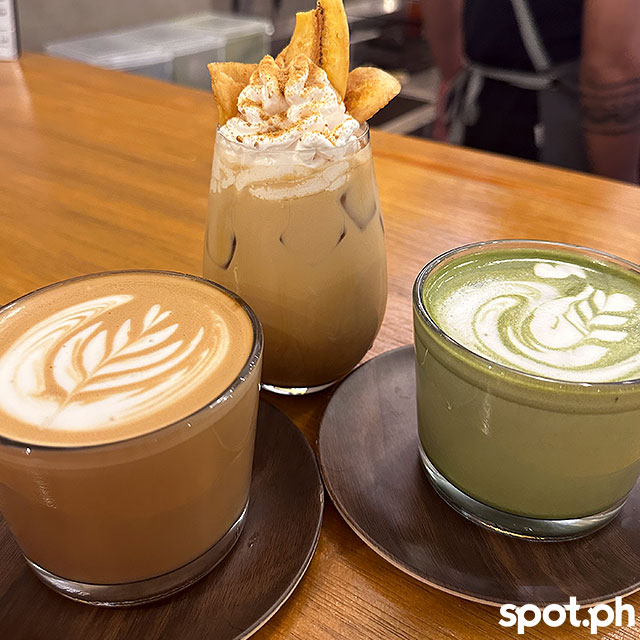 PHOTO BY LEANA VIBAL
Choi set out to differentiate her café from the many chain coffee shops in the area by creating inventive drinks like their take on the coffee and banana flavor duo, the Banoffee Pie (P170/hot, P180/iced) and their sweet, creamy, and chocolaty Butter Cookie Mocha (P170/hot, P180/iced). She also gave her own spin to comfort eats like Grilled Nachos (P315) and N.Y. Wings (P180/ 3 pieces, P260/ six pieces). As a trained chef, Choi did not hold back in making sure the food and drinks that leave her kitchen pack a punch and leave a mark on every diner.
ADVERTISEMENT - CONTINUE READING BELOW
If you ever find yourself in this nook in the North, be sure to try their drinks and their grub. For drinks, you won't go wrong with ordering their English Latte (P150/ hot, P160/iced). Their take on this caffeinated beverage strikes a perfect balance between the earthy, bitter notes of the coffee and the sweetness and creaminess of the milk. You get to taste the flavor of the Arabica beans sans the overwhelming acidic aftertaste courtesy of the milk's barely-there creaminess that's perfect if you like your coffee with a kick.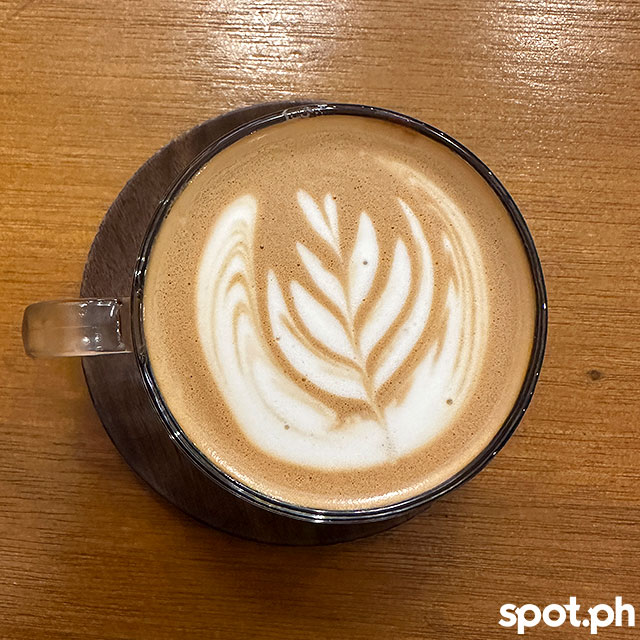 ADVERTISEMENT - CONTINUE READING BELOW
For non-coffee drinkers, there are a variety of teas, juices, and chocolate drinks available as well. A must-try in our book? The sensibly sweetened with mildly grassy notes Matcha Latte (P140/hot, P150/iced).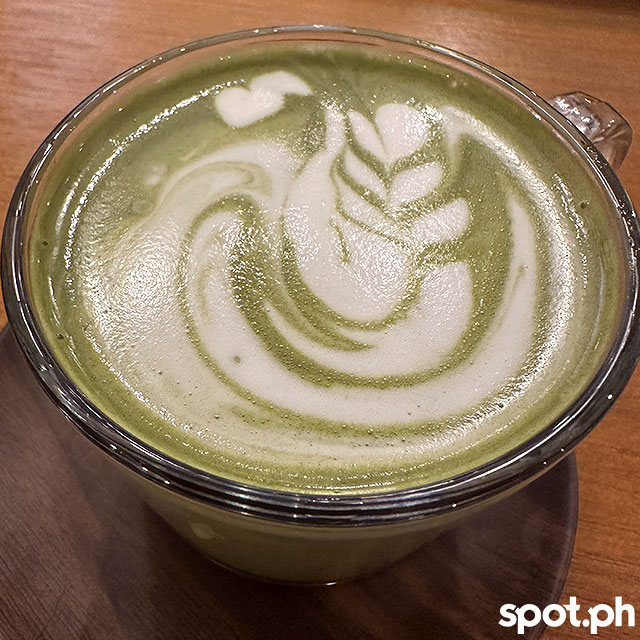 PHOTO BY LEANA VIBAL
You'd be missing out on arguably the best part of the Daily Habit if you don't order anything to eat. Whether you're craving something sweet or something on the savory side, they've got you covered.
ADVERTISEMENT - CONTINUE READING BELOW
Sweet tooths can make a beeline for their cakes and pastries. Must-tries include the Ube Cake (P195/slice) and the Burnt Basque Cheesecake (P195/slice), both of which make for great partners to any of Daily Habit's caffeinated drinks. The star though has to be the Ube Cake. This perfectly sweetened, Ube-rich treat has a great crumbly yet moist texture and a buttercream frosting that doesn't leave one's palate buttery and overwhelmed. Meanwhile, their Burnt Basque Cheesecake is a masterclass in cheesecake making. Perfectly moist yet dense, there will be no piece left behind on your plate.
For those looking for a fuller and more savory meal, Daily Habit also has pasta, appetizers, sandwiches, and rice bowls. A must-try is their take on the classic tapsilog but with an international twist. The Bulgogi Cover (P295) is a Korean-Filipino fusion dish that combines the best of both cuisines by balancing the sweet Filipino tapa with the sour and mildly spicy kimchi rice. It's served very similarly to a bibimbap bowl with a generous serving of blanched vegetables and a runny sunny-side-up egg.
ADVERTISEMENT - CONTINUE READING BELOW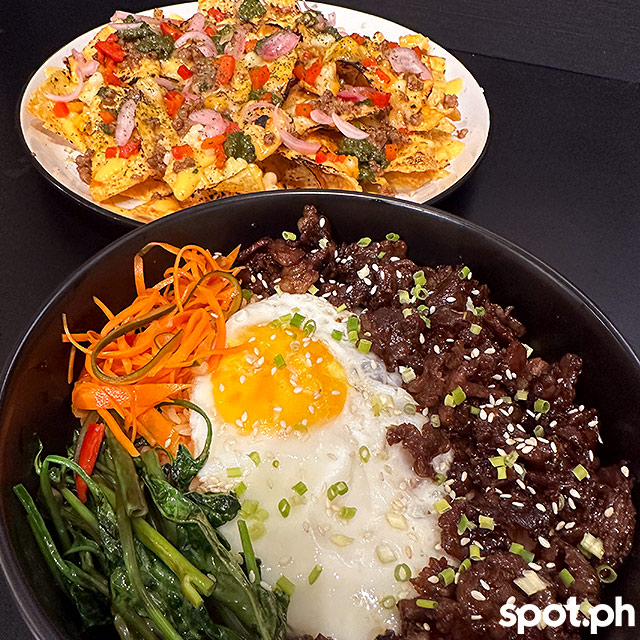 Grilled Nachos and Tapa Bulgogi 
Those opting for a more Western flavor profile might opt for the Nachos, Chicken Wings, or Creamy Garlic Shrimp (P265), but in our opinion, the must-not-miss pasta dish at Daily Habit is the Smoked Fish Aglio Olio (P250). This dish is a Filipino twist on the classic Aglio Olio. It makes use of tinapa and Dilis to add a layer of smoky fishy notes to the plain pasta. There's also a light topping of pickled onions that add a tart contrast to the rich, full-bodied flavor of the tinapa. Be warned, you'll be craving this dish long after you've had it. We know we are.
ADVERTISEMENT - CONTINUE READING BELOW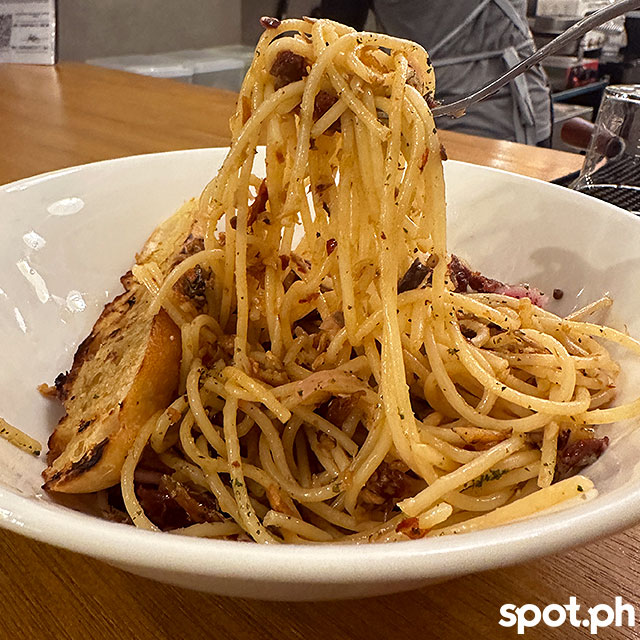 Smoked Fish Aglio Olio 
This spot is the type you come back to. Heck, we might even go as far as making this spot a part of our Daily Habit—Pun intended. This space is great for casual meetups and productive work sessions; and more importantly, the food and drink will leave you filled up, but wanting to try more on your next visit.
ADVERTISEMENT - CONTINUE READING BELOW
And speaking of wanting more, when asked about what to expect from the Daily Habit now that it is slowly finding its groove, Choi tells SPOT.ph to be on the lookout. "There will be specials on the menu, seasonal dishes that'll change every two to three months or so." Not wanting her loyal customers to feel like the menu is outdated and boring, she's planning these seasonal changes to keep everyone—even herself and her staff—on their toes. But aside from menu changes, Choi also teases us about the possibility of another Daily Habit somewhere around the Metro, and to that, we say, ready when you are.
This story originally appeared on Spot.ph.
* Minor edits have been made by the Candymag.com editors.