Everyone loves a traditional, homecooked meal but why not try out new recipes for a change? Enderun, together with their external partner in France, Alain Ducasse Formation (ADF), held a culinary demo called Cuisine du Marche. It literally means "cuisine of the market" which mainly emphasized the use of available, local, and fresh ingredients in creating wonderful dishes.
Two well-trained chefs from ADF, Christophe Laarrat and Jerome Lacressoniere shared with the guests their culinary skills by creating a full course meal consisting of the following dishes: Frozen Crab and Tomato Soup with Basil, Seasonal vegetable stew in a Vanilla Barigoule, Granita Salt and Algae Crusted Whole Fish with Dili Sauce, and for dessert, Roasted Mangoes Crumble Topped with Exotic Sherbet.
Chef Jerome enthusiastically talked about how they were brought to the market, seeing vegetables and other ingredients that were only available in the Philippines. During the demo, he also showed everyone how he was extremely delicate with the entire procedure. From the cutting, to the stirring of the mixtures, and even lifting the lid off the stew pot! It was very amusing to watch. An Enderun student Gen Oliva, who actually just came back from her internship in France helped the chefs out in the preparation of the dishes.
ADVERTISEMENT - CONTINUE READING BELOW
Interestingly enough, the ingredients weren't that precisely measured, unlike in baking. What was highlighted though was their cutting techniques and the different cooking methods such as broiling, baking, and the like. Some unfamiliar French cooking terms were thrown in every once in a while but the chefs made sure that everyone was able to understand it.
One would really see how precise and knowledgeable the chefs are. Chef Jerome also talked about how excited he gets every time he cooks. "You have to be passionate. You have to bring some love, you know?" he says.
A tasting was done afterwards and I must say these French guys really know how to cook! The vegetable stew and the fish with dili sauce were my favorites. Yummy gourmet food for the win!
---
Enderun Colleges offers Bachelor of Sciences degrees in International Hospitality Management with Specialization in Culinary Arts, among other degrees. The school not only has international tie ups with France, but also in other countries such as Spain and Switzerland.
Enderun is located in at 1100 Campus Avenue, McKinley Hill, Fort Bonifacio, Taguig City. Call 856-5000 or visit their website at www.enderun colleges.com for more details.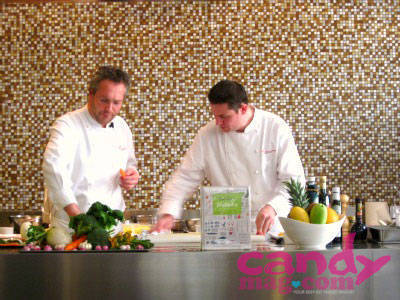 ADVERTISEMENT - CONTINUE READING BELOW