Notion has gained popularity among students for having features that boost one's productivity to their liking! However, the amount of features of this app can eventually overwhelm new users when things get a bit too technical. So if you're planning to set up a fully-functional Notion page but don't know where and how to start, check out these Notion basics and tips! 
Many Notion users have both created and used templates as a way to start their workspace. Templates are pre-made Notion setups that can be duplicated into your own account, and are still customizable. These can be sourced from the Notion website or from digital creators and artists. Here's a quick recommendation: Daphne Di's Peached-themed Template can house all your academic and personal needs!
ADVERTISEMENT - CONTINUE READING BELOW
But if you still want to start from scratch and adjust a template to your liking, head over to bullet number two. 
Familiarize Yourself With the Basic Notion Setup
When you create your Notion account for the first time, you are automatically given one page to start with. This first page gives you the following: A cover photo, a page icon, and a blank canvas with endless options. Keep in mind that you can divide this blank space into different sections or break them down into pages, so it helps to list down your basic needs. Ask yourself: Do you need a landing page to give you an overview of your tasks, or do you need to see a calendar first? 
You can start with what you really need first then add everything else later. For example, add a calendar in the center and then add a sidebar with a clock widget later on, plus a dropdown of all the quick links for the sections you'll be creating!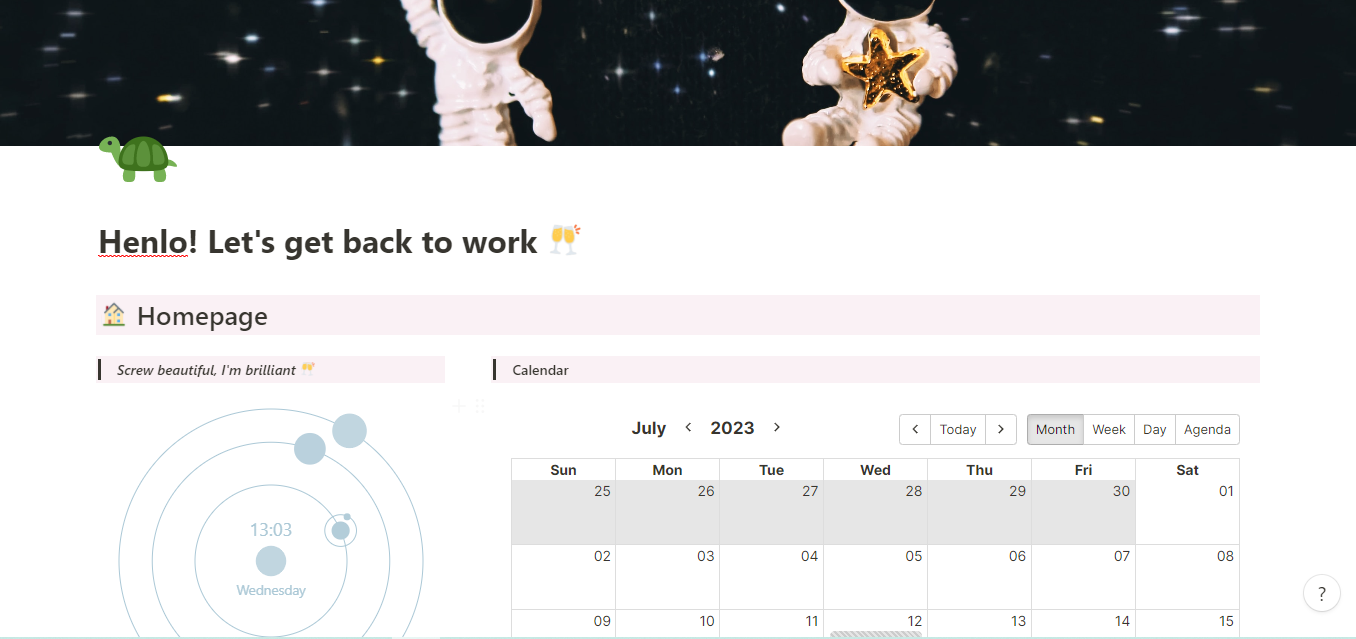 Making Sections To Divide Your Space
There are two ways to divide your Notion workspace: Horizontally and vertically. Making horizontal sections can be achieved by using the Divider Feature, which can be found on the pop-up when you click on the + sign next to a blank line. This gives you a long thin line across a space. Another way to divide your workspace is by adding a Callout Block. This can be found when you click the + sign. This gives you a colored horizontal block that you can also type on!
ADVERTISEMENT - CONTINUE READING BELOW
To divide your space vertically, you'll be using the Quote feature, which can also be found in the pop-up from the + sign. Despite only providing a divider for a single line, the Quote feature can be expanded and used to divide even the whole page!
Here is what horizontal and vertical sections can look like: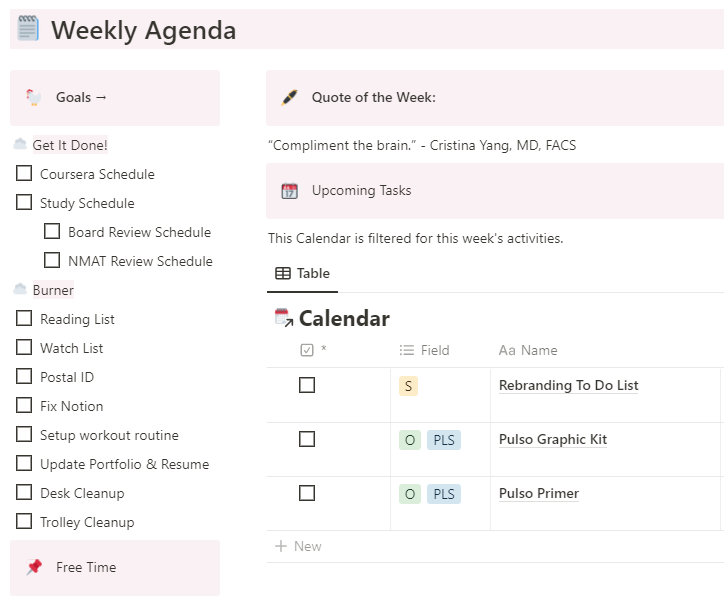 ADVERTISEMENT - CONTINUE READING BELOW
Based on my experience, Databases can be frustrating to work with when you need to move things around. To make things simple, Databases are simply sets of information that can be changed into different layouts, like Table View, Kanban View, Timeline, or Gallery. Each layout option has its own ideal purpose. 
The most common layout used for a database is the Table View. Meanwhile, Kanban helps in organizing database entries into progressing categories, Timeline helps visualize your database into a Gantt-Chart-like view, and Gallery simply separates your entries into pages. 
To further maximize your workspace, Notion's Pages are used to keep necessary information in their own individual spaces. Like the blank first page we discussed in the first bullet, the possibilities for each page are *endless.* The good thing about these pages is that you can insert them as individual hyperlinks anywhere, so there are tens of thousands of ways to add pages to your workspaces!
ADVERTISEMENT - CONTINUE READING BELOW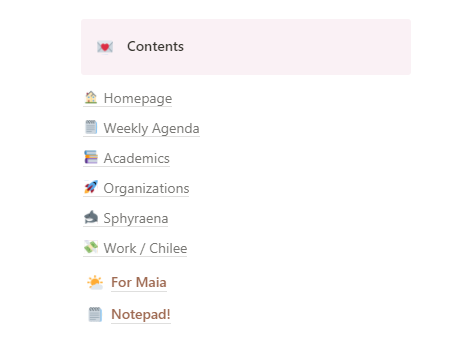 Embedding Widgets and Plug-ins
If you're still looking for another way to spice up your Notion setup, widgets and plug-ins are the way to go. Widgets are basically tools or assets that can be embedded into your workspace, while Plug-ins allow you to connect and integrate different apps into your setup! 
ADVERTISEMENT - CONTINUE READING BELOW
One of the most commonly used sources for Notion widgets is Indify.co, giving you free access to widgets for a stylized clock, an integrated Google Calendar, countdowns, and more! Take a look at this cool clock and weather widget combo: 

For Plug-Ins, on the other hand, there's a wide range of options to choose from. You can choose from productivity plug-ins or workspace integrations to keep everything you're working on in one place. Many third-party Plug-ins allow you to integrate Canva projects, access to Google Apps, and even Slack dashboards into your Notion space! Check out this cool Google Drive integration that's not only easy to use, but also keeps your files organized or in one place: 
ADVERTISEMENT - CONTINUE READING BELOW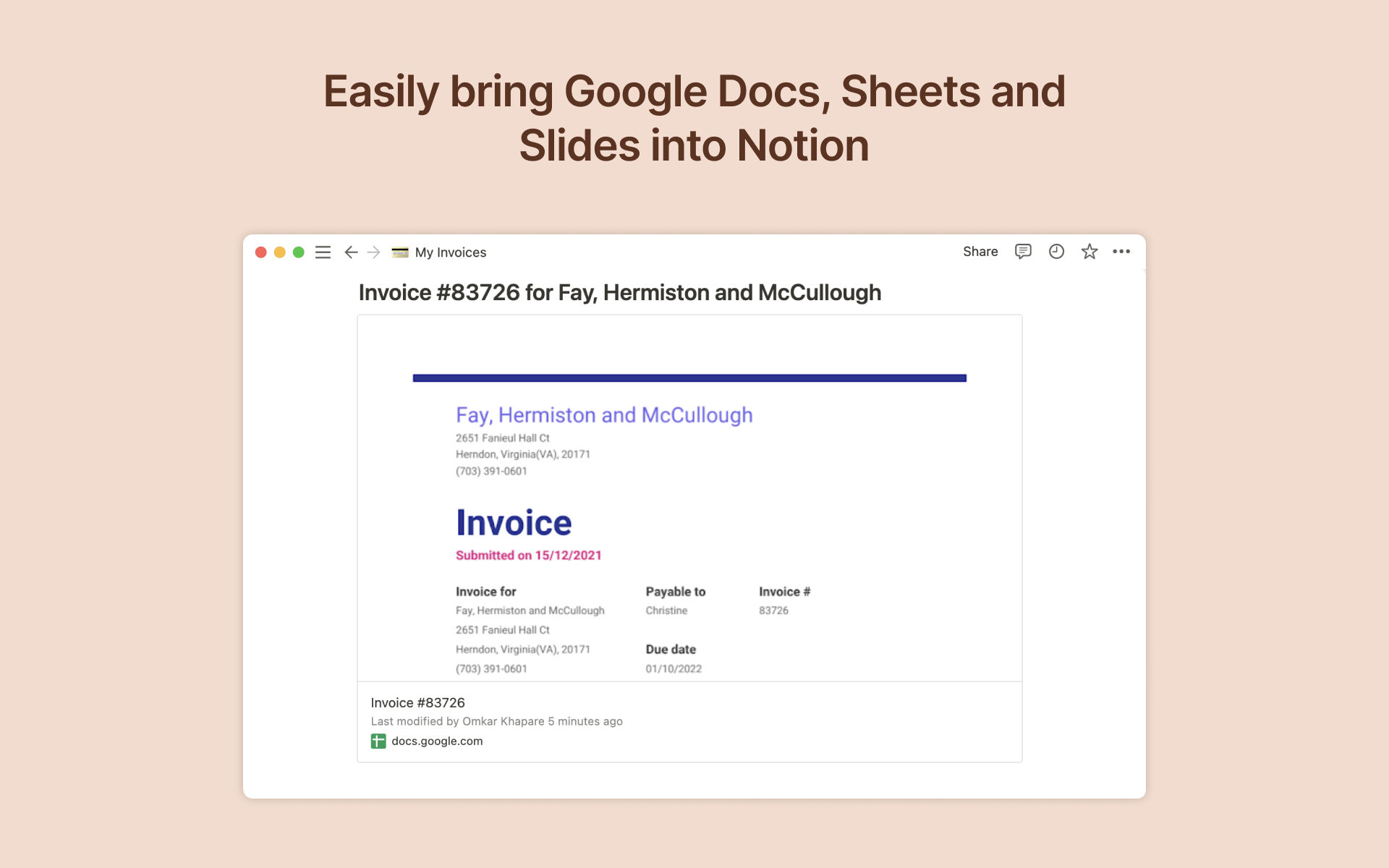 Decorating your Workspace
Personalizing your Notion setup isn't complete without adding your own touch to it. Try applying a favorite color palette or uploading your own icons instead of using Notion's default emojis! You can try these free Studio Ghibli-insipired icons for starters: 
ADVERTISEMENT - CONTINUE READING BELOW
This one's for when you're proud of your setup. You can save and share your setup as a template for others to use and tweak on their own! This can be done by clicking the Share button on the upper right corner, selecting Publish on Web, and sharing your links wherever you please!