Before, we only ever mention our zodiac signs when we're filling out our grade school friends' slambooks. Now, though, the entire world wide web has taken particular interest in astrology and what they say about our personalities, down to the point where seeing memes about our zodiac sign makes us feel validated and being told "you're such a Libra" becomes a compliment (or an insult, depending on how you view it).
Enter Co-Star, one of the many astrology apps that sprouted at the sudden interest of the new generation in astrology. According to its website, the app is "a filter to express what can be hard to say of emotions and reactions, strengths and weaknesses, pasts and futures. It's a tool to connect meaningfully with friends and lovers, or to tread lightly with strangers and enemies."
When you first download the app, you'll be asked to input your birth place, birthday, and even the time of your birth in order to map out your natal chart. Doing so lets you know beyond your sun sign, which is the sign we're most commonly familiar with. The natal chart will point out which sign and house the planets and other celestial bodies are specifically positioned at the time you were born (which is why you often hear astrology enthusiasts say phrases like Sun in Aquarius or Moon in Leo). Each planet and celestial body characterize a certain energy, which the app explains further here. The Sun, for instance, represents our identity while the Moon represents our emotions and moods. The chart can then be interpreted to describe your personality traits and even the goals and desires you are inclined to pursue.
ADVERTISEMENT - CONTINUE READING BELOW
Sounds pretty much like your typical astrology app, right? Besides giving you the lowdown on what the planets' positions say about you, the app lets you have a mini profile where you can change your photo and add your astrology-loving friends. It lets you compare each other's charts and see how you would get along and how compatible your personalities are with each other. Were you ever curious why you just don't vibe with that blockmate of yours no matter how hard you try to be friendly? The app might just give you a reason or two. Of course, there's also an option to keep your chart private if you're not the type to share such info.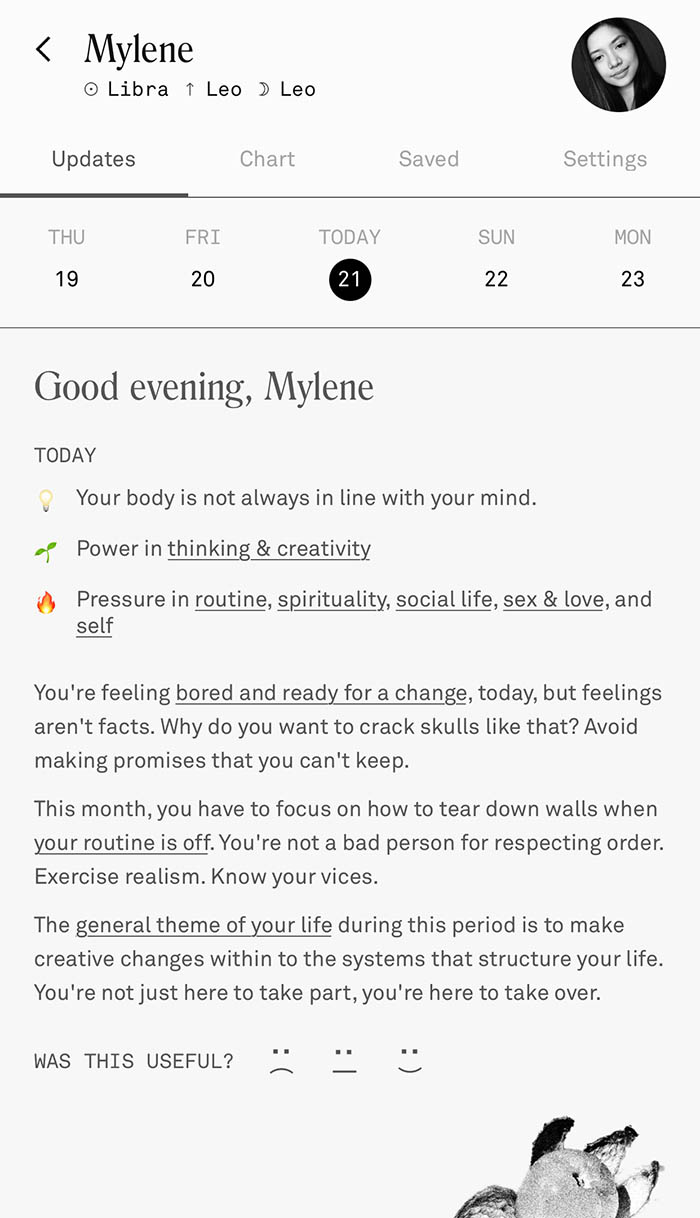 Aside from allowing you to connect with friends, what's interesting about Co-Star is that it claims to use data from NASA that's interpreted by top-tier astrologers to provide us daily with detailed, hyper-personalized readings about the different aspects of our lives—ranging from love, social life, career, self, to spirituality. Since the planets and stars have moved considerably since the time we were born, the app—through NASA's data and AI technology—analyzes and interprets their positions at the moment in relation to where they were when we were born. Every day, the app gives you a new update about how the celestial bodies are affecting your daily life. Fair warning, it may also come with little chunks of advice that have ZERO chill.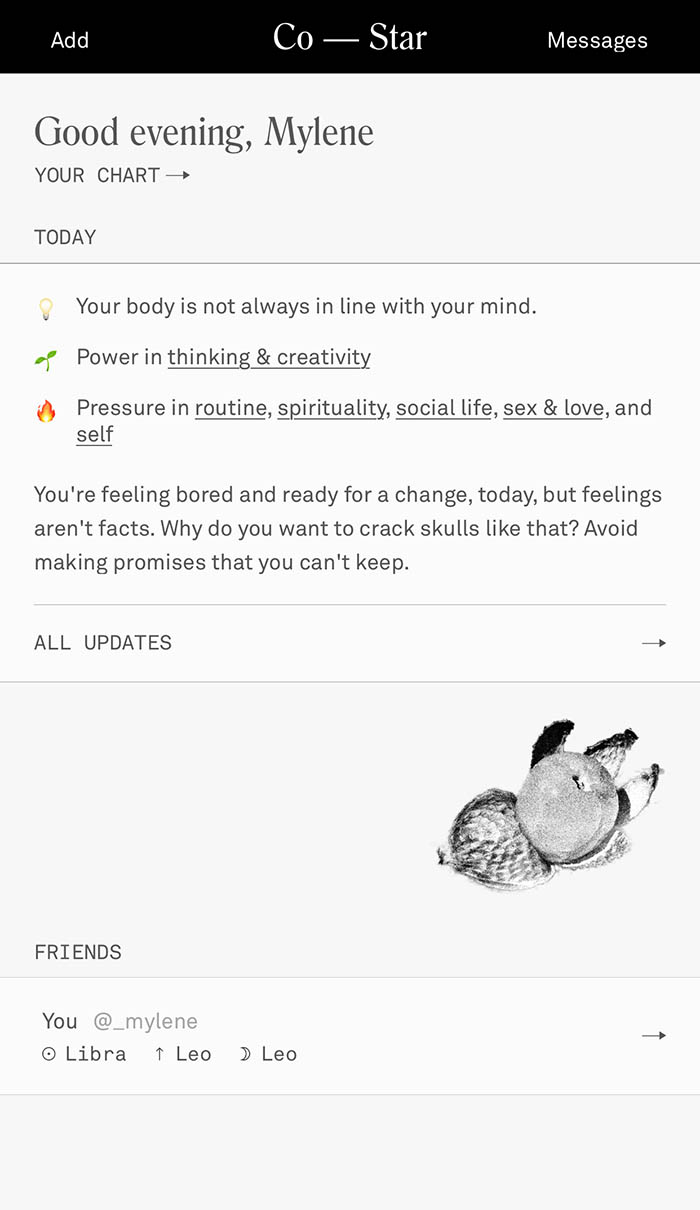 The app also churns out readings that may come in long paragraphs or in two sentences. Either way, these updates are meant to provide us insights about which course of action to take at a given moment, which aspect of our daily lives we must pay attention to, or what we should be wary of in our surroundings.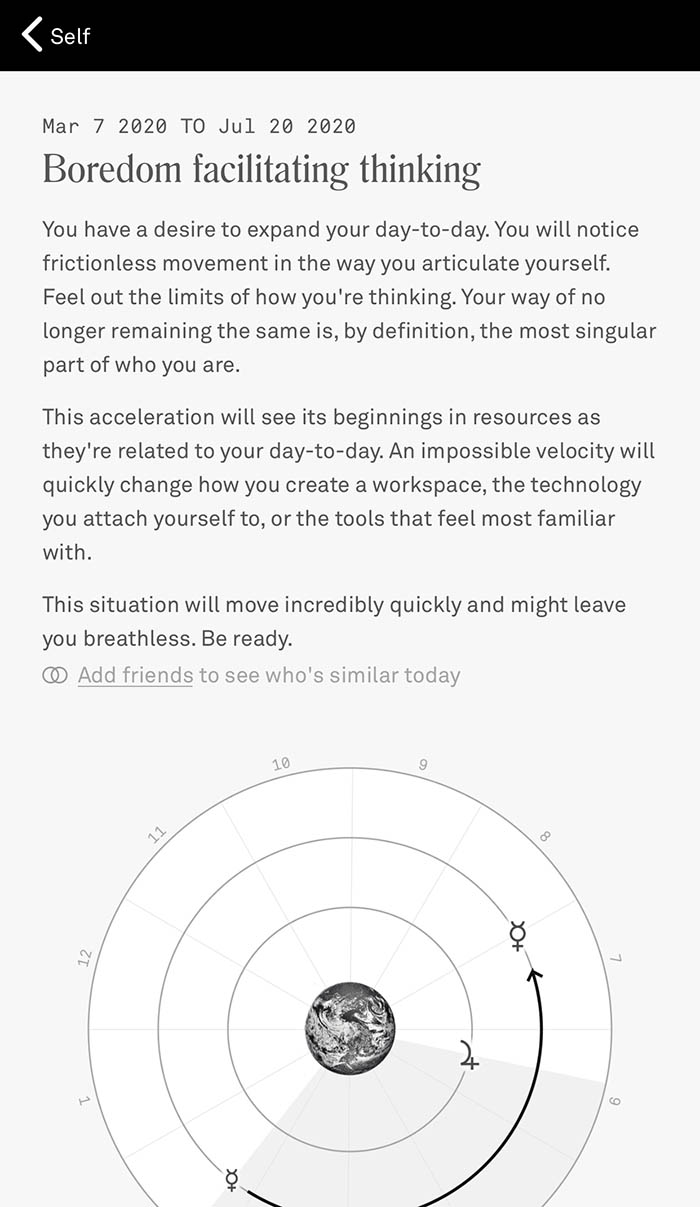 ADVERTISEMENT - CONTINUE READING BELOW
There are also daily notifications that pop up to give you random advice and reminders. Most times, they won't really make sense to you, but they actually seem like snippets of validation about the feels you've been secretly keeping. They sometimes also help you pay attention to certain aspects of your daily routine that you otherwise would've just overlooked. TBH, the ambiguity of the "day in a glance" reminders are what makes the app all the more interesting. Here are some examples: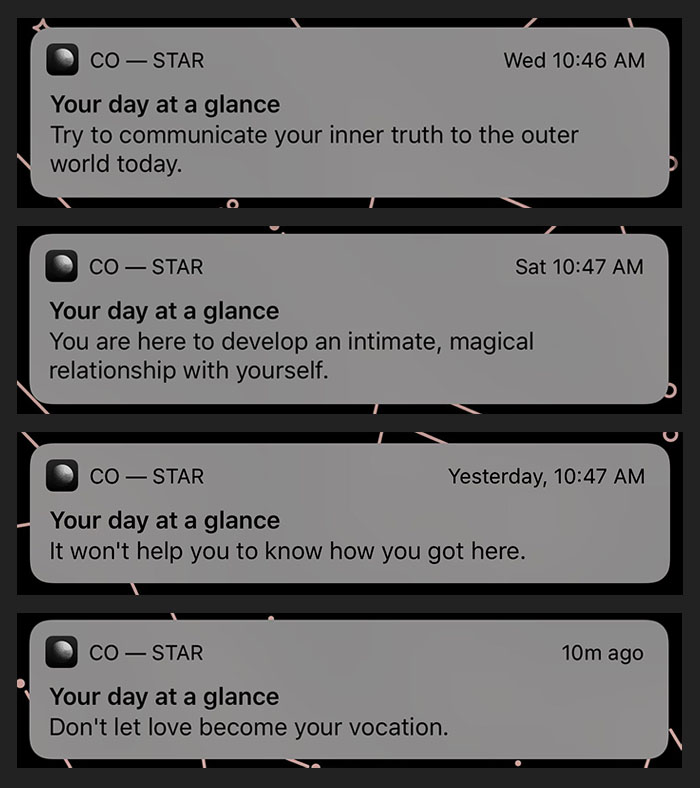 If you're trying to convince yourself to give astrology a try, or a budding enthusiast with little knowledge about it, Co-Star, might be a good place to start to make sense of the unfamiliar using tools and resources that are familiar to us. Or if you're just here for the daily cryptic messages, that's cool, too.
***
Candy Bulletin is finally here! If you're an aspiring writer, vlogger, artist, or kahit marami ka lang talagang time, submit your entries here and make your mark in the Candy community! Share your feels, show your skills. Don't worry—we won't judge. ;)