They say food is an easy route to take when it comes to gift-giving. But as anyone with a discerning diner in their life would know, these damn food folks are not always easy to please. It's the thought that counts, but you can also make them feel real appreciated when you take the time to get a truly poignant present. Enter these 10 ideas that you can order online and come packaged in boxes, crates, and so on—all ready for gifting.
Need ideas for Christmas gift ideas for food lovers? We've got you covered in this list:
Charcuterie and Cheese Gift Set A from One World Deli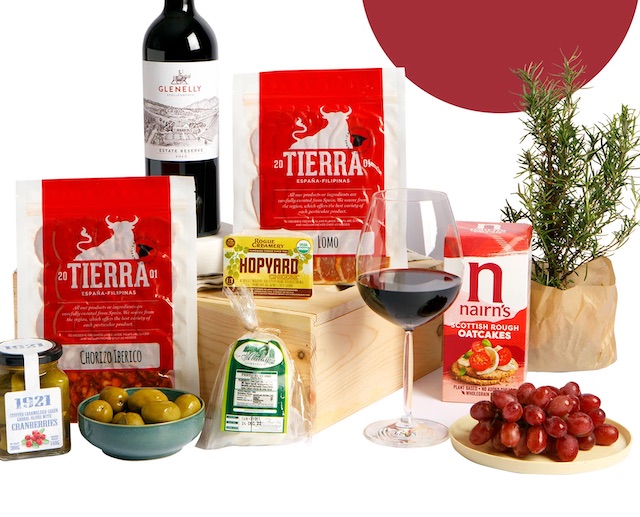 ADVERTISEMENT - CONTINUE READING BELOW
Having charcuterie and cheese in the fridge makes for effortless holiday entertaining (or for nibbling on drab afternoons). No time to drop by the deli or specialty grocery? One World Deli's come up with the Charcuterie and Cheese Gift Set A (P4,000) with pretty much everything you need: a bottle of red wine (Glenelly Estate Reserve Red Blend 2014), meat (100-g serves of Tierra de España Chorizo Iberico and Lomo), Rogue Creamery Hopyard Cheese, Malagos Pesto Sublime Cheese, Mayani Crimson Grapes, Nairn's Rough Oatcakes, and 1921 Stuffed Caramelized Olives with Cranberries in a wooden crate.
For orders, visit One World Deli's website.
Brioche Wreath from The Daily Knead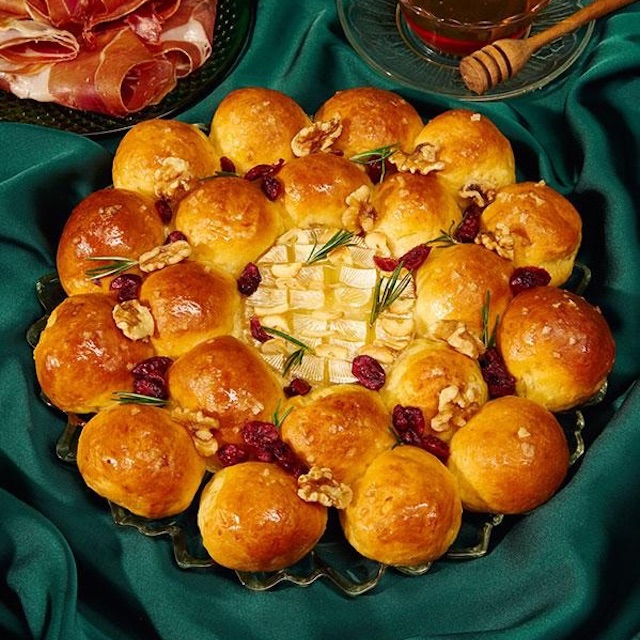 The Daily Knead's won us over with their excellent breads and bakes, and they've come up with the Brioche Wreath for the holidays. As the name implies, it's got their buttery brioche formed into a ring of pull-apart balls to resemble a wreath—talk about the perfect Christmas-spread centerpiece. Take your pick from the Classic (P1,570/midi, P1,760/grand) with studded with garlic, rosemary, walnuts, and dried cranberries plus a wheel of brie in the center; the Jamon Serrano Brie (P1,720/midi, P1,960/grand) i.e. the former variation with additional jamon on the side; or the sweet Chocolate Custard (P790/midi, P1,160/grand) with custard, strawberries, pistachios, and dark and white chocolate.
For orders, visit The Daily Knead's website.
Le Grande Set from Bizu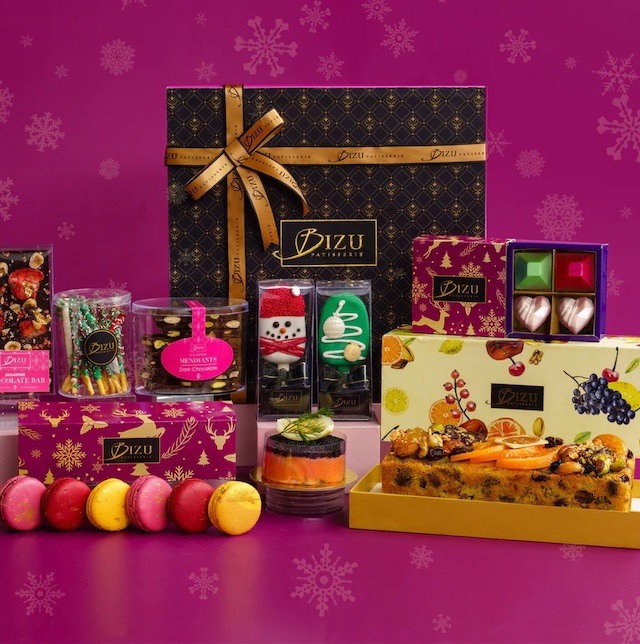 ADVERTISEMENT - CONTINUE READING BELOW
It's in the name—Bizu's bringing together the best of their best into one sizable hamper that'll have your giftee on a sweet high. This all-in-one set (P6,210) comes with one Fruitcake, one Gourmet Truffle Box of 4, a personal-sized serving of Smoked Salmon Caviar, a pack of Crostini, a tube of Christmas Pretzel Rods, two Chocolate Cakesicles, one box of six Holiday Macarons, one tub of Sugar-Free Mendiants, and two Sugar-Free Chocolate Bars in a large box.
For orders, visit Bizu's website.
Buko Flan from Fluffyummy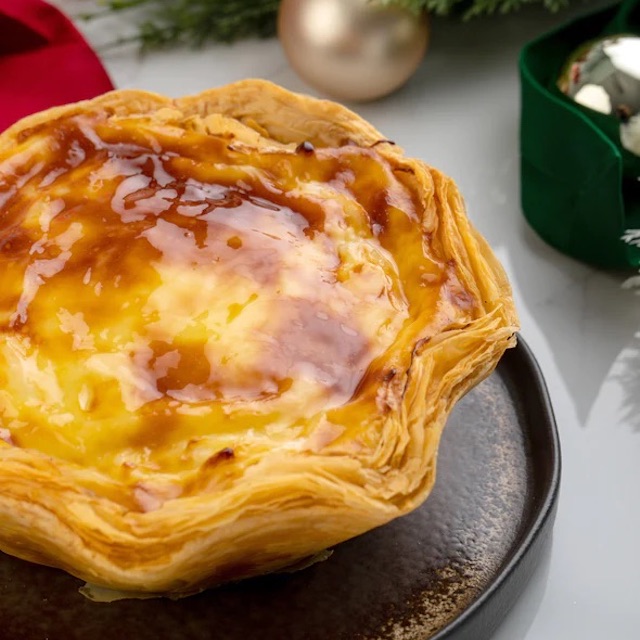 ADVERTISEMENT - CONTINUE READING BELOW
Meeting a friend or family member from the Southern Tagalog area? Fluffyummy's Buko Flan (P1,150)—a sort of French spin on the Philippines' own buko pie, if you will—is bound to knock their socks off. With soft strips of young coconut in a creamy, barely sweet flan base imbued with vanilla, a lightly caramelized top, and an uber-buttery crust with otap-level flakiness (that makes the most glorious crackle as you slice into it!), the resulting dessert is way beyond the sum of its parts and deserves a spot on any holiday table.
For orders, visit Fluffyummy's website.
Ham from China Mommy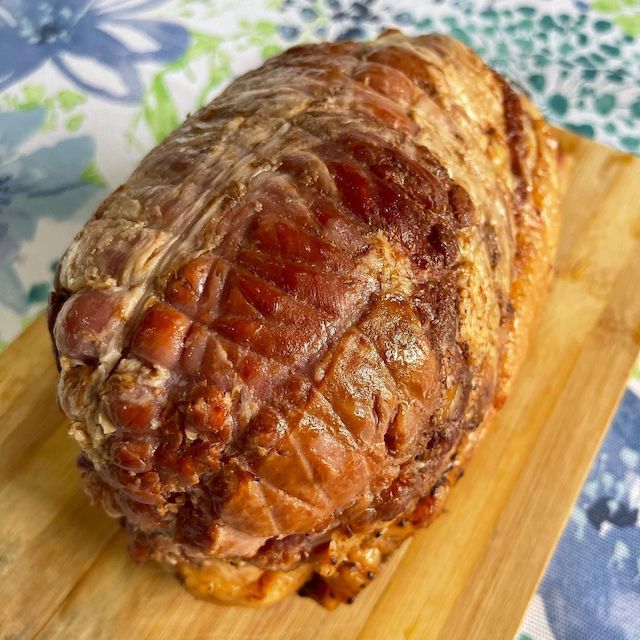 ADVERTISEMENT - CONTINUE READING BELOW
You know China Mommy for their excellent home-style Chinese eats (and those glorious, glorious crabs)—but it's about damn time you came to know about their Ham (P1,650/approximately 900 grams to one kilo). It's rightfully meaty, subtly smoky, and you get a good helping of glaze on the side for drizzling over. Head on over to their order form to get yours; note that slots are highly limited. Pickup dates are on December 9, 16, 23, and 30.
For orders, fill out China Mommy's order form. You can also check out China Mommy's Facebook page.
All I Want from 1919 Chocolate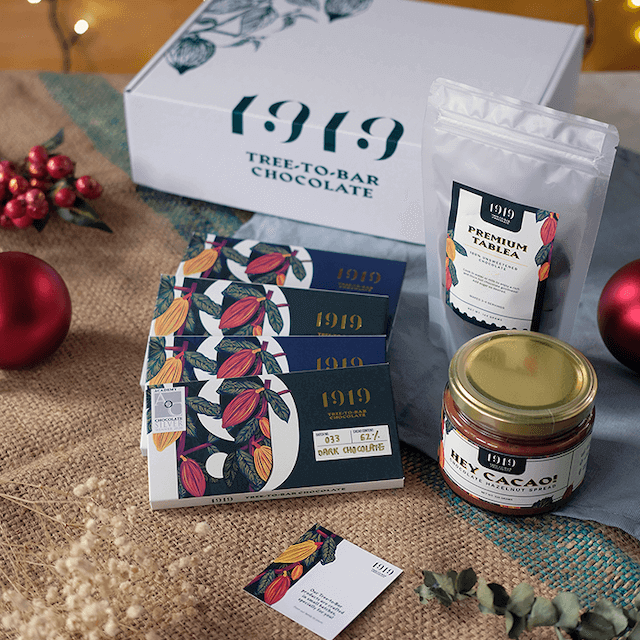 ADVERTISEMENT - CONTINUE READING BELOW
It's worth skipping the imported stuff and opting for local as we've got truly great cacao and chocolate in these parts. Among them is bean-to-bar brand 1919 Chocolate, who makes award-winning bars and other byproducts using cacao from a century-old, family-owned cacao farm in Batangas. The All I Want set (P1,540) is a great place to start; within each gift box are four of their craft chocolate bars, a jar of their Hey Cacao! Chocolate Hazelnut Spread, and a sachet of their Premium Tablea.
For orders, visit 1919 Chocolate's website.
Ginger and Cinnamon Butter Cookies from Chef Chele's Kitchen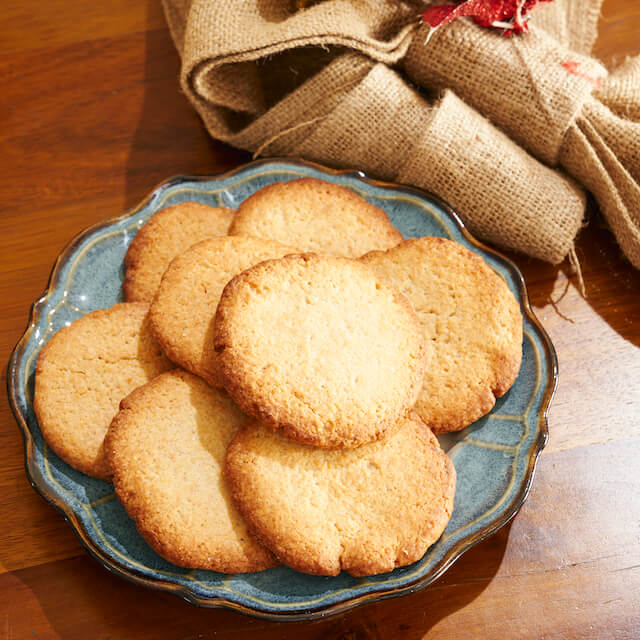 ADVERTISEMENT - CONTINUE READING BELOW
Spices have the amazing ability to warm you from within—which is an especially great way to combat the 'Ber-month chill. (That, and they just taste great, period.) This holiday special by Chef Chele's Kitchen (P60/piece, P350/box of six) has ginger and cinnamon working their zing and woodiness, respectively, to enliven crisp, buttery cookies that are great with tea or coffee. You can catch them at their recently opened boutique at The Podium, or order online.
Chef Chele's Kitchen is at G/F The Podium Mall, 18 ADB Avenue, Ortigas Center, Mandaluyong City. You can also check out Chef Chele's Kitchen's Facebook page.
Salted Egg Yema EnsayBabka from EnsayBabka by Joconde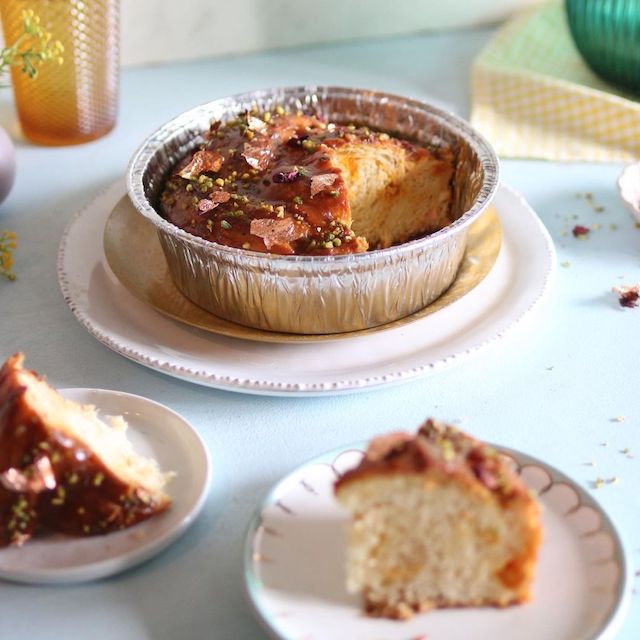 ADVERTISEMENT - CONTINUE READING BELOW
Joconde—makers of some of the best carrot cake and stollen in the country—recently came out with their subbrand dubbed EnsayBabka. That's right; this yeasted treat combines our own ensaymada with the Jewish fave that is babka, so you get the fluffy buttery character of the former and the savvy swirls of the latter. For Christmas they've come up with the Salted Egg Yema variation (P1,450) with a yema-cream filling, salted-egg bits, and caramel; that way you get a bit of salty, a bit of sweet, and a whole lotta soul-warming richness in every forkful. Sure doesn't hurt that it comes in quite the picturesque box, too.
For orders, fill out EnsayBabka's order form. You can also check out their Instagram page.
Coffee Gift Set from Real Food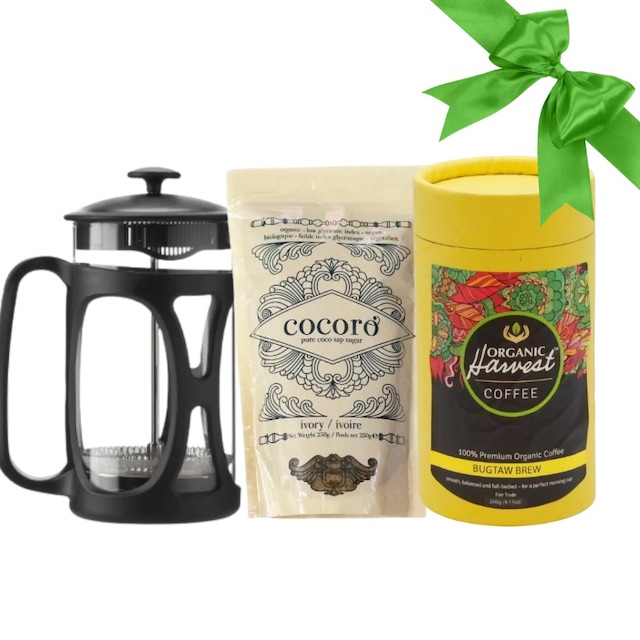 ADVERTISEMENT - CONTINUE READING BELOW
We've all got those folks in our lives who just can't get through the day without a cup of joe. Help them save on their coffee shop bills for the coming year by getting them Real Food's Coffee Gift Set (P1,250). You get a 250-gram canister of Organic Harvest Bugtaw Brew Ground Coffee (with shade-grown, handpicked coffee beans that are organically grown), a coffee press, and a 250-gram bag of Ivory Coco Sugar that they can deck their work desks or pantries with.
For orders, visit Real Food's website.
Holiday Cream Puffs from Leonisa's Kitchen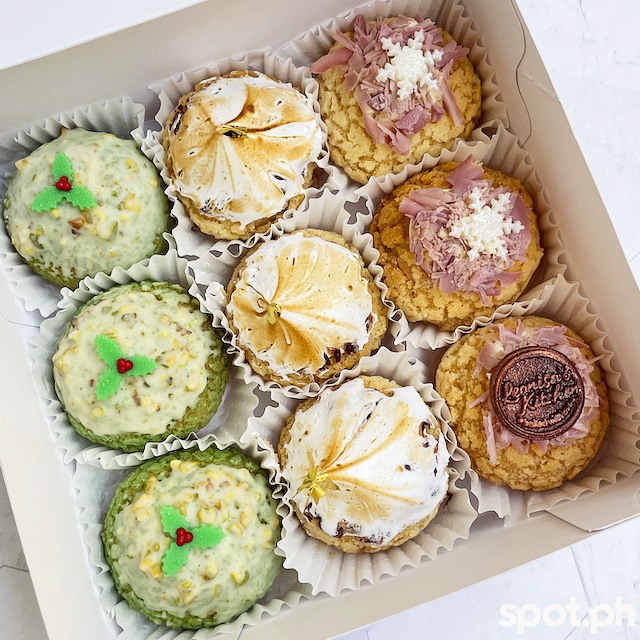 ADVERTISEMENT - CONTINUE READING BELOW
When the hankering for cream puffs strikes, Leonisa's Kitchen is one of the first places we turn to; their A+ versions have the perfect ratio of cream to choux and thankfully aren't too sweet. They've come up with a limited-time holiday series (P480/box of six, P650/box of nine) that'll sweep any dessert fan off their feet, as it's got their signature sweet in Ruby Chocolate Strawberry, Avocado with Pistachio White Chocolate, and Banana Nutella with Marshmallow flavors.
For orders, send a message to Leonisa's Kitchen's Instagram page.
***
This story originally appeared on Spot.ph. Minor edits have been made by the Candymag.com editors.