It goes without saying that the most random things go viral on the internet. 
Case in point: Over the past few weeks, a Facebook post referring to Brent International School Manila as the "school of the super rich" has been making rounds on the internet—but not for the reasons you think. People didn't disagree with the post's claim, nor did they recognize the school's prestige. 
ALSO READ: 10 of the Most Expensive High Schools in the Philippines
Instead, they pretended to be former students of the elite school just for laughs! In true Filipino fashion, Pinoy netizens flooded the post with chaotic comments about their favorite memories on campus. It seemed like everyone had made up an absurd recollection to share, from meeting Albert Einstein as their substitute Science teacher to playing taya with their bodyguards. 
We're not exactly sure why or how this particular post went viral, but we're always up for a good laugh. Scroll down to see the most hilarious captions we spotted in response to the post! 
ADVERTISEMENT - CONTINUE READING BELOW
One netizen talked about having to speak five different languages, one for each area on campus. Helipad included, OFC. 

Another Filipino also mentioned that they took a private field trip to the Milky Way thanks to Elon Musk. Their section was apparently named "Uranus."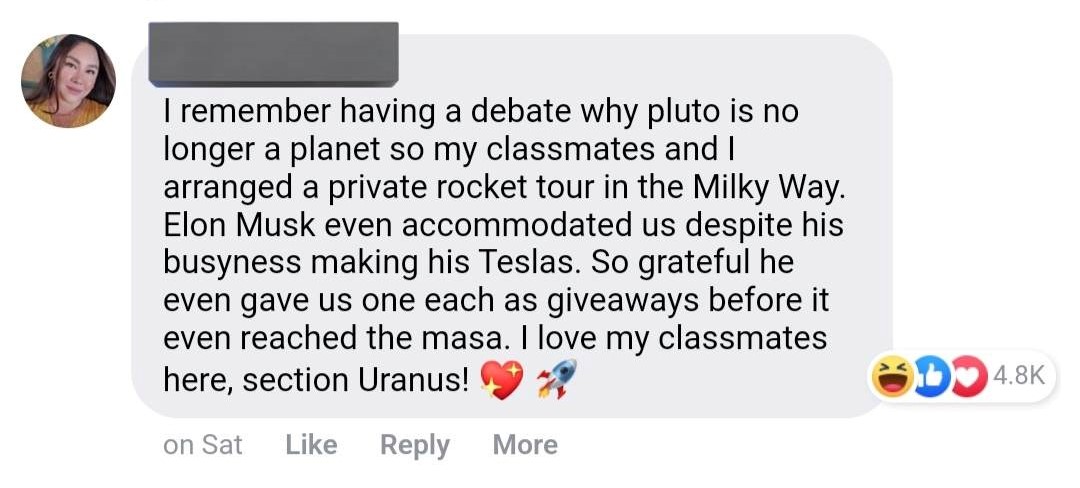 Tagging a friend to her comment, this netizen recalled that her school barkada typically used Aquaflask bottles and Balenciaga slippers for tumbang preso games. Nice. 

FYI, there are some negative memories, too. Someone joked about being forced to transfer to Ateneo de Manila University because fellow Brent students bullied their maids for owning only four Louis Vuitton bags and two Rolex watches. 

There were also other hilarious comments about eating ostrich eggs as balut, Mariah Carey writing the school song, and visiting Antarctica whenever the classrooms got too hot. LOL! 
ADVERTISEMENT - CONTINUE READING BELOW