We met the boys of Boys Like Girls a day after their first mall show (in ATC). They were super nice and showed no star complex at all! Some Candy editors were lucky enough to watch them live! Mimi mentioned during our interview with them that we loved their cover of Frou Frou's "Let Go," so Martin said they'd include it in their set for the next two shows. Mimi took note of the set list at their last show in Glorietta:
"Hero/Heroine"
"Five Minutes to Midnight"
"Dance Hall Drug"
"Learning to Fall"
"Heels Over Head"
"Broken Man"
"Let Go"
"Thunder"
"The Great Escape"
Candymag.com: What is your song process like?
Martin Johnson, vocals and guitar: It's all kind of different. Usually it's definitely music first. As far as song process goes for writing, it can be anything with us. You know, from songs done on an acoustic guitar and then we arrange it full band. Or we start with a little riff on the guitar, do that, and do the lyrics later. I feel that it's important that music and melody are done first, because if a song can stand alone and make you feel something when it's just a vocal melody, then you know the lyric is not the only thing grabbing the audience.
Candymag.com: What made you decide to do an acoustic version of "Let Go?"
Martin: We love that song from Garden State. It was a great movie and I started listening to it all the time. No one would ever expect an acoustic version of that song because it was so electronic and it's a female vocal. Me and Paul spent a while arranging it. When I hear that song, it's kind of one of those songs that you wish you wrote yourself because it makes you feel something good.
ADVERTISEMENT - CONTINUE READING BELOW
Candymag.com: Has any other band done a cover of one of your songs?
John Keefe, drums: You can go on YouTube, you can find a lot!
Candymag.com: Do you have a favorite?
Martin: I love going on to YouTube and watching younger bands in talent shows.
Bryan Donahue, bass: There's a piano one that's amazing.
Paul DiGiovanni, lead guitar: My personal favorite one is this kid from Hawaii who did "Hero/Heroine" with a ukelele. It was really cool.
Candymag.com: What makes Boys Like Girls click?
Martin: The different personalities. Everybody takes inspiration from different things. It took a long time for all of us. We're brothers.

Candymag.com: Were you fond of making mixtapes when you were younger?
John: They were really fun to make. And CDs came out and it was way better! You didn't have to press forward.
Paul: My first car definitely didn't have a CD player so I make a tape and listen to it in the car.
Bryan: Or tape it off the radio.
Paul: Yeah, it was always half volume and really static-y.
Martin: I was first generation of internet hackers. I had a little cable that was run from my Napster and I'd play it and it would go into my little tape recorder.

Candymag.com: Which artists are staples in your mixes?
Martin: 90s stuff like Nirvana, REM.
John: Seal?

Candymag.com: Any guilty pleasure songs or artists that people would be surprised to know?
Martin: I listen to everything from rap to musical theater. I used to do theater when I was in high school.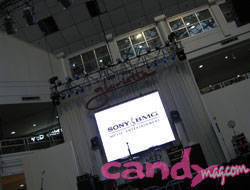 ADVERTISEMENT - CONTINUE READING BELOW