Lifestyle
Bookmark This Site: The GALvanizers
This website definitely deserves a spot in your bookmarked list!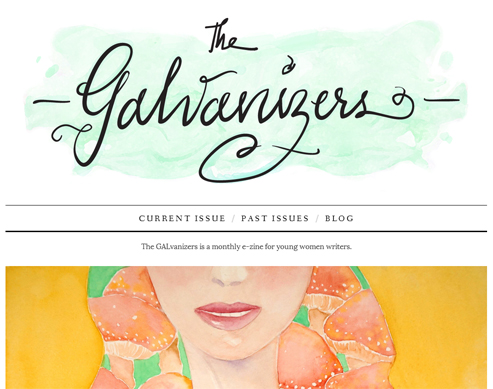 We talked with The Galvanizers' editors Bea Pantoja and Isa Garcia about their new online project. Read on to find out more about it!
What does it mean to be a "galvanizer"?
Bea Pantoja: A galvanizer inspires you to take action. You may have friends who motivate you, family that support you, and mentors who encourage and push you, but a galvanizer goes one step further by asking: what are you going to do about it?

Galvanizers aren't always good. Sometimes you'll react so strongly to unpleasant things that you can't help but respond. Sometimes you'll leave a heart-to-heart with a light spirit and fingers itching to create. In fact, one definition of "to galvanize" is to stimulate using electrical current. As someone who was recently repeatedly shocked with electrical currents for a medical test, I can assure you this is not a pleasant experience.

I much prefer this other definition of galvanize: to coat steel in corrosion-resistant zinc, making it stronger and more resistant to environmental forces. Galvanizers leave you stronger than where you began.

ADVERTISEMENT - CONTINUE READING BELOW

How long did it take for you to get The Galvanizers up and running from idea to making it public finally?
Bea: When we came up with the idea to start a writing magazine, we spent an hour building a skeleton of the mechanics: how often would we publish, what features to publish, what our magazine mascot would be (this was the most important issue, of course!). We had a mascot before we had a name. By that night, we had our name, website, issue theme, feature image, and a list of possible contributors (all of whom agreed to submit! We were over the moon about that.)

CONTINUE READING BELOW

Recommended Videos

The next few weeks involved talking to the contributors, writing and editing everyone's pieces including our own, conducting interviews, and getting the look of the site just right. All in all, I'd say it took about a month to publish the first issue!

ADVERTISEMENT - CONTINUE READING BELOW

Why young women writers? And will you ever have guest guy writers in your future issues?
Bea: Ooh, this is a loaded question! First of all, there are few places where a young woman can go online and read specifically about the experience of writing itself from a variety writers her own age. We're still not that sure how many people find writing about writing interesting, but personally we can't get enough. As a niche, "young female writers on writing" is a very small cut of the pie, but hopefully one that goes deep (which means lots of pie—always a plus!).

If there's one thread that ties all the articles of previous issues together, it's that being a young female writer today is not easy. You have to get out of your head. You have to turn your perfect dreams into imperfect reality. You have to make a lot of choices, and choices can be scary. You have to learn a lot—heck, we don't know anything either! So, we aim to feature stories that reflect different perspectives of what it means to be a young female writer today.

As a female writer, your challenges are not often the same as your male counterparts. You are still underrepresented in the most prestigious literary awards. Your commercial fiction is branded "chick lit" or "a great beach read" as though this is meant to be derogatory. You're too in touch with feelings. Your magazines are dismissed: too shallow if mainstream, too off-beat if indie, too "feminism-y" if you dare question the status quo. It was very important for us to build a space where these issues could be discussed openly.

We don't focus on genre or labels or "type" of writing: we want female authors who write romance, and YA fantasy, and creative nonfiction, and literary fiction to be able to relate. No matter what you write or how you write, the experience of being a young female writer is shared. In future issues our aim is to feature more diversity of contributors and topics, to prove that statement true.

On that note, we aren't excluding male writers or invalidating their own experiences. We're just addressing a specific niche. As for guest guy writers in the future, we never say never! Send in your pitches and let's see.

ADVERTISEMENT - CONTINUE READING BELOW

How "young" is young? Who can contribute to the mag?
Bea: The Galvanizers is primarily targeted towards 20-something women. We don't sugarcoat our features or shy away from strong language or strong opinions, even if the tone is positive. Though we are getting emails and comments from both younger and older readers who tell us about an article that inspired them or piece they enjoyed. That makes us really happy!

We don't have an age prerequisite for contributors (no need to send valid copies of ID with your pitches!), but most of our contributors tend women in their 20s or early 30s who either write for a living or have had enough practice writing to produce the thoughtful longform articles that make us go gooey inside. We're open to getting pitches from younger or older writers and new writers, but everyone is held to the same standards. Our first round of contributors set the bar pretty high, but having a compelling voice and a unique take on familiar narratives are sure to grab our attention.

ADVERTISEMENT - CONTINUE READING BELOW

How do you come up with your monthly themes? Is it just the core team who decides or do you take suggestions from your readers/contributors as well?
Bea: At the moment we decide the themes. Because of the publishing schedule, we can usually come up with themes a couple months in advance and have plenty of time to decide the next ones. We choose our themes based on topics we're grappling with at time or if it's seasonally relevant, and we try to make them general enough to support multiple interpretations.

If we ever switch to more frequent posting, we may open it up to readers and contributors. Though if you have suggestions for themes, please do send them in!

If we were first-time readers of The Galvanizers, which article would you suggest we read first apart from the Intro/About Page?
Isa Garcia: That's a very tough question and I supposed the answer would be largely dependent on what kind of reader you are. Our maiden issue, "You Are the Sun," has an article by Krysty Choi called "Better." In it, she paints a candid picture of how difficult being a writer actually is. The unfiltered truth is that there's a certain kind of neurosis that comes with writing. Krysty's article gives you a glimpse into what that world might look like and I chose it for its honesty. I guess if you were going to start somewhere, it'd be there. I believe that a galvanizer pushes you towards reality and anyone with the desire to become a writer should know: it's tough stuff.

As you sift through the other articles you'll find that while writing is hard, it's also totally worth the late nights and the days where you feel like your work is terrible. Finally coming up with well-crafted sentences produce a fine kind of joy.

In truth, there's something in each issue for everyone. :)

ADVERTISEMENT - CONTINUE READING BELOW

Who are your dream contributors?
Isa: SO MANY! I'm sure Bea and I both have a list of dream writers—from our favorite YA novelists (Rainbow Rowell, perhaps!) to bloggers we both follow. The ultimate hope is for The Galvanizers to feature international writers as well. It is a great joy to showcase some of our local voices especially since there are plenty of awesome writers in the Philippines. But if we could diversify our writing pool more—and tap established essayists and authors in the process—we would be incredibly happy.

At the moment, we're taking it a day at a time and are incredibly happy with the writers we've been able to tap so far.

ADVERTISEMENT - CONTINUE READING BELOW

Any dream people to work with?
Isa: We were so fortunate to be able to feature Liz Lanuzo's artwork in our second issue, "Page One."I think The Galvanizers could be a potential platform for artists who want to put their work out there. The idea of that, in itself, is an honor. While I can't think of any specific person at the moment, I think Bea and I are easy enough. If any illustrator or photographer that matches our aesthetic (we're going for the dreamy/whimsical look) were to collaborate with us at this point, we would be incredibly happy to oblige.

What would you tell young women who are scared to pursue their passion projects?
Isa: A mentor of mine gave me one of the greatest pieces of advice ever: "It's not going to kill you so don't act like it will."

This has been my go-to mantra in my pursuit to make different passion projects happen—from starting a personal blog to putting up The Galvanizers with Bea. The worst thing that'll happen if you try this great big idea is it won't click. But who cares? The fact that you put your heart (and art!) out there is cause to celebrate.

Think of your most favorite book in the world, the one you could read over and over again no matter how frayed the pages get. Think of a book you are absolutely-over-the-moon-in-love with. What if that writer hadn't taken a chance on that story? What if the author had backed down and decided that the act of creating was too risky? Imagine if the Sistine Chapel or Fleetwood Mac's "Landslide" or Harry Potter had never come into being because the brains behind them had given in to fear? The world gains nothing from you playing small so dream big then go out and do.

That's where changing the world truly begins.

ADVERTISEMENT - CONTINUE READING BELOW

What can we expect from The Galvanizers in the future? Any special issues in the works that readers can get excited for?
Isa: We're hoping to drop an issue that focuses on fantasy writing so that should be a lot of fun! Bea and I are still in the middle of really formulating our calendar for the year. We both fit into Myers Briggs' INFP type, which means that a lot of what gets put into our publications happens as we plan—and make mistakes!—along the way. We're also really excited to just build a community with our readers. That way, we can figure out how to make our future issues even more fantastic. :)

ADVERTISEMENT - CONTINUE READING BELOW
To find out more about The Galvanizers, check out their links below:
www /thegalvanizers.com
twitter /theGALvanizers
March isn't off to a great start for K-pop fans.
This meaningful and now-viral song has quite the story!
Here's how you can apply.
Yup, a million girls would really kill for this job.
They have unique beverages you won't see in most coffee shops.
These organizations strive to raise awareness and initiate change in their various advocacies.
We love the cartoony details!
Here's the story behind FASH.
Time to unwind with 1/2 of the Gaya sa Pelikula love team.
Everyone has gone digital.
From The Candy Bulletin Community