Lifestyle
Bookmark This Site: Rumination Mag
We talked with EIC (and Candymag.com Correspondent!) Juli Suazo to get the lowdown on the newest magazine to hit the WWW.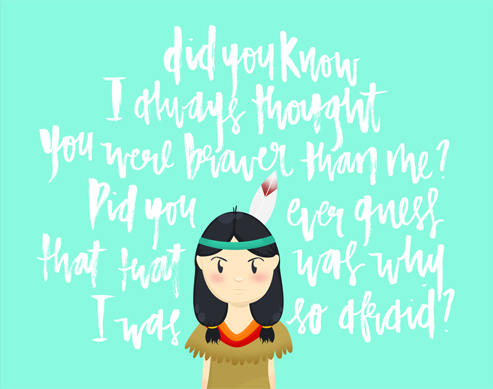 We love how there are so many new websites dedicated to bringing out the creativity in young people. Read on about how Rumination magazine, a relatively new online publication, began and how you can also be a part of it!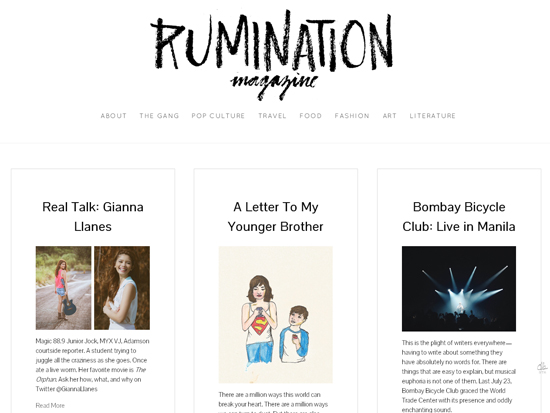 On how Rumination Magazine came to be. Growing up with towers of magazines in my bedroom, I've always wanted to see one that I could call mine. During the first semester of freshman year in college, I wouldn't stop talking about making one with my would-be associate editor, Cedric. Until a 2am conversation later, he finally told me, "do it." It started with only a handful of people, the ones I knew would be passionate about it as I am. And those people knew other people, and those other people knew even more people and there it was, my team.

CONTINUE READING BELOW

Recommended Videos

ADVERTISEMENT - CONTINUE READING BELOW

Why Rumination? As you probably expected, I was (and still am) a fan of Tavi Gevinson and Sofia Amoruso. They're the living proof that women can in fact build it themselves. Rumination means to think deeply about and I think it describes what the team is ultimately trying to do; to read between the lines and see what's beneath the surface of things. But unlike Rookie (Tavi's online zine), our content is for both males and females.

On how often updates will be available. We post every Sunday, Tuesday, and Thursday around night time! We have a monthly theme that usually starts with the core team brainstorming until we finally agree on one that we all find interesting enough to write about. We present it to the entire team and have them give their own ideas and suggestions that revolve around the chosen theme.

Interested in contributing? For anyone interested in contributing, they can submit their sample work or portfolio to our email: rumimag@gmail.com

ADVERTISEMENT - CONTINUE READING BELOW

Reading Rumination for the first time. If I really had to pick, I would ask you to read our piece on film titled A Collection of Films for a Collection of Feelings. It's a piece showing a list of movies to watch whenever you: feel like running away, look for an educational experience, get bit by the love bug. It's every writer's pleasure to have someone relate to what they have to say and every artist's delight to have someone see through their artwork. In the end, that's what Rumination is after. To have our readers relate to our very own feelings, thoughts, and beliefs.

Dream interviewees. Locally: Regina Belmonte, Georgina Wilson, Conchitina Cruz, Jessica Zafra, John Lloyd. Internationally: Mindy Kaling, Amy Poehler, Ayesha Siddiqi, Emma Stone, Dave Eggers, Katy Perry, Eddie Huang, Action Bronson, Dane DeHaan.

Dream collaborators. We dream of the day we'll get to work with Tavi Gevinson, Louise Brealey, Mindy Kaling, Iciar Carrasco, Martin Scorsese, Sophia Amoruso, and Junot Diaz. On the other hand, there are a lot of people in the local creative scene that we'd be honored to work with namely Regina Belmonte, Raymond Ang, Sam Potenciano, Ralph Mendoza, Martine Cajucom, and Sofia Cope.

What we're set out to do. The end goal would be to show the different dimensions of Rumination, to bring it to new heights, to make known that the time for us creative youth is now. To inspire more and more people and show them that there's no better time to start doing what you're passionate about than now.

ADVERTISEMENT - CONTINUE READING BELOW

Future plans. Expect more exciting content! We ultimately plan to branch out and write about the world in ways that'll surely captivate the hearts and minds of our readers. To write about the world from our perspectives.

For those who also have passion projects they have yet to pursue. The night I decided to push for Rumination, I stumbled upon one of Amy Poehler's quotes that reads, "The great thing about taking big chances when you're younger is you have less to lose, and you don't know as much. So you take big swings." One disadvantage of being young is that you're exposed to the world and all its greatness but you're told you can't be a part of it. Not until you get your diploma, not until you get a job, not until you can fend for yourself. It shouldn't take 17 to 24 years in order to be a part of something great. So my message is this: Turn your youth into one of your biggest strengths. Youth isn't about being naive, it's about knowing the harsh realities of the world but refusing to believe that you can't do something about it. Take a chance on something you're passionate about and turn it into something exceptional. The world has its greatness and you're always welcome to be a part of it.

ADVERTISEMENT - CONTINUE READING BELOW
Connect with Rumination through:
Facebook facebook.com/RUMINATIONMAG
Twitter twitter.com/rumimag
Instagram instagram.com/ruminationmag
Website www.ruminationmag.com
Perfect for a relaxing afternoon getaway!
Here are a few pegs to start you off.
Plus other things to know about the PBB alum.
Meet Gabby Banaag, an 18-year-old student and founder of a tech organization.
Including the labor fee, landscape, and all the furniture inside.
"I think I just want to show people na hindi ko na pinapalampas yung mga bagay na ganito," Julia shares.
Celebs have decided to use their platforms to open up about their own mental health.
This 16-year-old's net worth will leave you speechless.
Slough off dirt and even out your tone in two to three easy steps.
Aside from the overall rankings, THE also provides rankings by subject.
From The Candy Bulletin Community