For a lot of PUP students, the Lagoon is usually their go-to place to get affordable meals and to hang out with their friends. But aside from eating at the Lagoon or working in noisy classrooms, there are other places near the campus you can also try for a change. Whether it's a lunch date with your barkada or writing RRLs for your thesis, trust that these five places are worth your time and allowances. 
ALSO READ: 8 Things Only PUP Students Can Relate To

LIST: Best Hangout Places Around PUP Manila
1. Study Corner Coworking Space
1943 Road 5, Brgy. 628, Sta Mesa, Manila
Open every day from 8 a.m. to 11 p.m.
This hidden coworking space near the College of Communication is a savior for many students and dormers who need a quiet place to study and work. Aside from being a clean and aesthetic airconditioned study hub, the Study Corner Coworking Space also offers free unlimited hot coffee and fast WiFi connection to those who avail of their sessions, which start from Php 75 per one to two hours. They also sell other snacks and drinks to those who need to get a fill after studying. Not to mention, they also have a bidet! To secure a slot, make sure to reserve a space by messaging them on their Facebook page at least a day before your target date. 
ADVERTISEMENT - CONTINUE READING BELOW
2. The Coffee Realm
263 Teresa St., Sta. Mesa, Manila
Open every day from 8 a.m. to 12 m.n.
Along Teresa Street, you will find one of the newest coffee shops in town. The Coffee Realm is another aesthetic and chill space to spend your breaks or unwind after a hard day at uni. From their delicious coffee to yummy baked pastries, The Coffee Realm will surely make your day a delight. Besides their branch in Teresa, you can also find them at North Fairview, Quezon City.
3. Jakeu Cafe
Unit A Ground Floor, 270 Teresa St., Sta Mesa, Manila
Also in Teresa, you will find a K-pop-themed cafe filled with many pictures and posters of your favorite K-pop groups and K-idols. If you want to hang out with your friends, they have a much more roomy second floor with bean bags and little tables. For those who just need a place to study, Jakeu Cafe has free WiFi for your convenience. They serve all sorts of refreshments from milk tea and Yakult to coffee blends and frappes. In addition, they keep up with their theme by adding some of everyone's favorite Korean street food such as Tteokbokki, Ramyun, Samgyup in a bowl, and Corndog. 
ADVERTISEMENT - CONTINUE READING BELOW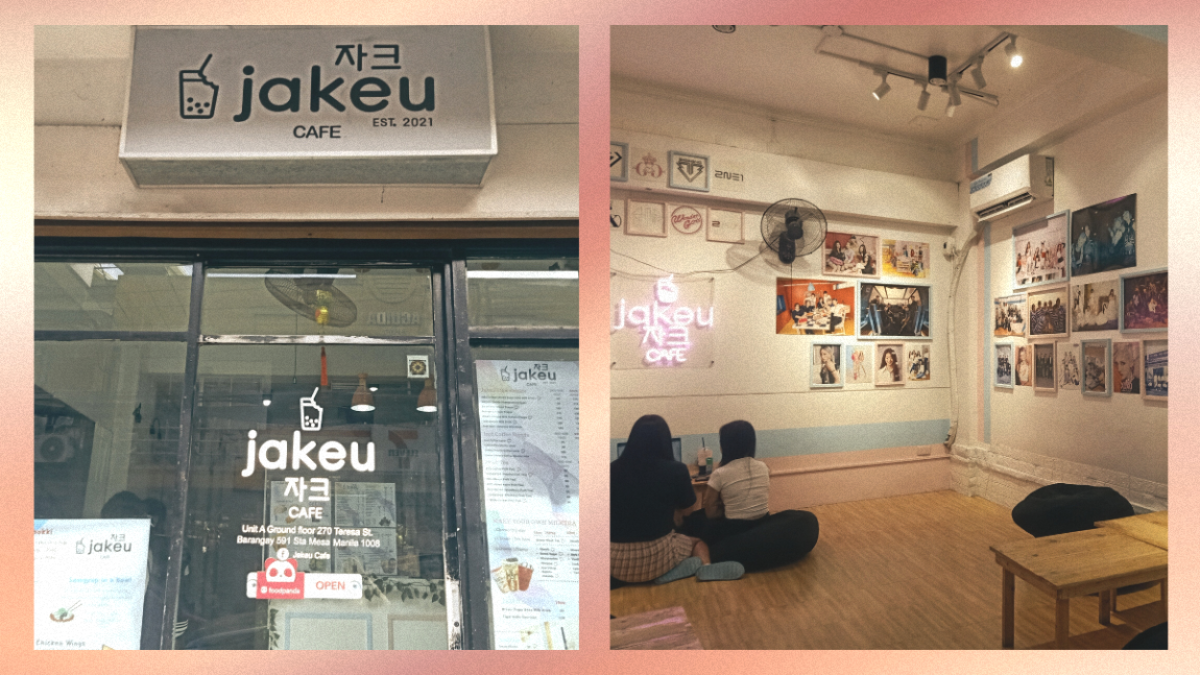 4. Mr. and Mrs. Brew
Building A, El Pueblo Condominium, Anonas St., Sta. Mesa, Manila
Open 24 hours on weekdays and 8 a.m. to 10 p.m. on weekends
Whether it's breakfast, lunch, merienda, or dinner, Mr. and Mrs. Brew has it all! In fact, they don't only offer a variety of cold and hot drinks, they also serve rice meals, pizzas, pasta, burgers, pastries, and many more for a student-friendly price. This homey coffee shop is a go-to not only for El Pueblo residents but for outside visitors as well who need a place to dine and chill. Mr. and Mrs. Brew is also coworking-friendly with free WiFi available for every purchase. 
ADVERTISEMENT - CONTINUE READING BELOW
5. G-Spot
1945 Anonas Street, NDC Compound, Sta. Mesa, Manila (Near College of Communication)
Open every day from 12 n.n. to 10 p.m.
If burgers are your thing then G-Spot is a definite must-try. This burger restaurant near the College of Communication building is another popular hangout place around PUP that offers a student-friendly price range from Php 70 to Php 175. From different flavors of burgers and crazy fries, they have expanded their menu to include sizzling dishes such as Pork Belly Liempo, Beef Tapa, and different kinds of steaks. They have chicken wings, freak shakes, and iced coffee as well!
ADVERTISEMENT - CONTINUE READING BELOW
6. Tatay Pepe's Tapsilogan
GNC Bldg. 3388, Pureza Street, R.Magsaysay Blvd., Sta. Mesa, Manila
Open 24/7
One can never go wrong with Silog for breakfast, lunch, or dinner, especially if it's from the "home of the best Tapsilog in Sta. Mesa." In case you don't know, Silog is a popular meal in the country that include sinangag (fried rice), itlog (egg), and a variant of ulam (dish). From Tapa, Cornbeef, Hotdog, Longganisa, and Lumpia to Bangus, Meat Loaf, and Siomai, Tatay Pepe's is a go-to for those who are craving budget-friendly nakakabusog meals. 
ADVERTISEMENT - CONTINUE READING BELOW
7. Master Buffalo
GSIS, PUP Condotel, Anonas St., Sta. Mesa, Manila
Open every day from 10 a.m. to 10 p.m.
Buffalo Wings at an affordable price? No wonder Master Buffalo is a hit for PUPians. With already four branches around the Metro, it just shows how their deliciously filling wings are a crowd-favorite. Starting at Php 65, you could get any two pieces from their varieties of flavors such as Garlic Parmesan, Honey Mustard, Honey Garlic, Korean Soy, Smoked BBQ, Salted Egg, and many more. 
ADVERTISEMENT - CONTINUE READING BELOW