Boracay definitely places high on the list when talking about top beach destinations in the Philippines. Known for its white sand, azure sea waters, and awe-inspiring tropic scenery, it's no wonder that many families want to spend a vacation on this famous island.
If you're thinking and dreaming of Boracay escapade, here are a few places to consider. These resorts and accommodations are mom and dads-approved, so you're sure that the whole family can have a fun-filled Summer family getaway.
7  hotels and resorts in Boracay
On the Facebook group, Smart Parenting Village, one mom turned to other parents for their recommendations on where to stay in Boracay. Other moms and dads gladly answered, and since caring is sharing, we made a round-up for your reference too!
1. Astoria Current
ADVERTISEMENT - CONTINUE READING BELOW
PHOTO BY INSTAGRAM/ASTORIACURRENT
Treat your family to a laid-back beach trip at Astoria Current in Station 3 of Boracay island. The hotel features eight types of rooms to choose from, two swimming pools, and access to the pristine Boracay waters since it's a beachfront property.
Given its location at Station 3, expect a more quiet and less crowded environment. Nonetheless, various activities and restaurants can still be enjoyed around the area.
What recent guests have been saying:
"We usually stay in Astoria Station 1, but at this time, the hotel was close, so my family and I tried Astoria Current. I was hesitant at first because of the location (far from the center), but it turned out there are a lot of activities and nice bars and restaurants in the area (Festival Food Hub - where bands and fire dancing nightly perform)." - Aaron
"Had so much fun I could say even we are a large group, 15 adults and three young kids. The staff makes everything easy for us. Thank you, Astoria Current, for your hospitality and valuing your guest." -Marie
2. The Tides Hotel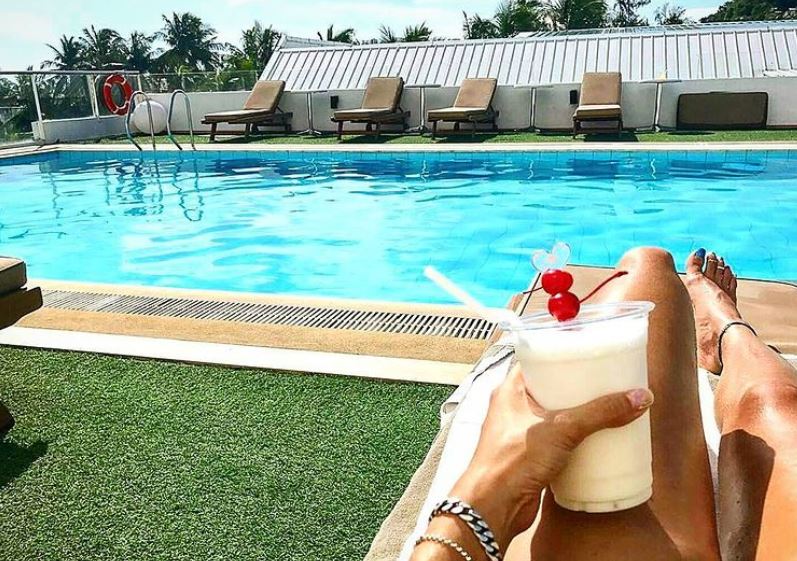 PHOTO BY INSTAGRAM/TIDESBORACAY
Enjoy everything Boracay Island has to offer at ease when you stay in this hotel. Located at Station 2, you're sure to have quick access to various attractions. Plus, they also offer car rentals and shuttle services for a more hassle-free tour around the famous island.
While kids enjoy playing in the pool, parents can easily catch a quick break over some refreshments at the poolside bar. Aside from the location, past guests highly recommend the place for its accommodating staff.
What recent guests have been saying:
"This is the best hotel for me in Boracay, considering the location, which is inside the D'mall. The breakfast we had was very heavenly. The staff is very accomodating and friendly. My husband and my kids enjoyed our stay very much, and we're planning to stay here next time we go to Boracay." -Charm-mae
"Very accessible! Wala na ko masabi perfect siya. Gitna ng lahat and mababait staff. You'll feel comfortable." -Eunhiz
3. Paradise Garden Hotel And Resort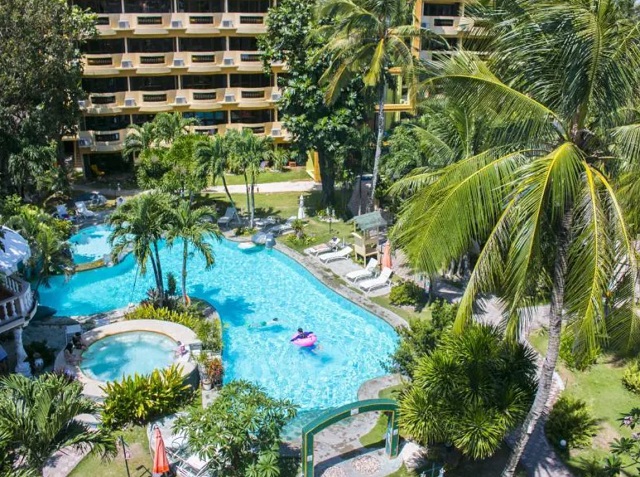 ADVERTISEMENT - CONTINUE READING BELOW
PHOTO BY PARADISE GARDEN RESORT HOTEL & CONVENTION CENTER
This family favorite sits on a four-hectare tropical garden property. They also offer shuttle services, making day trips and sightseeing around the island easier, especially when traveling with kids.
But you don't have to travel far from the property to have a fun-filled vacation since it also has access to nearby water activities like "fishing, snorkeling, non-motorized water sports, motorized water sports and diving," according to their landing page on Agoda. This resort hotel also features three pools and a jacuzzi area.
What recent guests have been saying:
"For us, it's perfect. So glad I chose here. We really love the nature vibe (their Garden is so beautiful). Plus staff are all super friendly and helpful. The pool inside the property is nice, where kids can enjoy after the beach. Good food. Rooms are so clean. You can request anytime to make up your room." -Mi
"We were very impressed with how helpful, friendly and courteous the staff were. We stayed here as a family of 10 (with small kids), and every staff we encountered was very accommodating. The rooms are clean, great and safe location." -Geraldane
4. Aloha Boracay Hotel
PHOTO BY ALOHA BORACAY HOTEL
This accommodation promises to greet its guest with homey rooms that are "generous in space fitted with contemporary furnishings and modern facilities."
After participating in the lively Boracay culture at the island's station 2, you can unwind and relax in their roof deck swimming pool and pool deck cabanas.
What recent guests have been saying:
"We enjoyed our stay; we were welcomed with cold drinks, rooms are clean and we sleep comfortably together with our kids. Not beachfront though, five minutes walk is okay. The hotel is nearby dampa (seafood stores) and 15 minutes walk to d mall. So far so good." -Michelle
"Clean. Accessible to the beach and to the main road. Friendly staff and great service. The rooms are very comfy. Great food at the restaurant. We enjoyed our five-day stay at Aloha Boracay and will definitely stay there again when we go back. Our kids loved the place." -Joel
5. The Lind Boracay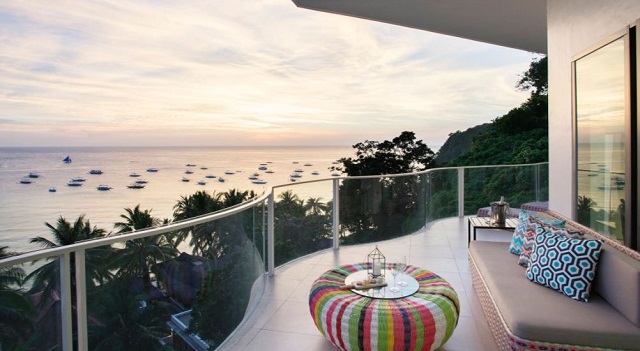 ADVERTISEMENT - CONTINUE READING BELOW
PHOTO BY THE LIND BORACAY
If you're going all-out for a luxurious Boracay family getaway (and budget is not an issue), The Lind is the place to stay.
In this 5-star beachfront hotel, conveniences are as abundant as the activities to enjoy nearby, given that the property is strategically located at the island's station 1.
Get the best of both worlds when you dip in their infinity pool that also features an unbridled view of the sea!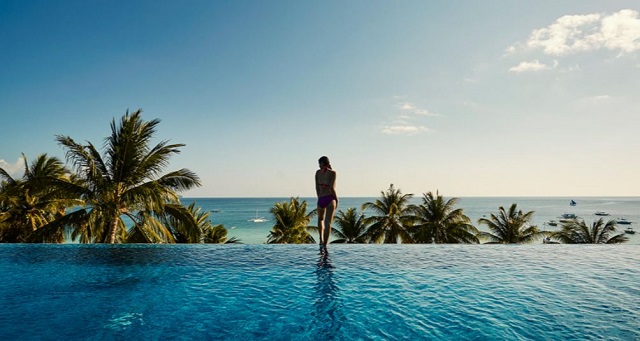 PHOTO BY THE LIND BORACAY
What recent guests have been saying:
"This hotel is simply the best. Customer service is top-notch. We chose two ocean view rooms, and we were not disappointed. The infinity pool is highly recommended and will give you an instagrammable photo, especially during sunset. The staff went further by throwing a surprise birthday party for my son! If you want the best in Boracay, choose The Lind." -Ric
"Really love our stay in The Lind. Perfect place to relax. Perfect for the family. The place is not crowded. Room, pool, beach area, food are perfect. Personnel all accommodating. We want to come back immediately." -Castaneda
6. Hotel Calypso Beach and Dive Resort
If your family is the adventurous type, you'll get your money's worth by staying in this Dive Resort. Enjoy Boracay beach life while experiencing tons of water activities, from scuba diving and island hopping to sunset sailing!
What recent guests are saying:
"We have traveled with our 7-month baby, and Calypso was the best choice. It is situated in a calm part of Boracay (we wouldn't want to stay near Station 1 and Station 2 even without a baby-too much noise and people). In front of the resort, there are always just a few people on the beach. The room was super spacious and clean. All staff is friendly and helpful." -Olga
ADVERTISEMENT - CONTINUE READING BELOW
"We celebrated my son's birthday on the island, and they upgraded us to an ocean view room which is amazing! But, what we love most is the view from our room and the restaurant, palm trees, and the ocean? Who doesn't want that? My son loves it as the beach is right outside and it was quiet and peaceful." -Gina
7. Boracay Haven Resort
Situated at station 2 of Boracay, it's perfect for those who are looking forward to an activity-packed getaway, especially if you are pressed with time. It's only 10 minutes away from White Beach and D'Mall for all your souvenir-shopping needs. 
Resort hotels are not complete without offering some pool fun, and Boracay Haven Resort is no exception.
What recent guests are saying:
"Very good location at station 2. We got a family suite on the ground floor with access to the pool. It was very convenient since we are traveling with children. The hotel is within walking distance from the beach. There are also a lot of restaurants in the area." -Quennie
"Room is clean, the staff is accomodating especially when you have request. Free refill of coffee and water for the entire stay. Breakfast is good." -Leoniel
Many parents recommended booking through the online booking platform Agoda since it offers discount promos and listings that don't require advance payments or the "pay at the hotel" feature.
This story originally appeared on SmartParenting.ph. Minor edits have been made by the Candymag.com editors.