Softdrink junkie? You'll adore The Real Thing Diner's soda-seasoned dishes. Start off with some Loaded Potato Skins sprinkled with Eight-O'Clock-seasoned salt and the Shrimp Salad tossed in Sarsi-sesame dressing.

Order a bunch of dishes and split them with your besties! The Sarsi Wings packs a sweet punch, the Baby Back Ribs is coated with Coca-Cola-barbecue sauce, and the Seafood Jambalaya is an awesome mix of rice, prawns, fish fillet, and, of course, Coca-Cola. Wash all these down with sweet Flavor Burst Drinks, which can actually serve as your dessert, too. But if you're still craving for a sweet ending to your meal, try the Coca-Cola Choc a la Mode.

Healthy tip: Calorie conscious? Load up on the greens and soups, and opt to replace your fries with a side salad.

The Real Thing Diner is located at 2/F Il Terrazzo, 305 Tomas Morato St., Quezon City. Tel. No. 352-4320.
ADVERTISEMENT - CONTINUE READING BELOW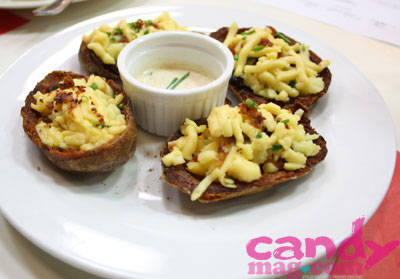 ADVERTISEMENT - CONTINUE READING BELOW