"This is our happy place!" says the sign by the door at Stacy's, and, indeed, it is. The dollhouse-like interior and retro-inspired decor will make you feel all warm and fuzzy. It's the perfect spot for a lounge-y afternoon with your girl friends!
Combine your two favorites with the Potato Chip Fried Chicken (it's as good as it sounds!), or go for your breakfast love: Stacy Jones a.k.a. tender sirloin tapa with "anyway you want 'em" eggs, fresh tomatoes, and garlic rice. One more lip-smacking dish: the Texas Barbecue Ribs served with Stacy's own sauce. All three dishes come with an oh-so-sweet, heart-shaped cup of rice.
Not a rice person? Load up with the Mobster's Meal, a mean plate of sausages that you can get with garlic spaghetti. Finish with the Honey Comb Cake.
Oh, and who's Stacy, you ask? The name is derived from co-owner Angelique Abesamis-Castro's late grandma's name, Anastacia. According to Angelique, her grandma gave off a very light and happy vibe, which is exactly what they want patrons to feel upon entering the resto.
ADVERTISEMENT - CONTINUE READING BELOW
Stacy's is located at Capitol Greenstreet Commercial Center, 1 Capitol Hills Drive, Quezon City.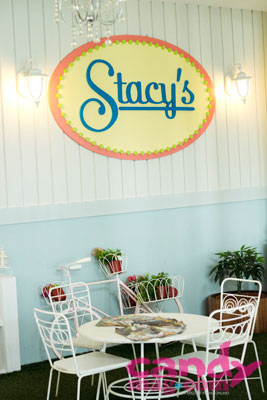 ADVERTISEMENT - CONTINUE READING BELOW