Faced with a myriad of choco concoctions, you'd be tempted to just dive in. Randomly pigging out is all right but you've got to learn the art of stuffing your face to get the most out of a buffet. Here's what we've learned after sampling yummy bites at Manila Hotel's Heavenly Chocolate Buffet.
Go on your cheat day. Seriously, you cannot count calories at a chocolate buffet. That is just ridonkulous.
Eat a light lunch—salad with a piece of bread should do it—before you park your butt at the hotel's Café Ilang-Ilang at exactly 3 p.m. The buffet runs for three hours every day, more than enough to indulge your sweet tooth.
Go with your besties or a date so you can share each dish, even the teensy, tiny ones. This way, you get to try everything and then come back for more of what you loved.
Order a plate of their delish French fries to prevent umay. You can even get milk chocolate or dark chocolate fondue sauce and dip the fries into them. Om nom nom nom.
Get second servings of our faves (yeah, we're bossy like that). To name a few: the seriously stuffed Espresso Walnut Cookies, Crunch-like Cornflake Bites, nut-licious Pecan Pie, classic Chocolate Chip Cookies, choco-smothered Cream Puff, sugarfree Bread Pudding

,

and Bittersweet Chocolate Truffle in Chocolate Mud Pie (Kapeng Barako). Oh, and don't forget to ask the servers to whip up some Chocolate Crepe! You can experiment using the fillings (mangoes and berries) and sauces available.
Save the Ferrero Gianduja Gelato for last; wait until the food is up to your throat before taking on the cold treat. We fell in love at first bite with the ice cream that tastes exactly like the luxe chocolate it's named after. You can't get it anywhere else so make sure you save some tummy space for it.
Bring home the happy gooey feeling. You can't take out food from the buffet, of course, but you can get some choco bites for a separate fee at the hotel's Delicatessen.
ADVERTISEMENT - CONTINUE READING BELOW
The Heavenly Chocolate Buffet (P450++) of Café Ilang-Ilang runs for the whole month of September, from 3 p.m. to 6 p.m. every day. All the concoctions are created by Manila Hotel's Executive Pastry Chef Rolando "Mac" Macatangay. For inquiries and reservations, call 527-9469. Manila Hotel is located at One Rizal Park, Manila.
ADVERTISEMENT - CONTINUE READING BELOW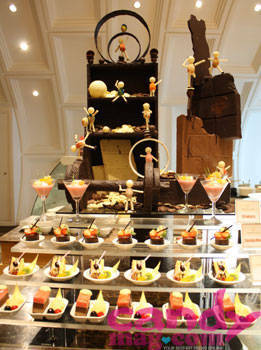 ADVERTISEMENT - CONTINUE READING BELOW