Sometimes, don't you just hear a line from a song or a movie or a TV show and immediately sigh to yourself, make you want to hug someone, hold your guy's hand, or just feel all loved up? Yup. We understand. We've got a whole collection of the most romantic quotes from years and years of reading and watching and listening. For now, here are a few quotes we're giving major heart eyes.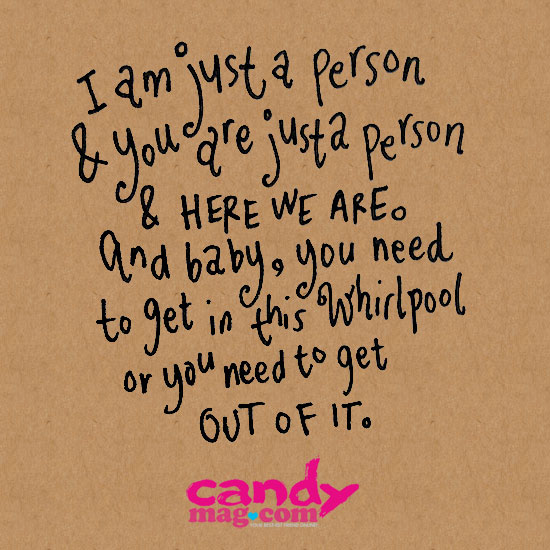 | | |
| --- | --- |
| | It wasn't used in a romantic context, but I love this line from my new favorite show, Transparent: "I am just a person and you are just a person and here we are. And baby, you need to get in this whirlpool or you need to get out of it." —Marla, Editor in Chief |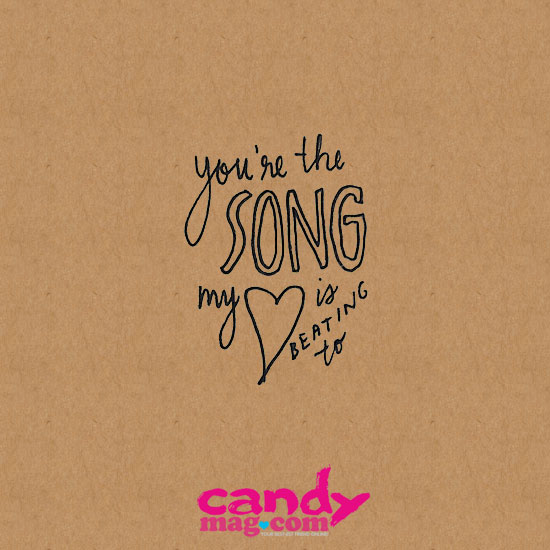 ADVERTISEMENT - CONTINUE READING BELOW
| | |
| --- | --- |
| | "You're the song my heart is beating to." I love that it's simple and says I love you in a heartfelt manner, but it wasn't a blatant I love you. —Steph, Art Director |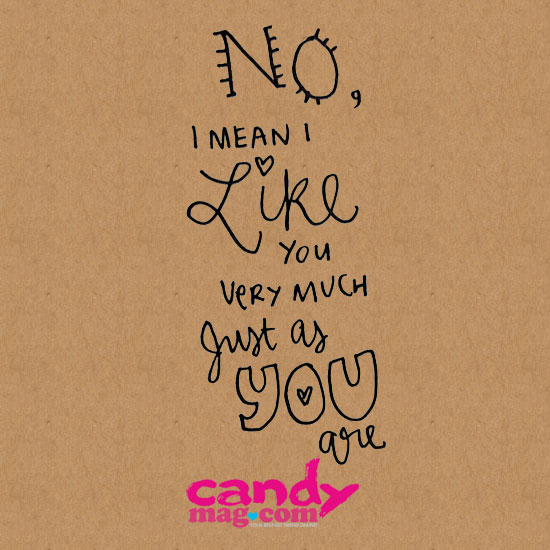 | | |
| --- | --- |
| | "No, I mean I like you very much. Just as you are." from Mark Darcy (Colin Firth) to Bridget Jones (Renée Zellweger), Bridget Jones's Diary —Angel, Managing Editor |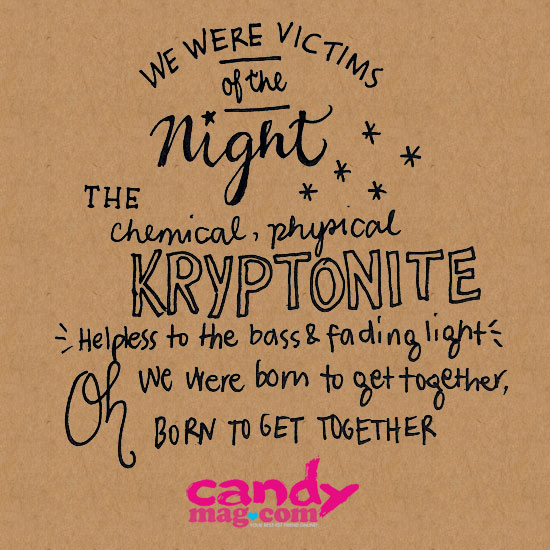 | | |
| --- | --- |
| | "We were victims of the night / The chemical, physical, kryptonite / Helpless to the bass and the fading light / Oh, we were born to get together, born to get together." from Walk the Moon's "Shut Up and Dance" —Dyan, Features and Entertainment Editor |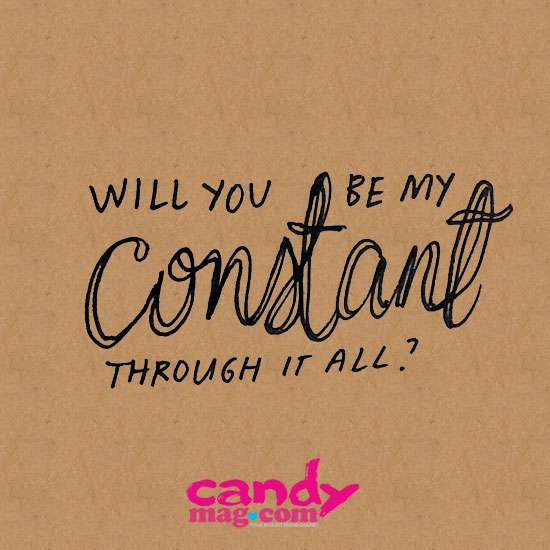 | | |
| --- | --- |
| | "Will you be my constant through it all?" from "Quiet" by Jason Mraz. I like the passionate, shout-it-from-the-rooftops kind of love as much as the next person, but I much prefer it when it's steady and stalwart—the kind of love that inspires secret smiles in people who often feel thrown off when things change too much. —Kaye, Editorial Assistant |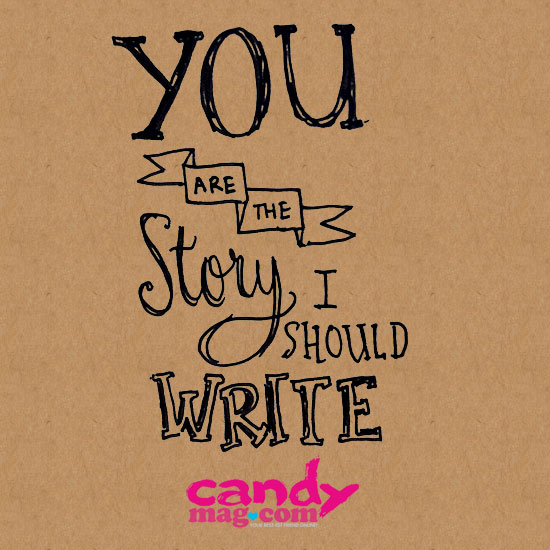 | | |
| --- | --- |
| | "You are the story I should write." Love this line from The Last Five Years' "Shiksa Goddess." How kilig would it be to have a story written about you? —Macy, Web Managing Editor |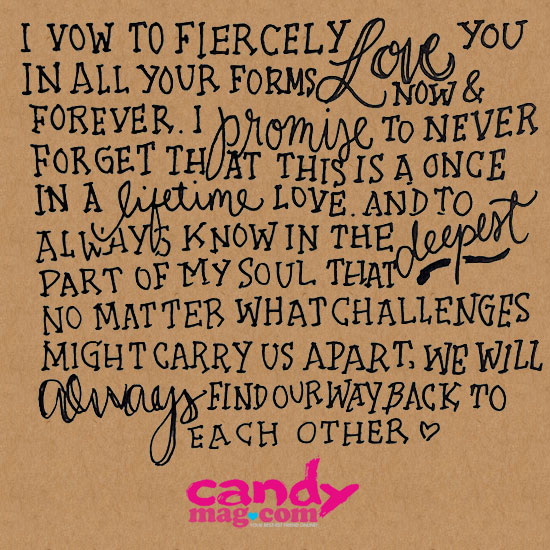 | | |
| --- | --- |
| | Leo's vows in The Vow is one of my favorites! I even plan to somehow incorporate it into my future vows. "I vow to fiercely love you in all your forms, now and forever. I promise to never forget that this is a once in a lifetime love. And to always know in the deepest part of my soul that no matter what challenges might carry us apart, we will always find our way back to each other." —Erin, Web Fashion and Beauty Assistant |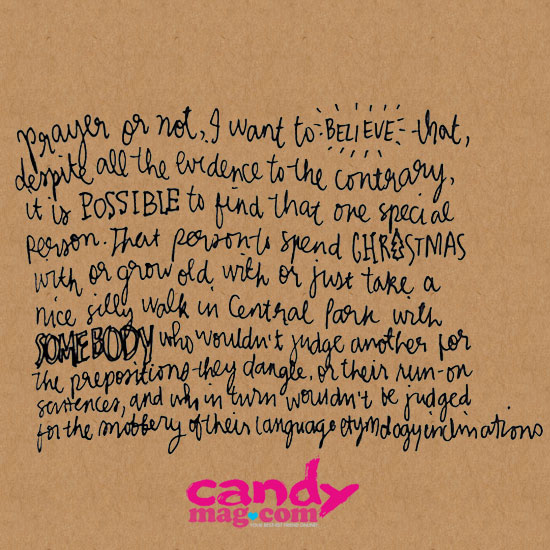 ADVERTISEMENT - CONTINUE READING BELOW
| | |
| --- | --- |
| | "Prayer or not, I want to believe that, despite all evidence to the contrary, it is possible for anyone to find that one special person. That person to spend Christmas with or grow old with or just to take a nice silly walk in Central Park with. Somebody who wouldn't judge another for the prepositions they dangle, or their run-on sentences, and who in turn wouldn't be judged for the snobbery of their language etymology inclinations." from Rachel Cohn and David Levithan's Dash and Lily's Book of Dares —Ayessa, Web Editorial Assistant |
What about you? Leave us a comment or tweet us @candymagdotcom to join the conversation!